Thousands of Scottish independence supporters marched through Perth on Saturday afternoon as campaign group All Under One Banner brought one of their biggest protests yet to the Fair City.
With a clear attendance figure still uncertain, it is understood that a five figure crowd arrived in Perth, with protestors and counter-protestors claiming varying figures.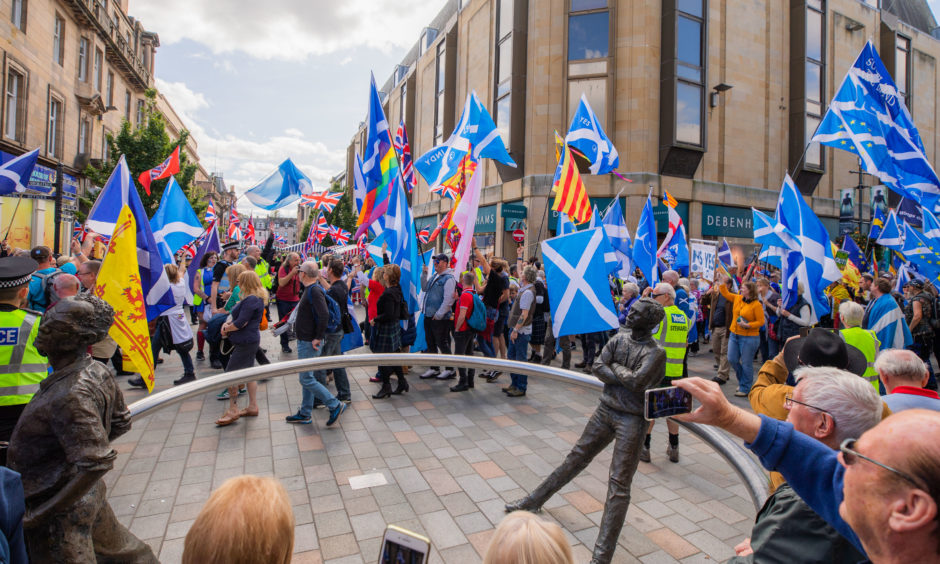 As many as 20,000 had been expected, with major rolling road blocks in place throughout the middle of the day as a three and a half mile long route was cleared for the marchers.
Of the eight parades organised across Scotland this year, only Perth and Glasgow have been of this scale, with the other six being around two miles shorter.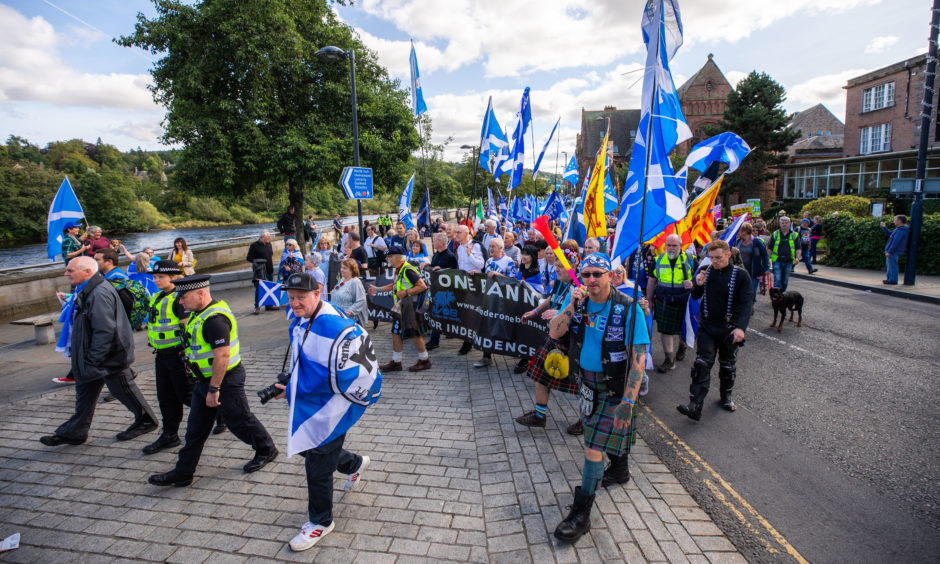 Leaving from Seven Acres park in Letham at 1pm, campaigners from as far as the Scottish Borders and Western Isles mustered as police began to seal off roads.
Led by a pipe band, the procession made its way down the Crieff Road and Dunkeld Road, arriving in the city centre just over an hour later.
VIDEO: Huge pro-independence march passes through Perth city centre
The parade made its way past a few dozen counter-protesters from unionist group A Force for Good, who were fenced into King Edward Street and separated by a handful of police officers.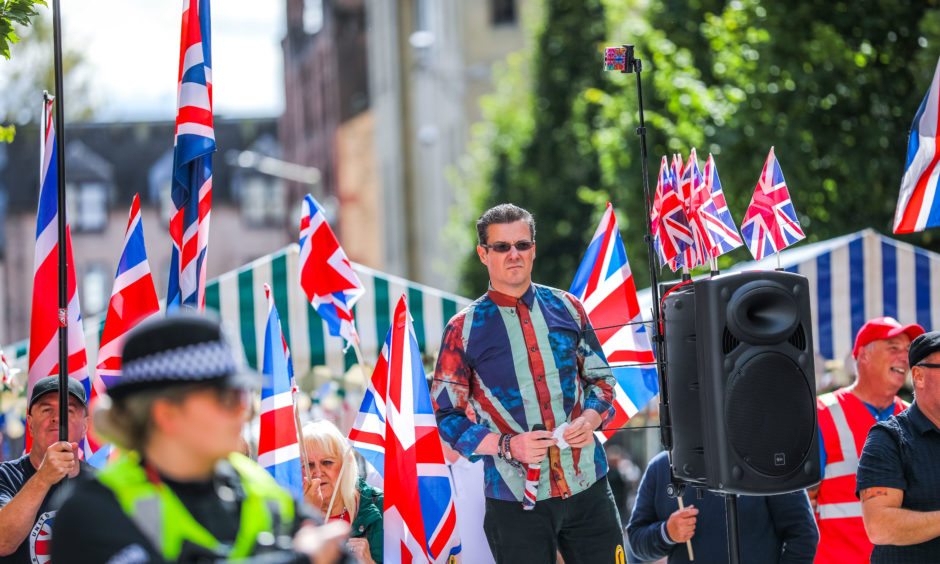 But there was no trouble as the groups passed each other, with only jeers thrown in each direction.
And the remainder of the march proved peaceful, as police confirmed there were no arrests made during the day.
Turning onto Tay Street, the marchers, led by local SNP MP Pete Wishart and MSP John Swinney made their way onto the North Inch, as police reopened the roads behind them.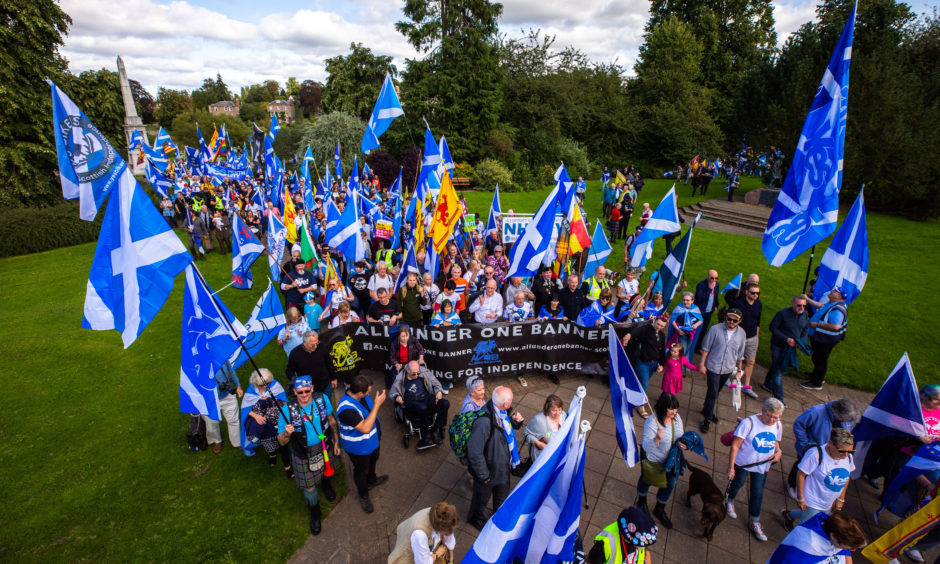 Both politicians were amongst the speakers as marchers congregated on the North Inch, along with Perth and Kinross Council's SNP group leader Dave Doogan.
All Under One Banner director Neil MacKay said: "Yes Perth City were on a par with the best local groups we've worked with. We think around half the marchers were local, with some from the US, Canada and Argentina.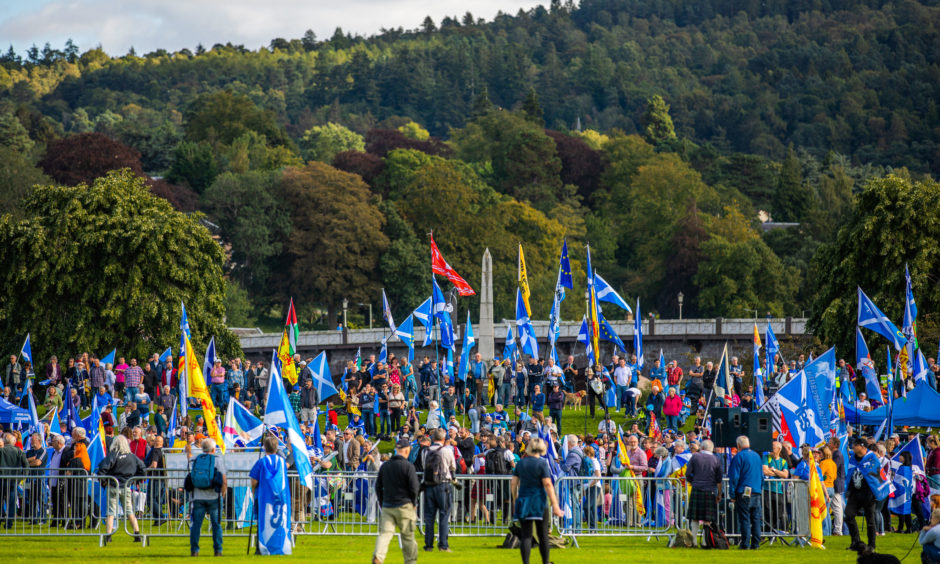 "This was a resounding success, maybe the best yet. We had a great site, braw weather and not a single incident.
"We'll be back in Arbroath on April 4th and Kirkcaldy on August 1st for more marches."
Meanwhile counter protest group A Force For Good believe that the display wasn't a true reflection of the city's opinion on independence.
Director Alistair McConnachie said: "We turn up to all these events. We believe someone has to show AUOB that they don't own the streets of these towns.
"We had about 50 on Saturday. If we don't turn up, there could be no opposition. We were disappointed to see the deputy first minister joining in."