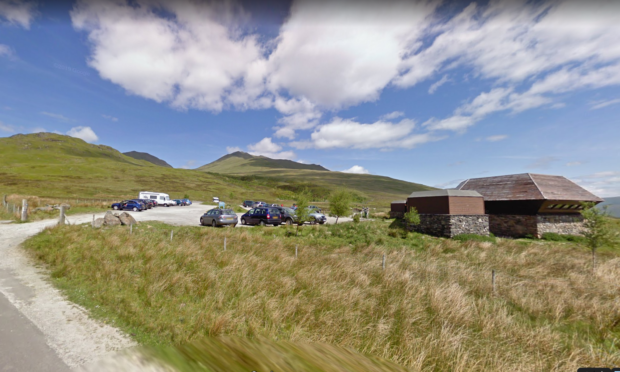 Thieves have raided one of Scotland's most remote parking meters, in a crime branded "despicable".
The machine at the Ben Lawers car park sits more than 400 metres above sea level in the mountains above Loch Tay and was targeted last week.
The site, which is almost two miles from the main A827 road, is a popular spot with walkers looking to spend a day in the hills and costs £3 per day to use.
Bosses at the National Trust for Scotland (NTS), which manages the Ben Lawers area, estimate that the thieves made off with less than £50 in cash, but caused damage that is likely to cost even more to fix.
They say they will now have to divert funds that would be better spent caring for the mountain.
Sue Dolan-Betney, of Glen Lyon and Loch Tay community council, said the remoteness of the car park made effective policing nearly impossible.
She said: "It's very rural and it's hard to police and its even hard to put in any sort of surveillance.
"The NTS do their bit to keep the meter empty so the money doesn't build up but that doesn't stop damage being done to the actual meter.
"I think if there was any way round it the NTS would have taken it by now."
She added: "Despicable is the word that comes to mind. Not only do the NTS have the loss of the money, they have to pay to repair the machine.
"It annoying for them because it's a source of income for them and they don't have many sources of income.
"I question the person's motivation – are they just after the money or are they trying to make a point that they shouldn't be charged for the car park?"
Highland ward Councillor John Duff called the crime "shocking".
He said: "As the damage will no doubt cost more to repair than the amount stolen, this is mindless crime means a further cost to the Trust's budget and the use of valuable donations to fix the meter which would have been better spent on maintaining the mountain."
A spokeswoman for the National Trust for Scotland said: "We're really grateful to all our supporters who contribute to our conservation work by paying for parking at Ben Lawers, and are very disappointed at the theft and vandalism.
"Although the sums involved were quite small, the National Trust for Scotland is a charity and we protect beautiful places like Ben Lawers so that they can be enjoyed by everyone.
"We've not only lost these funds which would otherwise support our vital work in the area, but now have to divert our charity's limited resources to tidying up and repairs instead of carrying out the conservation work needed to care for the national nature reserve."
A spokesman for Police Scotland said they had no record of the October 2 incident.