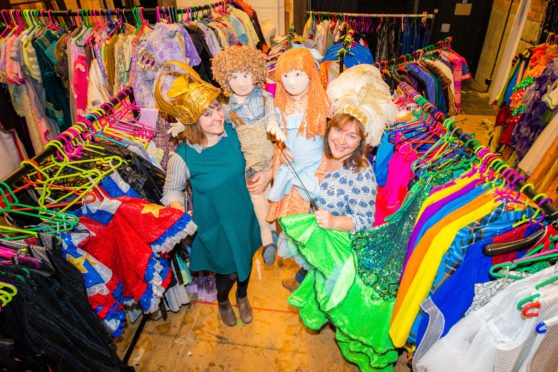 People are being offered a chance to own a piece of theatre history as a Tayside venue sells of hundreds of its costumes.
Pitlochry Festival Theatre is clearing its wardrobe to make room for new items.
All of the garments have been lovingly hand-made by the theatre's costume team and have been used in around 60 shows over the years.
Wardrobe manager Julie Carlin said the team hoped to raise hundreds of pounds, which will be reinvested into new shows.
She said: "We've already had quite a lot of interest, so hopefully we'll get a lot of people. We have £1 necklaces to £50 dresses, so it's a good range for everyone's budget.
"We want them to go to nice homes so that someone gets some good use out of them.
"We are selling things from quite a few years back but they are things that have basically been worn once. We have some big 'Victorian' dresses and a lot of one-offs."
The two-day sale later this month will feature around 200 items, including some from more recent shows, such as set and costumes from last year's productions of Chicago, Singin' in the Rain, Carousel.
"It is mainly women's clothes but we do have some men's costumes," added Julie.
"We have Henry VIII and other Tudor bits and there's some brightly coloured suits.
"Whatever we make will go back into our department or into productions."
She said every item for sale had been made at the theatre and represented thousands of hours of work.
"I think some of the most special items are from Singin' in the Rain – there's some lovely 1920s dresses," she said.
"They were really fun to work on and look really good.
"We will be sad to see some of them go – because they were lovely to make and see on stage – but we have a very packed store and it's freed up some space to put even nicer things in. Everything has a good story behind it – there isn't really one fantastic piece – each one has a history."
The wardrobe sale will take place at Pitlochry Festival Theatre October 21 and 22 between 10am and 4pm each day.