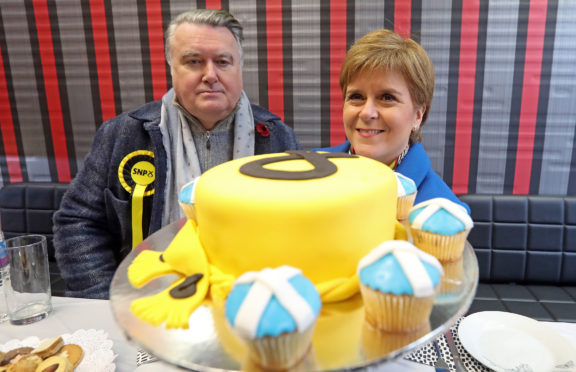 First Minister Nicola Sturgeon was in Alloa yesterday launching the campaign of former MP and journalist John Nicolson.
Mr Nicolson – who beat and was then unseated by Lib Dem leader Jo Swinson in 2015 and 2017 respectively – has been selected as the SNP candidate for Ochil and South Perthshire.
He insisted he would have beaten Jo Swinson in his former seat and said candidate Amy Callaghan will.
Ms Sturgeon and Mr Nicolson visited a number of Syrian food shops, including bakers Alwen, which was set up by Syrian refugee Muhanad Alwen.
Mr Nicolson insisted Brexit and a second independence referendum would be top of the agenda for Ochil and South Perthishire residents.
He said: "(Brexit and independence) are local issues. If you are a farmer to be hit with 40% tariffs its disastrous. It is vital we do not find ourselves in a position we are dragged out of the EU against our will.
"Three or four years ago people were not really focussing on the dangers of Brexit but now we look over the cliff edge people know just how disastrous it will be."
Mr Nicolson said Jo Swinson and the Lib Dems were going to be "also-rans" in this election and the SNP candidate in East Dunbartonshire would take Ms Swinson's seat.
This was echoed by the first minister, who said: "Scotland has a right to choose its own future. Even if you do not support independence it is still important the decision what path Scotland takes is ours to take, not imposed upon us by Westminster politicians.
"If we hold the balance of power we would want to exercise that in a way that protects Scotland's interest and policies including our right to choose our own future.
"Jo Swinson sat in a Conservative cabinet… I believe she would choose putting the Tories into Downing Street than anyone else."
Meanwhile, Scottish Labour leader Richard Leonard launched the party campaign in Glasgow.
He does not believe the SNP has a mandate for another Scottish independence referendum and added he does not think the party would have a mandate even after the 2021 Holyrood election.
His remarks follow Labour's UK shadow business secretary Rebecca Long-Bailey's comments that the party would not stand in the way of another independence vote.
David Mundell has hailed the Conservative Party's record in Scotland as he claimed the "only job " of SNP MPs is to secure another independence vote.
Mr Mundell, Scottish secretary under Theresa May and David Cameron, said: "The choice at this election is clear: either we get more division from the SNP or more delivery of people's priorities with Scottish Conservatives.
"Whether it's supporting our oil and gas industry, the whisky trade or our rural economy, Scottish Conservatives have fought hard in Whitehall to get Scotland's voice heard. Every Scottish Conservative MP elected next month will press hard for more.
Scottish Lib Dem leader Willie Rennie will highlight the party's opposition to both Brexit and a second independence referendum as he launches their election campaign.
With UK leader Jo Swinson insistent she is a candidate to be the next prime minister, Mr Rennie said his party is "on the rise".
He will be joined by some of the Scottish Liberal Democrat candidates for next month's vote on Thursday in Edinburgh.
He said: "Scottish Liberal Democrat candidates will fight to stop Brexit, stop independence and build a brighter future.
"We have a plan for the future which will invest in public services and tackle inequality."