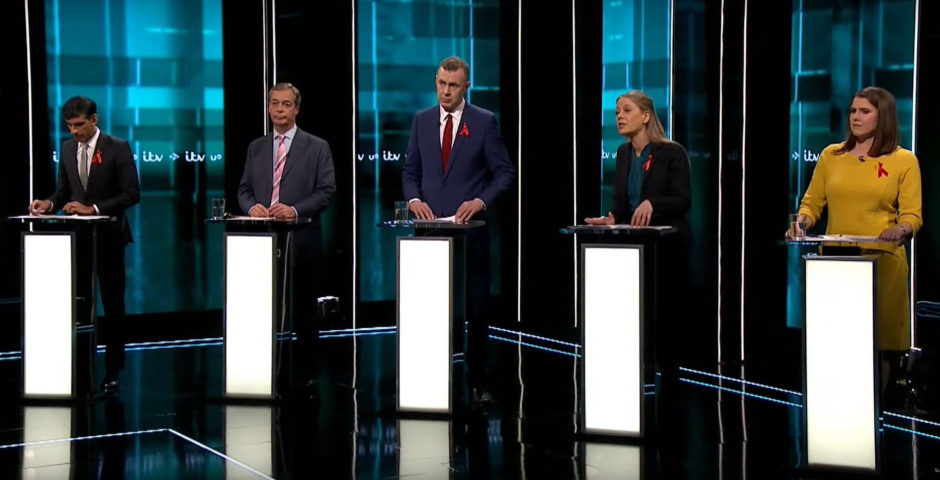 First Minister Nicola Sturgeon accused Brexit Party leader Nigel Farage of "lying" during a televised debate on Sunday evening.
The pair came to a disagreement over Brexit, after Mr Farage said there would be more money for the NHS in the event of leaving the EU – causing Ms Sturgeon to draw parallels with the advert put on the side of a Vote Leave campaign bus in 2016– which Mr Farage was not a part of.
Prime Minister Boris Johnson and Labour leader Jeremy Corbyn both ignored an invitation to the ITV leaders debate.
Labour's Richard Burgon and the Conservative's Rishi Sunak were each sent in place of their leader to the event, which discussed Friday's terror attack on London Bridge, the use of Trident, the special relationship with the United States of America and Brexit.
Green leader Siân Berry, Plaid Cymru leader Adam Price and Lib Dem leader Jo Swinson were all also in attendance.
During the debate, Ms Sturgeon promised to support the scrapping of the UK's nuclear deterrent and that she could never press the button to bomb another country.
Lib Dem leader Jo Swinson, meanwhile, said she would, as did Mr Farage.
Ms Sturgeon disagreed with Mr Farage over the country's relationship with Donald Trump and America.
Neither party leader is standing as an MP at the election on December 12 and therefore cannot become prime minister.
Mr Farage attempted to defend the US President over remarks he made about sexually assaulting women, claiming men "sometimes said dreadful things" after a "night of drinking".
He derided the debate as a "talent show" for "political correctness" which he had lost. In his closing statement he called for "non pc" voices to be elected to Westminster.
Ms Sturgeon accused the prime minister of trying to imitate Presidnt Trump, adding: "Donald Trump's attitudes are wrong and they are dangerous. In Boris Johnson, we have got somebody who is trying to be like him."
She added: "Boris Johnson's Tory party is wholly unfit for office but unless people vote to keep them out we could be stuck with them for years to come."
Plaid Cymru leader Adam Price said Mr Farage was wrong to defend the US president.
"It can never be acceptable for a man to talk about grabbing a woman's pussy. If you think it is you should be ashamed," he said.
For Labour, shadow justice secretary Richard Burgon said: "Our quarrel and difference is with some of the policies of Donald Trump, who like Boris Johnson is a politician who has given the green light to sexism, homophobia and racism – and that cannot be allowed to flourish."
Labour representative Richard Burgon refused to say how he would vote in a second Brexit referendum, and on the prospect of a Labour minority government reaching an agreement with the SNP, he said: "There is no backroom deals, front-room deals, or any other kind of deals with the SNP or anyone else.
"We're going for, and I believe we can and will get, a majority Labour government."
Treasury Chief Secretary Mr Sunak said Jeremy Corbyn was "stuck in neutral" over the Brexit debate. On the UK's relationship with the US, he said: "The relationship we have with America is incredibly important for keeping us safe. That is not something to turn your nose up at."
Ms Swinson said: "Every vote for the Lib Dems is a vote to stop Brexit." She slammed the prime minister for not "turning up", adding: "Boris Johnson could not be bothered turning up, so he sent his cheerleader Nigel Farage instead."
Sian Berry, co-leader of the Greens, said: "This election is about trust. Things can change dramatically when you use your right to vote."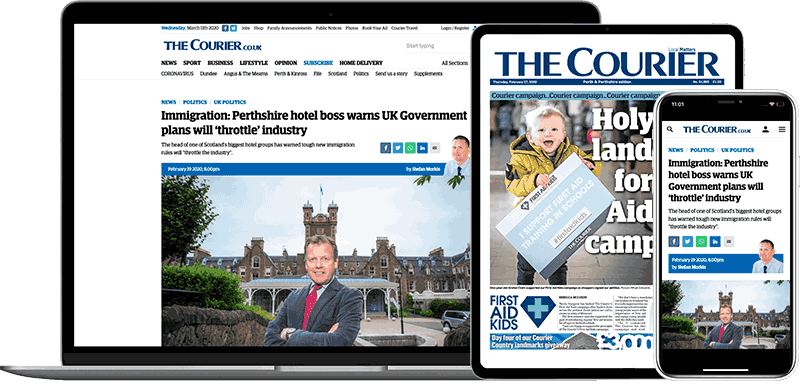 Help support quality local journalism … become a digital subscriber to The Courier
For as little as £5.99 a month you can access all of our content, including Premium articles.
Subscribe