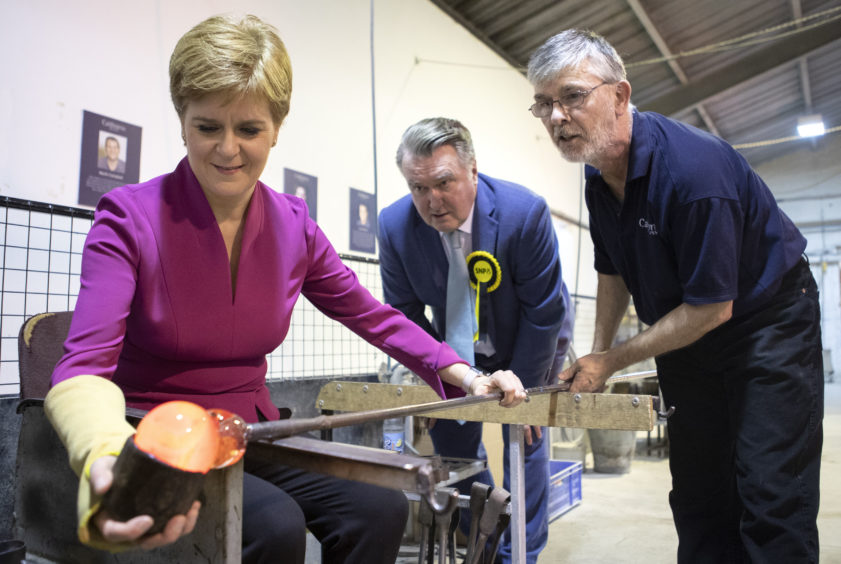 First Minister Nicola Sturgeon insists the SNP does not have a "big problem" with anti-Semitism following revelations which have seen a candidate dropped and a member of the party's conduct committee forced to resign.
Kirkcaldy and Cowdenbeath candidate and former SNP council group leader Neale Hanvey was dropped by the party after anti-Semitic Facebook posts were unearthed last week.
A Dundee SNP member elected to the conduct committee at October's conference, Denise Findlay, was set to investigate Hanvey's behaviour but has herself resigned after tweeting "Israel=Nazis" – a contravention of the IHRA working definition of anti-Semitism.
Both subsequently apologised but Hanvey will still contest the seat, with the SNP logo appearing by his name on the ballot slip.
During a visit to Caithness Glass factory in Crief yesterday, the first minister was asked by The Courier if anti-Semitism might be more of a problem for the party than first thought.
She said: "No, I don't think it is but I am also very clear where incidents are brought to our attention and examples constitute clear anti-Semitism the SNP will act and act quickly.
"We acted quickly with the Kirkcaldy and Cowdenbeath candidate Neale Hanvey last week and the same on Wednesday night.
"We will not tolerate anti-Semitism in our ranks.
Asked if the proper due diligence was carried out ahead of Findlay's election to the conduct committee in October, Ms Sturgeon said: "She was elected by party conference in Ocotber and when these tweets have come to light she has resigned.
"Anti-Semitism is a scourge on our society. We should not become complacent and think that any area is immune from it. I don't believe it is a big problem in the SNP but I do believe we have a duty to act vigorously when we encounter it and we will."
"What Neale Hanvey said was anti-Semitic, you don't have to take my word for it and he has realised the error of what he said.
Meanwhile The Jewish Labour Movement (JLM) has refused to endorse Jeremy Corbyn as prime minister amid renewed claims the party has failed to tackle anti-Semitism in its ranks.
It followed disclosure 70 present and former Labour staffers gave sworn testimony for the JLM's submission to the official inquiry into anti-Semitism in the party by the Equalities and Human Rights Commission (EHRC).
They concluded the party is "no longer a safe space for Jewish people".
Jeremy Corbyn said: "I completely reject that. When I became leader of the party there were no processes in place to deal with anti-Semitism.
"We introduced an appeals procedure to deal with it and we introduced an education process, so that party members understood the hurt that can be caused by anti-Semitic remarks or anti-Semitic behaviour.
"I think we've got processes in place that have improved it a great deal."