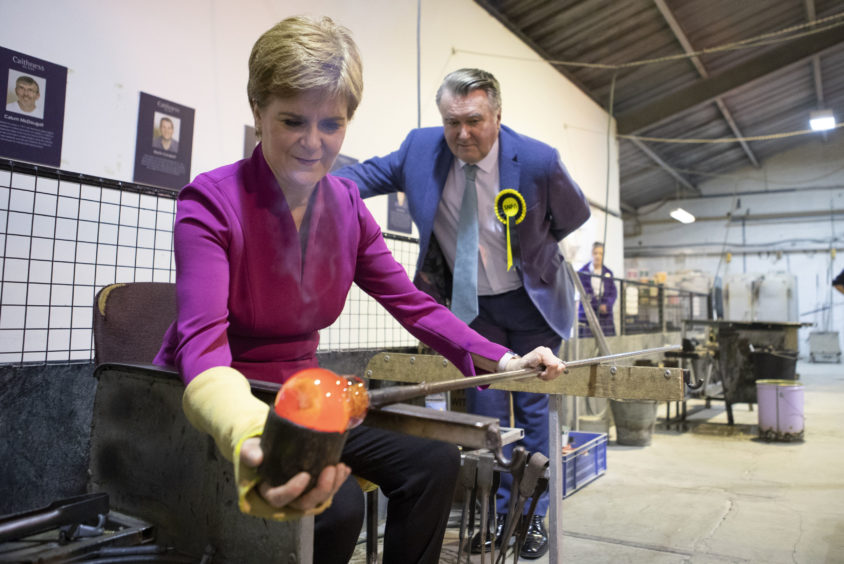 First Minister Nicola Sturgeon joked she would "soldier on" after popular nationalist blogger Wings Over Scotland called for her to stand down.
Pro-Scottish independence blogger Stu Campbell announced on his website he no longer wanted Ms Sturgeon to lead the party, adding he did not believe "she was even trying" to achieve independence for Scotland.
At the party's manifesto launch last week, the SNP leader said she would demand a referendum on Scotland's separation from Westminster by the end of next year.
The England-based writer earlier this year said he had considered forming his own independence party.
The Stooshie team debate the latest issues dominating politics today, including Susan Deacon's resignation from Scotland's police watchdog, more on Scotland's performance in the PISA education rankings, the anti-Semitism row which led to the resignation of SNP conduct committee member Denise Findlay, and a look forward to polling day — which is now just a week away.Search for The Stooshie in your podcast app to subscribe, free!

Posted by The Stooshie on Thursday, 5 December 2019
He wrote on his website: "So we'll say what we've felt for quite a while now but bitten our tongue on in the name of the movement – regardless of the outcome of next week's election, Nicola Sturgeon needs to stand down, and the sooner the better.
"In this site's view, there is no chance whatsoever of independence being achieved under her leadership, and to be honest it's been some time since we've believed she was even trying."
Ms Sturgeon took in a tour of Caithness Glass factory at the Crieff Visitor Centre on Thursday, one of the first stops on her "battle bus" tour a week ahead of the general election.
She told The Courier she had not heard the blogger had dropped his support, adding: "That's news to me, but I think I'll soldier on."
The first minister was joined by SNP candidate John Nicolson, who is contesting the Ochil and South Perthshire seat at next Thursday's election.
It is the second time Ms Sturgeon has visited the constituency in the run-up to the December 12 election.
Last week Chancellor of the Exchequer Sajid Javid visited in support of Conservative candidate Luke Graham.
The latest polls show a percent between the SNP and Conservative candidate, with Mr Graham currently placed to just pip Mr Nicolson to the seat.
Labour, Lib Dems, Brexit and the Greens are predicted to receive less than 10% each next week.
For more on the election and Ms Sturgeon's flying visit to Ochil and South Perthshire, pick up Friday's Courier. Why not try our digital edition?