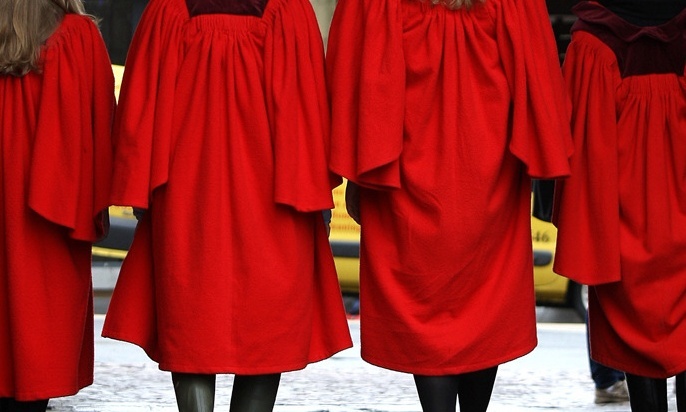 Nicola Sturgeon has put herself on a collision course with Scotland's universities over plans to widen access to higher education.
The SNP Holyrood election manifesto commits to having 20% of students be from the 20% most deprived areas of Scotland by 2030.
An average funding cut of 3.3% was announced for universities in February.
Ms Sturgeon said: "I am very clear that we will set targets and will have milestone targets along the way.
"Some of them are about recognising the difference experiences of pupils from the most disadvantaged backgrounds and making sure they are taken into account.
"Young people getting perhaps four or five Bs in their exams from a deprived background might be equivalent to a person from a wealthier background getting all As.
"So we've got to challenge our universities and some of that will be controversial along the way."
St Andrews University demanded the First Minister be "entirely open and honest" about the possibility her policy will limit the chances of Scots from other backgrounds.
A spokesman said: "If there are to be no new additional university places in Scotland, and a fifth of all our existing places must be reserved for students from the most disadvantaged backgrounds, it will mean simply that there will be fewer places for Scottish students who do not live in country's most deprived areas."
Both Dundee and Abertay universities said they exceeded targets for recruiting students from poorer areas.
Lucy Hunter-Blackburn, formerly the Scottish Government's most senior civil servant on higher education, said there were "good arguments" for the base of Ms Sturgeon's case.
But she added: "It's still not clear though whether or not the SNP thinks these students should be getting into university instead of some others.
"If they are additional, the new government will need to decide whether there will be funding for more places, or more places on the same money, meaning less funding per student. At the moment, university funding is falling."
Main SNP manifesto pledges
Education
Double free childcare to 30 hours a week for three and four-year-olds and vulnerable two-year-olds.
Extra £750 million to boost attainment for poor children and "substantially eliminate it within a decade".
Standardised testing for P1, 4 and 7 and in S3.
Early years children from deprived communities to each have support from teacher or childcare graduate by 2018.
Health
Increase NHS revenue budget by £500m above inflation by 2021.
Build five new elective treatment centres in cities, including Dundee, to cope with ageing population.
Set up "major trauma network" for seriously injured patients through sites in Dundee, Aberdeen, Edinburgh and Glasgow.
Shifting balance of funding to mental health services with £150m investment over five years.
Economy
No change in income tax rates, but a commitment to raise personal allowance and not to implement George Osborne's tax cut.
Extend small business scheme to take total number of firms exempt from business rates to 100,000.
£63.8m cash injection to complete Dundee's waterfront project.
Air Passenger Duty to be cut by half by end of the Parliament.
Environment
A ban on fracking or underground coal gasification unless it is proved
not to harm the environment, communities and health.
Infrastructure
Examine the case for reopening the Stirling-Alloa to Dunfermline railway line in Fife.
Invest in redeveloped station hubs at Perth, Aberdeen, Inverness, Stirling and Motherwell.
Completing redevelopment of Dundee train station.
Welfare
Introduce Social Security Agency and denouncing "scrounger" labels for claimants.
Justice
Create new specific crime of domestic abuse.
Constitution
Call for independence referendum only when most Scots back it and/or material change such as Brexit