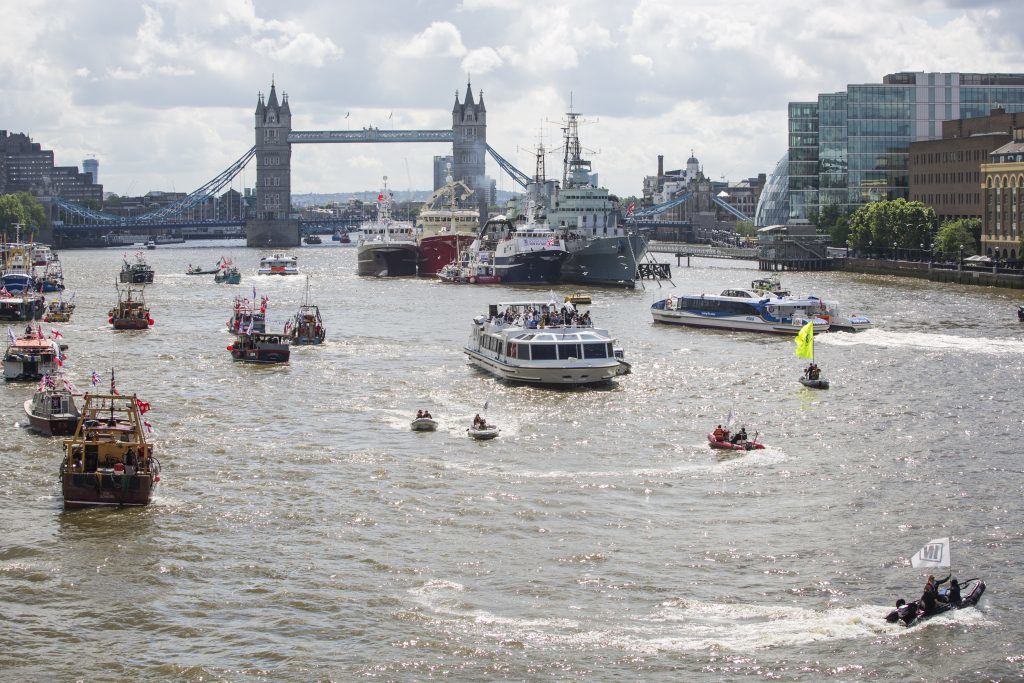 Ukip leader Nigel Farage has joined a flotilla of Brexit-backing fishing boats sailing up the Thames to lobby Parliament to take back control of British waters.
The first of an expected 50 to 60 vessels passed under London's Tower Bridge at around 10am, foghorns sounding.
But they were greeted by boats carrying Remain supporters, including rock star philanthropist Sir Bob Geldof, blasting out the song "In With the In Crowd" from a large on-board sound system.
There were reports of the Remain craft being targeted with water from a fishing boat's hose.
Mr Farage said that the protest was taking place eight days ahead of the June 23 referendum because EU membership had "destroyed our industry".
"The governing principle of the common fisheries policy is that of 'equal access to a common resource'," he said. "Fish stock that should be within the UK's internationally-recognised territorial waters is now shared with our European partners. This has led to a 60% drop in oversized landings and the loss of tens of thousands of jobs in our industry."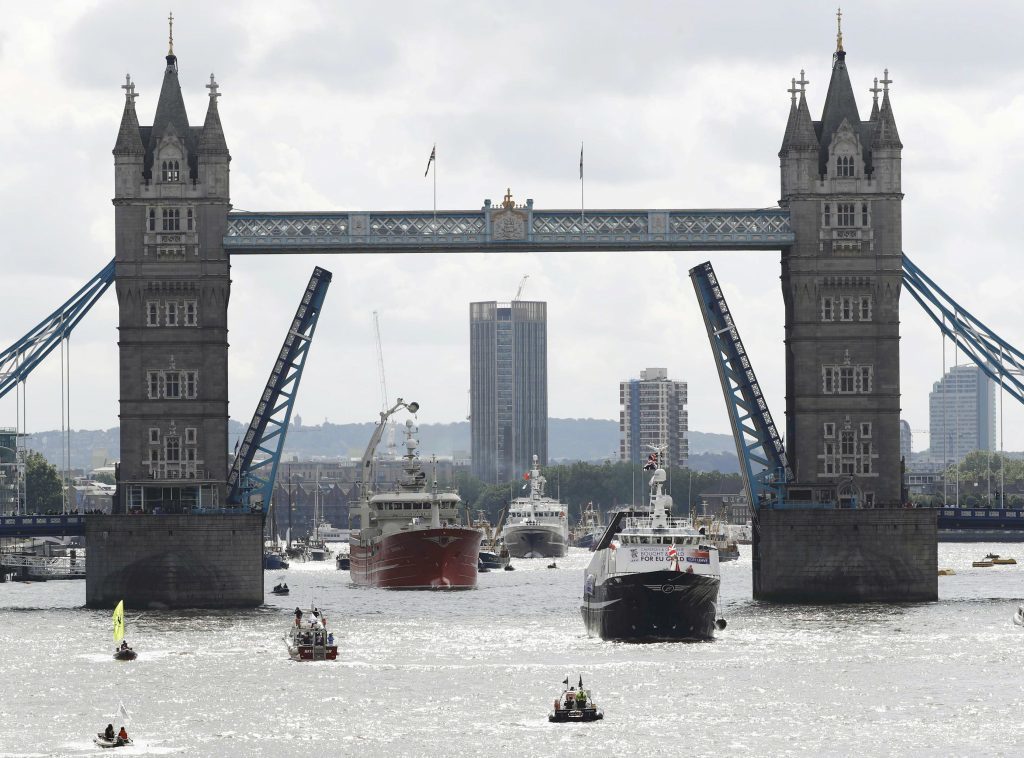 Jobs were also being lost in the charter angling fleet due to new EU regulations on recreational sea angling, said the Ukip leader, who said that Norway, outside the EU, was able to control stocks up to 200 miles off its shores and had a "booming" commercial fishing and angling industry.
"EU membership has destroyed our industry," said Mr Farage. "Today's flotilla is not a celebration or a party but a full-throttled protest. We want our waters back."
Greenpeace accused Mr Farage of "cynical opportunism", saying that as a Ukip MEP he had failed to vote on three major measures designed to fix flaws in the Common Fisheries Policy.
In more than three years as a member of the European Parliament's fisheries committee, Mr Farage turned up for just one of 42 meetings, said the environmental group.
Greenpeace UK executive director John Sauven said: "When Nigel Farage had a chance to stand up for UK fishermen in Brussels, he bunked off. His no-show voting record proves he's no fisherman's friend but a cynical opportunist exploiting the harsh predicament of many fishermen for political gain.
"What's threatening the livelihoods of thousands of sustainable, family-run businesses is the grossly unfair division of fish quota overseen by successive UK governments. The root of the problem lies in London, not Brussels.
"Quitting the EU will only condemn the industry to years of wrangling over new fisheries agreements, with no guarantee of a better deal for fishers or stronger protections for our seas."
Speaking to reporters on a boat on the Thames, Mr Farage branded the Geldof protest "just disgusting".
He said: "These are communities that have been devastated. These are communities that no-one has listened to for years.
"They are here today, they have taken – some of them – several days out of their working week to come and make their protest, to say 'look, we want to take back control of our seas, we want to get jobs back in this industry'.
"To see multi-millionaires frankly mocking them is a pretty shameful sight."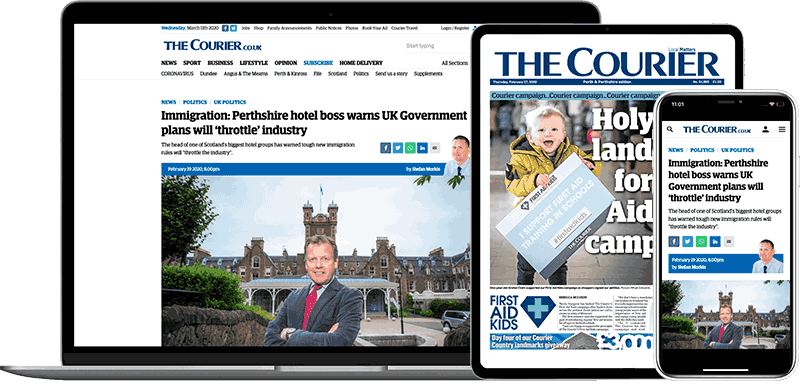 Help support quality local journalism … become a digital subscriber to The Courier
For as little as £5.99 a month you can access all of our content, including Premium articles.
Subscribe