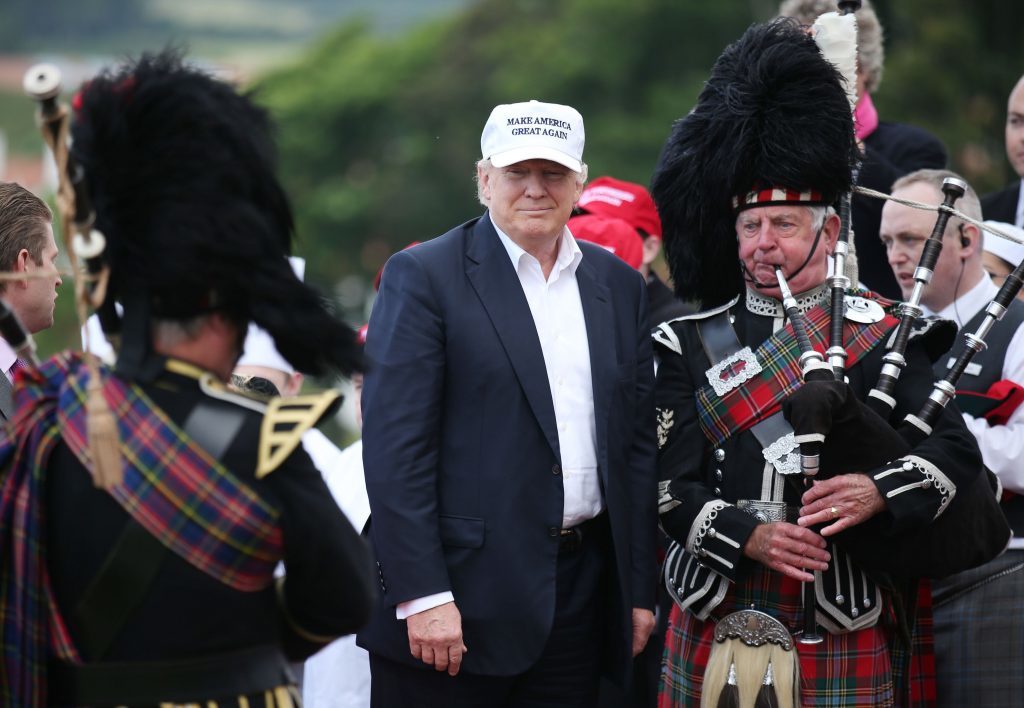 Presidential hopeful Donald Trump said it is a "great thing" that the people of the UK have "taken back their country" in voting to leave the EU, as he touched down at his golf resort in Scotland.
The billionaire arrived in his "Trump" emblazoned helicopter at the Turnberry resort in South Ayrshire to officially open the revamped resort he bought in 2014, just an hour after Prime Minister David Cameron said he intended to stand down in October.
He gave a thumbs-up as he left his helicopter and shook hands with workers on his way to the hotel before making the comments about the EU referendum result.
'The UK took back their country-that's a great thing' #Trump #Trump2016 @PA pic.twitter.com/NBYxnFhYW4

— Mark McLaughlin (@mark_mclaughlin) June 24, 2016
Mr Trump said: "I think it's a great thing that's happened. It's an amazing vote, very historic.
"People are angry all over the world. They're angry over borders, they're angry over people coming into the country and taking over and nobody even knows who they are.
"They're angry about many, many things in the UK, the US and many other places.
"This will not be the last."
He said UK divisions "will heal" as "it is a great place" adding: "I said this was going to happen and I think it is a great thing.
"Basically, they took back their country. That's a great thing.
"I think we're doing very well in the United States also, and it is essentially the same thing that is happening in the United States.
"I want to support my son who really represented me here in building this great great place (Turnberry)."
When asked his opinion on David Cameron announcing he is to step down, Trump said: "Well, that's too bad."
Around 50 protesters carrying placards gathered at a car park close to Turnberry golf course and appeared to be closely monitored by police.
The opposition comes as Mr Trump has courted controversy with suggestions that a wall be built on the US border with Mexico and a temporary ban be introduced on Muslims entering America.
The Stand Up To Trump protest comes after almost 587,000 people earlier signed a petition calling for the controversial billionaire himself to be banned from entering the UK.
Campaigners said he was not welcome, claiming he has "ramped up levels of racism, Islamophobia, and bigotry" during his presidential bid.
Trump also posted a statement on his Facebook page regarding the EU result.
It said: "The people of the United Kingdom have exercised the sacred right of all free peoples.
"They have declared their independence from the European Union and have voted to reassert control over their own politics, borders and economy.
"A Trump administration pledges to strengthen our ties with a free and independent Britain, deepening our bonds in commerce, culture and mutual defense [sic].
"The whole world is more peaceful and stable when our two countries – and our two peoples – are united together, as they will be under a Trump administration.
"Come November, the American people will have the chance to re-declare their independence.
"Americans will have a chance to vote for trade, immigration and foreign policies that put our citizens first.
"They will have the chance to reject today's rule by the global elite and to embrace real change that delivers a government of, by and for the people.
"I hope America is watching, it will soon be time to believe in America again."