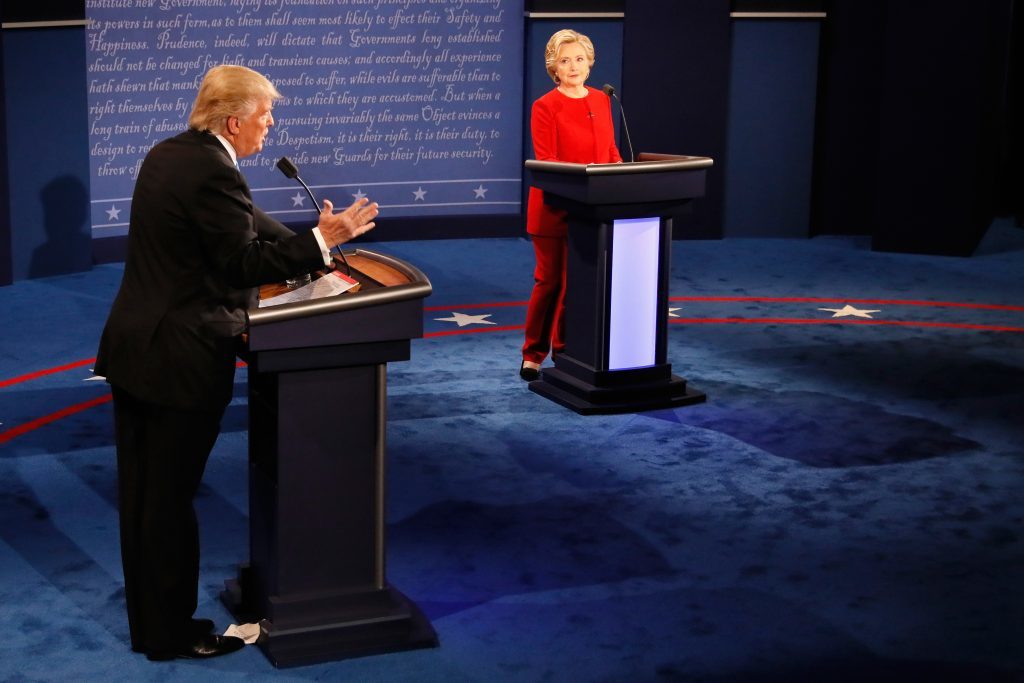 Hillary Clinton accused Donald Trump of racism as the US presidential candidates clashed in their first head-to-head debate in the race to the White House.
The Democrat and Republican rivals squared off in a 90-minute debate at Hofstra University in New York, which was screened to tens of millions of television viewers in America and live-streamed across the world.
During a number of fiery exchanges, Mr Trump claimed he had a "better temperament" than Mrs Clinton and accused her of not having the "stamina" to be president.
Mrs Clinton said Mr Trump had started his political career with a "racist lie" after he falsely suggested President Barack Obama was born outside of America.
"He has a long record of engaging in racist behaviour," she said.
Mrs Clinton also criticised the billionaire tycoon's comments about women, adding: "This is a man who has called women pigs, slobs and dogs."
Discussing the fight against Isis, Mr Trump attacked Mrs Clinton for revealing her plan to tackle the extremist group on her website.
"You're telling the enemy everything you want to do. No wonder you've been fighting Isis your entire life," he said.
The candidates also addressed Mr Trump's refusal to release his tax returns, with the Republican insisting he would publish them against his lawyers' advice if Mrs Clinton releases the 33,000 deleted emails from her private server.
His comments prompted cheers from sections of the audience, with moderator Lester Holt having to remind those watching to remain quiet.
Mrs Clinton said her use of a private email server was a "mistake" and claimed Mr Trump could be refusing to release his tax returns because he was not as rich or as charitable as he claimed.
She said: "I think probably he's not that enthusiastic having the rest of our country see what the real reasons are because it must be something really important, even terrible, he's trying to hide."
During the debate, Mr Trump repeatedly insisted that he opposed the Iraq War before the 2003 US and UK invasion, despite telling radio host Howard Stern in September 2002 that he supported it.
Mrs Clinton said the Republican was too easily provoked to serve as commander in chief and could be quickly drawn into a war involving nuclear weapons.
"A man who can be provoked by a tweet should not have his fingers anywhere near the nuclear codes," she said.
Discussing nuclear weapons, Mr Trump said he "would not do first strike" but he "can't take anything off the table".
Other notable exchanges during included Mrs Clinton telling Mr Trump "you live in your own reality", before adding "By the end of this evening I think I'll be blamed for everything that has ever happened."
Mr Trump prompted laughter from the audience when he replied: "Why not?"
Former President Bill Clinton and Melania Trump were among those in the audience at the event, which was expected to the most watched debate in TV history.
Some 2,000 protesters gathered outside the debate hall, including Hardhats for Hillary, socialists and activists calling for a living wage, police said. Twenty four people were arrested on mostly disorderly conduct charges.
Mr Trump and Mrs Clinton will take part in two more debates before the November 8 election, while their running mates, Tim Kaine and Mike Pence, will square off next week
HOW THE WORLD REACTED AS DONALD TRUMP AND HILLARY CLINTON CLASHED:
The world was watching – and tweeting – as Donald Trump and Hillary Clinton clashed face-to-face for the first time.
She's smiling with ease cause #shesgotthis #ImWithHer #debatenight

— KATY PERRY (@katyperry) September 27, 2016
Hillary wants us to go to her website to check her facts. THAT'S WHAT I AM HERE FOR HILLARY. I give her website "Pants on Fire" #debatenight

— Senator Rand Paul (@RandPaul) September 27, 2016
I've never in my lifetime seen babbling incoherence on a Presidential debate stage like Trump is displaying tonight. I'm in a nightmare.

— Seth MacFarlane (@SethMacFarlane) September 27, 2016
Hillary Clinton belongs in the White House. Donald Trump belongs on my show.

— Jerry Springer (@jerryspringer) September 27, 2016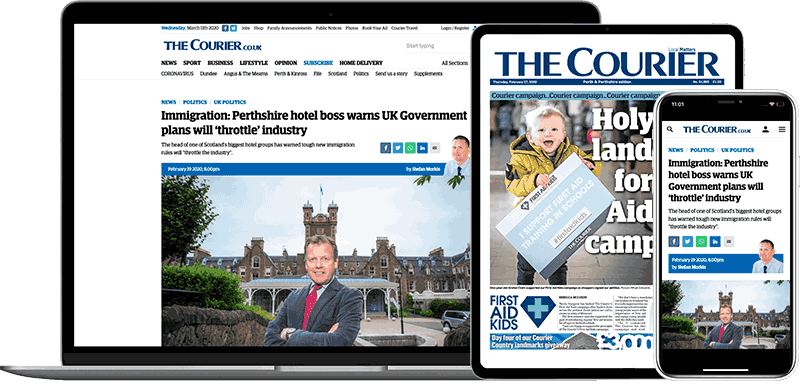 Help support quality local journalism … become a digital subscriber to The Courier
For as little as £5.99 a month you can access all of our content, including Premium articles.
Subscribe