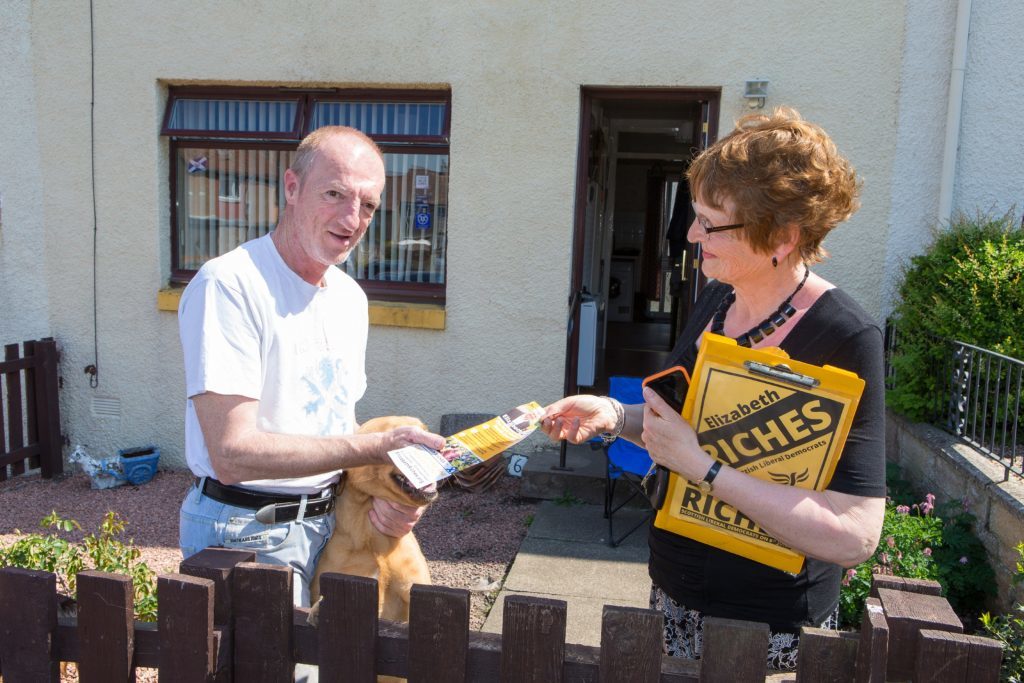 We let each political party with a chance of winning a seat take Gayle Ritchie on the stump with one of their candidates. Today, she is in North East Fife with the Liberal Democrats' Elizabeth Riches.
Elizabeth Riches is laughing at the prospect of being referred to as "fluff".
We're marching through the polished back streets of Newburgh in Fife when I make the mistake of badly expressing the fact I'm anything but a specialist politics writer.
"I'm a features writer, so I write about things like the outdoors, beauty, fashion, celebrities, food and drink, or fluff," I say, and instantly regret it (because of course, I don't mean that at all).
Elizabeth, who is the newly selected Liberal Democrat candidate for North East Fife, won't let it go.
"I've never been referred to as fluff before!" she laughs. "That's a first!"
As the general election looms, Elizabeth has been out canvassing all over the constituency, clocking up miles and increasing her fitness.
We walk on at a cracking speed and some of her fellow activists struggle to keep pace.
"Where's Elizabeth now?" they cry, as she disappears round a corner.
The North East Fife constituency is one of a number of SNP-held seats across Scotland which is being keenly fought for by the Conservatives and Liberal Democrats.
The seat, which had been a stronghold for Sir Menzies Campbell for 28 years, swung to the SNP when MP Stephen Gethins snatched a 4344-strong majority in 2015.
A resident of Anstruther, Elizabeth – who has represented the East Neuk and Landward for 27 years – was unveiled last month as the party's choice to fight for the Westminster seat.
She also served as leader of the opposition in Fife Council for ten years and depute leader of Fife Council from 2007 to 2012.
"I'm realistic that this is a winnable seat," says Elizabeth, rubbing some suncream into her reddening neck (it's a sizzling 26C today).
"We're meeting Tories who have decided they're going to support me and we're beginning to see the shine come off the SNP.
"Those who have voted SNP are becoming disillusioned. They don't like the fact the day-to-day issues like education, health and hospital waiting times are being ignored."
How then would she try to convince an ardent SNP supporter to switch to the Lib Dems?
"I'd assume they were for independence and ask – 'Are you convinced this country has got all the answers to being independent?'
"Post-referendum, there were so many unknowns and no answers. As Lib Dems, we want to turn away from a divisive indyref.
"I hope Holyrood can focus on what they've been elected to do and campaign against a hard Brexit.
"North East Fife is an area that depends on the EU, for our universities, agriculture workers and health. I believe we need freedom of movement."
Kicking off the canvassing in Newburgh, Elizabeth meets a good few supporters, as well as those unwilling to be swayed.
"I'm normally a Tory voter but locally, Andrew Arbuckle has been an excellent Lib Dem councillor," says Danny Ferguson.
"We've got a good lady in London and the truth is, I probably will vote Tory in this general election. We have to make our voices heard and I see it as a fight between Lib Dems and Tories."
Childminder Ellie Moss, 31, says her family has always backed the Lib Dems and will be doing so on June 8.
"We're always very happy with the Lib Dem policies and we're not willing for the Tories to get in," she says.
Bob Stewart, 52, is fed up of the SNP and wants a change. Could he be persuaded to join the Lib Dems?
"I've been with the SNP for years but I'm very disillusioned with them at the moment," he scowls.
"I helped the party for years, putting up posters and dishing out leaflets. But when I needed help from them, there was a distinct lack of contact.
"When I needed a gate fixed, it was the Lib Dems who helped out. I'll never vote SNP again. The Lib Dems may well have my vote."
Susan and Margaret O'Brien say they're voting "neither SNP nor Tory" and leave Elizabeth to guess as to how they'll mark their ballot papers.
"Many years ago, the former councillor Bob Nairn (who was Lib Dem) helped me, and I was always very grateful," says Susan.
We also meet former Newburgh Community Council chairwoman Irene Cumming. She's sitting in her garden pointing to a huge yellow Lib Dems poster she's stuck to her window. Need she say more?
Elizabeth is full of charm and charisma, chatting to everyone she meets, whatever their political preferences.
"You have to listen to what concerns people; individuals have their worries and there's no point in pontificating about things that hold no interest," she says.
"Some are worried about their children's education and the fact Elmwood College can't offer the courses it used to, or they might be concerned about lack of broadband.
"As an MP, I'd find solutions. This is a unique moment for the country. This election is probably far more important than any we'll have for a long time and I would really make a difference to North East Fife."
"I'll use my experience as a teacher, councillor for the East Neuk and deputy leader of Fife Council to serve the best interests of the area."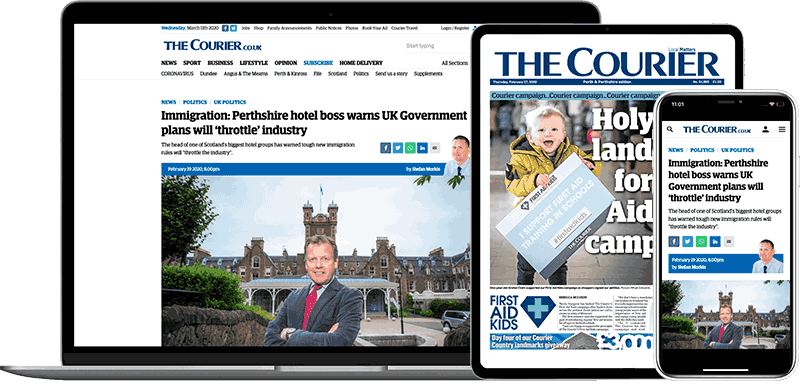 Help support quality local journalism … become a digital subscriber to The Courier
For as little as £5.99 a month you can access all of our content, including Premium articles.
Subscribe