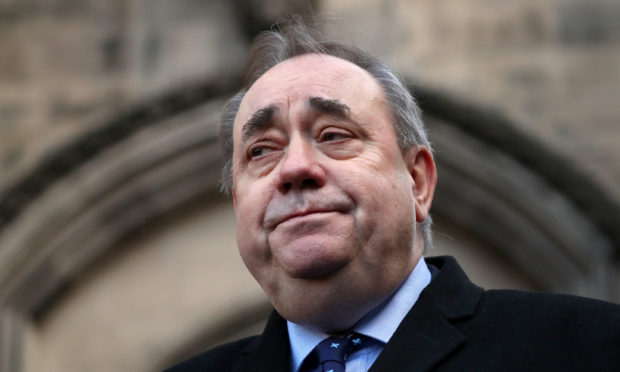 Alex Salmond will appear at the High Court Edinburgh next month for a preliminary hearing in relation to accusations of attempted rape.
The case against the former first minister, who stepped down following the referendum in 2014, will be expected to call on November 21.
Salmond, 64, of Strichen, Aberdeenshire, faces 14 charges, mostly relating to the Sexual Offences (Scotland) Act 2009.
He is accused of two counts of attempted rape, nine of sexual assault, two of indecent assault and one breach of the peace.
He has publicly and strenuously denied all the allegations made against him.
The case is active in terms of the Contempt of Court Act 1981, the Crown Office has reminded, making it a criminal offence anything that creates a substantial risk of seriously prejudicing "active" criminal proceedings.
Proceedings became active after Salmond was arrested and charged in January this year.
A preliminary hearing can be considered to be a pre-trial hearing.
When the case calls in court the accused will be present and will require to enter a plea to each charge – either guilty or not guilty.
If the accused is pleading not guilty to the charges, the court will then be advised about the state of preparation of the case.
The crown will tell the court about matters such as the number of witnesses likely to be called to give evidence and the likely length of the trial.
The court will also be told of any evidence that has been agreed between the Crown and Defence – usually routine matters not in dispute.
The defence will also advise the court of the preparation of their case and whether any special defences are to be relied upon – including self defence, alibi or incrimination.
The Sheriff will make any further investigations they consider are required and if satisfied all arrangements are in place will continue the case to the trial diet.
The "botched" investigation into complaints of sexual harassment against Salmond by the Scottish Government meant more than £500,000 was paid by the executive to him.
Mr Salmond quit the SNP and challenged Holyrood at the Court of Session in Edinburgh following allegations levelled against him which he strenuously denied.
He launched a legal action – alongside a crowdfunder appeal which saw people hand him £100,000 – last August.
Salmond said he will distribute the remainder of the crowdfunder to "good causes".
Lord Pentland said the government's actions had been "unlawful in respect that they were procedurally unfair" and had been "tainted with apparent bias".
The Scottish Government admitted it had breached its own guidelines during the investigation by appointing an investigator who had "prior involvement" in the case.
An inquiry, called by the Scottish Conservatives, into the government's handling of sexual harassment complaints has been postponed until after the conclusion of the High Court trial.