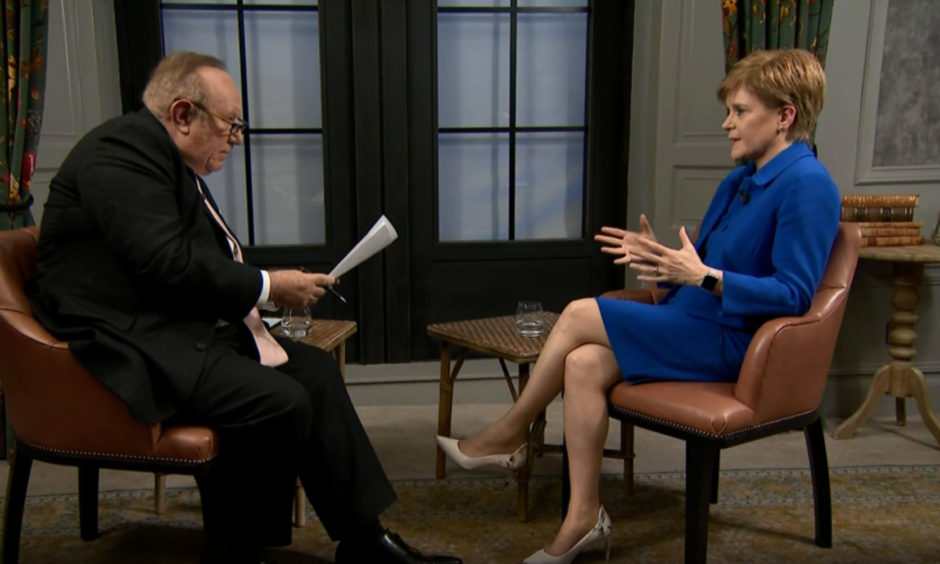 First Minister Nicola Sturgeon last night admitted the Scottish Government had "not been good enough" after failing to meet a majority of its health service targets.
The SNP leader was the first of the UK's political leaders to take part in a series of BBC interviews ahead of next month's election.
Ms Sturgeon was grilled on the missed waiting time targets which she herself wrote into law while health minister.
Since no-one else thought to do so… we've launched a general election #podcast! Episode 1 features @davieclegg @EEadele @c_pmalik @mrdandonoghue. It's #GE2019 with a Scottish twist.

👉Search for The Stooshie in your podcast app to subscribe, free! pic.twitter.com/o1w7zRRXoL

— The Courier (@thecourieruk) November 25, 2019
Only two of the eight key national waiting time targets were met by NHS Scotland in 2018-19.
The first minister was also asked by veteran broadcaster Andrew Neil about the delay in opening the Sick Kids hospital in Edinburgh, the contamination revelations at Queen Elizabeth in Glasgow, as well as plans for a second referendum on Scottish independence.
He said: "Only two of your eight waiting list target times have been hit, you haven't hit the A&E targets since 2017, children are dying in a Glasgow hospital because the water's contaminated, a new multi-million pound Edinburgh hospital that should have opened in 2012 is still unfit to open – you can't even get the ventilation system to work.
"You've got the worst drug addiction problem in Europe yet you cut drug treatment budgets by £15 million, you clung on to your last health minister [Shona Robison] and are under pressure now to sack their successor [Jeane Freeman].
"You've called for legislation to protect the NHS from Donald Trump, maybe the NHS needs legislation to protect it from Nicola Sturgeon."
"You've called for legislation to protect the NHS from Donald Trump, maybe the NHS needs legislation to protect it from Nicola Sturgeon!"@afneil burns @NicolaSturgeon #GE2019

— Stephen Canning (@EssexCanning) November 25, 2019
On being asked about the problems surrounding the SNP's running of the NHS, Ms Sturgeon said: "We are not meeting (targets) and it is not good enough.
"Health services are undergoing pressure from increased demand and Scotland is no different there.
"What is different is the focus we are bringing to address the issues.
"If you take the Audit Scotland report… seven out of the eight key waiting time targets including (treatment times) are now more people being seen within those targets than was the case the year before.
"We have an £850 million waiting time improvement plan under way, 1.8 million people have been seen within that target and have benefited.
"I am not denying (we are way behind on targets) but we are addressing these challenges and we are ahead of the performance of health services in other parts of the UK."
Asked whether Scotland could join the EU while using the currency of a non-member state, Ms Sturgeon said: "We would be setting up a central bank, we would be setting up the infrastructure that is required for that, that is part of the discussion we would have about the European Union, but it is not true to say we would have had to have established an independent currency before joining the European Union.
"We would have a discussion with the EU about the journey an independent Scotland was on in terms of currency, and the accession if Scotland was already out of the EU to the point where we re-joined the EU."
When asked how long it would take an independent Scotland to join the EU, she added: "I'm not going to give you a specific timescale for that.
"In all of my experience of discussions with different interests in the European Union I think that could be relatively quick but that will depend on the discussions we have.
"We understand the conditions we would require to meet and the discussions that would require to take place but if we're in a position of Scotland being taken out of the European Union then we will be seeking a way back in."
East Renfrewshire Conservative candidate Paul Masterton said: "The reason the first minister can't give a timetable on what might happen to Scotland after independence is because the SNP doesn't know what will happen. Yet still she insists we must have another referendum next year."