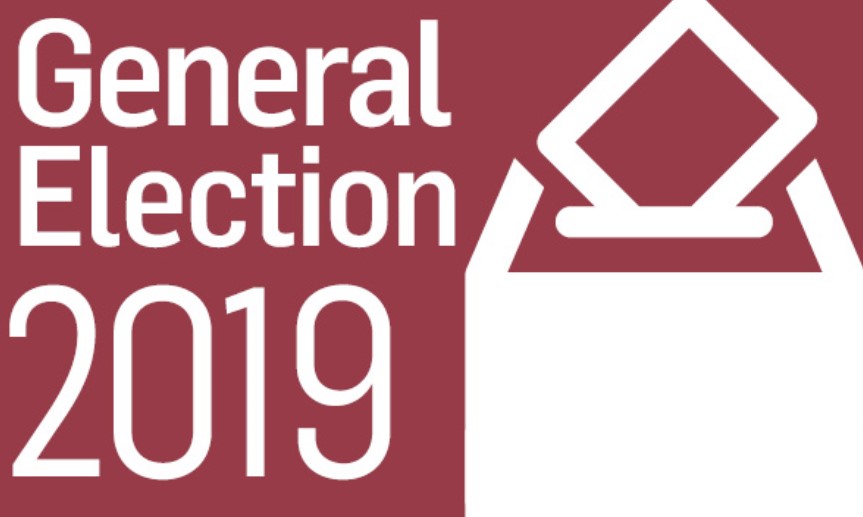 A poll on the eve of the general election has predicted six SNP gains but a small Tory majority overall.
The final poll by YouGov, published ahead of the December 12 polling day, says that the SNP will make six gains in total, including Tory-held seats in Angus, and Ochil and South Perthshire.
But it says the Tories will end up with a 28-seat majority, down on a previous poll predicting a bigger success.
YouGov's MRP model correctly called 93% of seats in the 2017 general election.
The Tories could win 339 seats (22 more than they took in 2017) and a vote share of 43%. In terms of seats, this would be the Conservatives' best performance since 1987.
Meanwhile, Labour is set to lose 31 seats – falling from 262 in 2017 to 231 – and take 34% of the vote (a six percentage point decrease). In terms of seats won this would be the party's worst performance since 1983.
The poll predicts the following:
Tories set for 28 seat majority
Seats: Conservative 339 (22+ on 2017) seats; Labour 231 (-31); Lib Dems 15 (+3); SNP 41 (+6); Plaid 4 (-); Green Party 1 (-)
Final voting intention: Conservatives on 43%; Labour 34%, Liberal Democrats 12%; Brexit Party 3%
Previous poll had Labour to lose 44 seats to the Conservatives; now dropped to 29
SNP gains from the Tories in Angus, Ochil and South Perthshire, East Renfrewshire, Gordon and Stirling
SNP gains from Labour in Midlothian and Glasgow North East
Tory gain from SNP at Lanark and Hamilton East
But Tories could still take Bishop Auckland, Dudley North, Bury South; Newcastle-Under-Lyme, Scunthorpe, Don Valley, North Norfolk
Labour could hold Canterbury and Kensington and take Chipping Barnett and Putney; Lib Dems could take Richmond Park, St Albans, Sheffield Hallam and South Cambridgeshire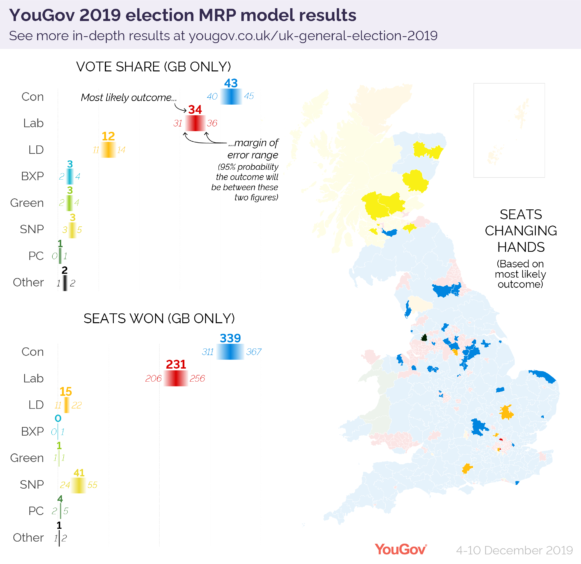 Labour benefits from a late swing
An interesting insight from the model is Labour's late rise. While in 2017 the party started to close the gap a few weeks out from the election, and then stayed steady for the final week, this time it seems the gap is closing very late in the campaign.
Since the weekend the Conservative lead over Labour in the model has shrunk from 11% to 9%, which has also brought down the estimated size of the Conservative majority.
SNP profit at Labour and Tory expense
Headline seats: SNP 41, Conservative 9, Labour 5, Lib Dem 4
The SNP is set to make gains in Scotland to the detriment of Labour and the Conservatives. The model shows Labour set to lose two of its seven seats to the SNP. But all are close tussles, apart from Edinburgh South, which Labour promises to hold quite comfortably.
Of the 13 seats the Conservatives took in 2017 the SNP is set to take five. But again, all but one (Stirling, with a nine-point SNP lead) are extremely tight.
Among the 60 seats in the country there are 11 where the SNP is ahead by 5% or less, and eight where it is in second place 5% or less behind the lead party. This includes North East Fife, where the SNP beat the Lib Dems by just two votes in 2017.
Elsewhere, there's little change for the Lib Dems. It should hold all four of the seats it took in 2017 (all with a seven-point or greater lead). The narrowest Lib Dem lead is in Jo Swinson's seat of East Dunbartonshire, but with the Lib Dems ahead of the SNP by seven points.
Labour struggles in north Wales
Headline seats: Lab 26, Con 10, Plaid 4
The main contests in Wales look to be in the north, where all six of Labour's seats are on track for a tight race.
According to the model two are going to the Conservatives, including Wrexham, which Labour has won at every election since 1922. Labour is still marginally ahead in four, including Ynyss Mon, where there is a three-way battle between Labour, the Conservatives and Plaid Cymru.
In all six of these seats the difference between the party in first and second place is five points or less, making them too close to call. Labour's ability to hold onto its seats in this region could dictate their success in Wales overall.
The picture for Labour is a lot better in south Wales, where the party is on course to keep all of its seats. The Conservatives are not far behind in Newport West, Gower and Bridgend, however.
Elsewhere Plaid Cymru should hold onto its four seats while the Liberal Democrats look likely to have another disappointing night in Wales, with Brecon and Radnorshire going back to the Conservatives.
Shock seats from 2017, and potential 2019 upsets
Two years ago politicos were surprised by shock results in a handful of constituencies, including Labour taking Kensington from the Conservatives by just 20 votes.
The model shows that Labour is set to just about hold the seat with 38% of the share and an extremely narrow lead over the Conservatives on 36%. The first round of MRP findings two weeks ago had indicated that the Conservatives could win this seat back.
Another shock from 2017 was Canterbury electing a Labour MP after a Conservative winning streaking stretching nearly a century. Not only will Labour hold Canterbury but it appears likely to double its lead to 12 points (Labour 52%, Conservative 40%) compared to the first MRP poll.
Bury North remains marginal after Labour gained it from the Conservatives in 2017. It will be a tight contest, with just two points between Labour (45%) and Conservatives (43%).
Walsall North and Mansfield, two constituencies with long Labour reigns, returned Tory MPs at the last election. Conservatives look set to comfortably win both these seats once again.
Chingford and Wood Green has been a safe Tory seat since it was created in 1997, and was once held by Iain Duncan Smith. But with demographic changes and other local factors the comfortable advantage it had has changed. Current results now show a two-point lead for the Conservatives (47% versus Labour's 45%).
In 2017 Dominic Raab won Esher and Walton with a majority of over 23,000. This constituency also voted Remain at the 2016 EU Referendum. The model shows that tactical voting is producing a shift towards the Lib Dems, with the party now on 44% and closing the gap on the Conservatives (46%).
Chris Curtis, YouGov's political research manager, said: "Our latest and final poll shows that a small Conservative majority is likely, with the Tories taking 22 more seats than in 2017 and Labour losing 31. This would be the best and worst results respectively for each party since the 80s.
"But the margins are extremely tight and small swings in a small number of seats, perhaps from tactical voting and a continuation of Labour's recent upward trend, means we can't currently rule out a hung parliament. As things currently stand there are 85 seats with a margin of error of 5% or less."