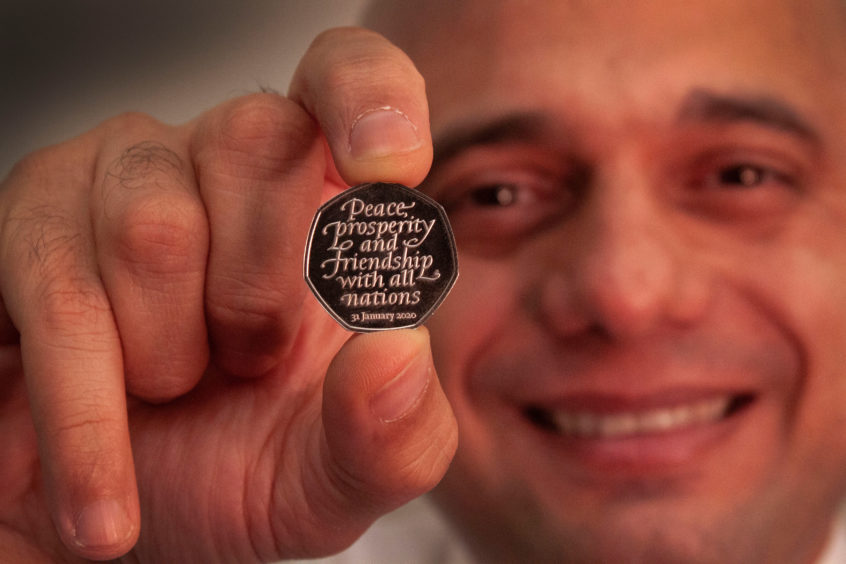 Dundee City Council leader John Alexander has claimed the UK Government wants to drip-feed its £150 million share of Tay Cities Deal funding in bite-sized chunks over 15 years.
Mr Alexander has written to Chancellor Sajid Javid about the proposal, which he warned would be "ridiculous" and may harm the prospects of projects dependent on Cities Deal funding from succeeding.
However, Murray Lyle, the Conservative leader of Perth and Kinross Council, has said he expects the money to paid out over 10 years rather than 15.
The SNP councillor also wants the UK Government to set a date for the final signing of the Tay Cities Deal after it was delayed due to December's General Election.
The initial terms of the multi-million-pound cash injection were signed off last November and would fund major projects like a third road bridge across the Tay north of Perth and developments at the James Hutton Institute, St Andrews University and in Dundee.
In his letter, which has also been sent to Scottish Secretary Alister Jack, Mr Alexander writes: "Whilst the deals seek to leverage investment, at this point and because of the continued delay, it is stifling investment and preventing growth.
"That is a stark reality that requires political intervention at the highest levels of both Governments.
"I understand that it is currently the UK Government's position that equal allocations of funding will be provided over 15 years.
"That represents investments of £10 million per year and would not deliver any significant boost, nor would it allow for projects to move forward at pace."
---
---
Mr Alexander said this could mean projects being delivered over an extended period of time.
He said: "For example, a project of £60 million would potentially have to be delivered over six years to meet the funding envelope.
"Like me, I'm sure you would agree that this is ridiculous."
Mr Alexander called for "common sense" to be applied and said there some projects have already started in the expectation funding would already have been agreed.
He said: "We were told it would have been signed off the end of January and now we are being told by the middle of March. It is just unacceptable.
"It is just dragging on and one. I would say everyone involved in the Tay Cities Deal is frustrated."
£700 million investment
The £700 million city region deal, which is also financially backed by local authorities, universities and private sources, includes cash for transport links, research facilities, cultural centres and industry hubs.
Funding for 23 projects was unlocked as part of the "transformative" deal and it is hoped around 6,000 could be created in Tayside over the next 10 to 15 years as a result of the investment.
The Scottish Government has pledged £200 million. The UK Government has pledged £150 million but it has refused repeated demands to match the Scottish Government's contribution.
It was originally hoped the deal would deliver more than £1 billion of investment to Tayside and north east Fife.
Audit Scotland has said that while cities deals can deliver huge investment, their successes can be difficult to measure.
However, Perth and Kinross Council leader councillor Murray Lyle said he expects the money to be paid over a decade rather than 15 years and said he is "confident" the deal will be ratified in March.
The Conservative councillor said: "I have heard it will be paid over 10 years and have been lobbying colleagues in the Scottish and UK governments to have that.
"It is my understanding it will be a 10-year deal."
Mr Lyle added he is not unduly concerned about the delay in signing off on the deal.
He said: "It's unfortunate but given that we live in a democracy and it was decided to have an election there has been a delay."
A UK Government spokeswoman said: "We're committed to levelling up regions and nations across all parts of the union which is why we are investing £150 million in the Tay Cities Deal.
"This will deliver significant long-term economic benefits and is part of a wider £1.4billion investment in City and Growth Deals across Scotland.
"We are making good progress on the deal."
A Scottish Government spokeswoman said: "We have repeatedly pressed the UK Government to sign a full Tay Cities Region Deal as soon as possible.
"The Cabinet Secretary for Transport, Infrastructure and Connectivity wrote on this issue to the Secretary of State for Scotland in December, just after the UK general election, suggesting the deal be signed in January, and he again pressed the point in a subsequent meeting this month.
"The Scottish Government is committed to providing its £150 million share of funding over ten years and we urge the UK Government, which is profiling funding over 15 years, to do the same."