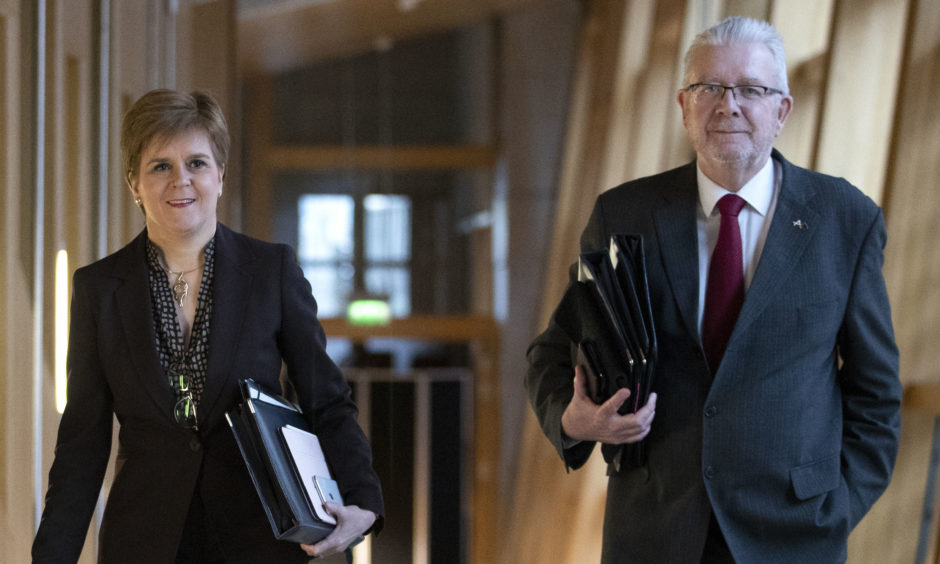 MSPs have backed First Minister Nicola Sturgeon's call to hold a second Scottish independence referendum.
The SNP leader's motion called for Holyrood to be handed the power to hold Indyref2.
It was backed by 64 votes against 54.
The SNP want a second independence referendum to be held later in 2020.
ANALYSIS: Nicola Sturgeon wins Holyrood support for a 2020 indyref but debate dismissed as a 'ridiculous charade'
Mrs Sturgeon insisted a second vote on independence is necessary to protect Scotland from the consequences of a Tory Government and Brexit.
The motion called for a referendum to be held "so that the people of Scotland can decide whether they wish to be an independent country".
🗳 Scotland must have a choice about its future. pic.twitter.com/HDRzfRYca9

— The SNP (@theSNP) January 29, 2020
Following the vote, Holyrood is now calling on the UK Government to "reach an agreement with the Scottish Government on such a referendum taking place on a date and in a manner determined by the Scottish Parliament".
It comes two weeks after Prime Minister Boris Johnson rejected Mrs Sturgeon's call for the Scottish Government to be given the power to hold a fresh vote on independence.
In a letter to the First Minister, the Prime Minister claimed that giving the Scottish Parliament the ability to hold Indyref2 would go against the "democratic decision of the Scottish people".
Writing to the SNP leader, Mr Johnson said: "I cannot agree to any request for a transfer of power that would lead to further independence referendums."
However with the UK due to leave the European Union on Friday – something Scots voted against in 2016 – Mrs Sturgeon insisted there must now be a fresh ballot.
Warning MSPs of the consequences for Scotland of both Brexit and a Boris Johnson Government on Wednesday, she said: "Given what the Tories have in store, proposing a further decision on independence isn't simply legitimate – it is necessary."
She accused UK ministers of being "completely deaf to Scotland's interests, needs and voice", adding that their vision for the UK is driven by "jingoism and xenophobia".
Independence, she argued, would give Scotland an alternative future.
The First Minister said: "We stand just two days from losing our EU membership and all of the rights that go with it.
"In my view it is beyond doubt now that the only realistic way for Scotland to return to the heart of Europe and to ensure we get the governments we vote for is to become an independent country."
She hit out at the Tories, Labour and the Liberal Democrats for their opposition to a second ballot, saying: "It is hard to escape the conclusion that it is their fear of the choice Scotland would make on the substantive question that is driving the anti-democratic position of the opposition parties.
"It is only ever parties that know their arguments are bust that have to resort to blocking democracy.
"I know not everyone agrees with my position on independence, but I am happy to have that debate and let Scotland decide."
Scottish Liberal Democrat Willie Rennie claimed the SNP had "learned nothing from Brexit".
He added: "Their answer to leaving an economic and social union of 40 years is to leave another closer, more tightly integrated union too. They are a party of barriers and division, when we need unity and collaboration more than ever.
"While the SNP debate independence, we are seeing health, education and the police struggling to get by. This is the true cost of the SNP's independence obsession."
Pro-UK campaign group Scotland in Union branded the vote in Holyrood an "attempt to distract from the nationalists' abysmal record running Scotland's public services, with hospitals in crisis, targets to close the education attainment gap being missed, and police stations falling apart".
Chief executive Pamela Nash insisted: "The vast majority of people in Scotland do not want a divisive second independence referendum. Scotland deserves better."