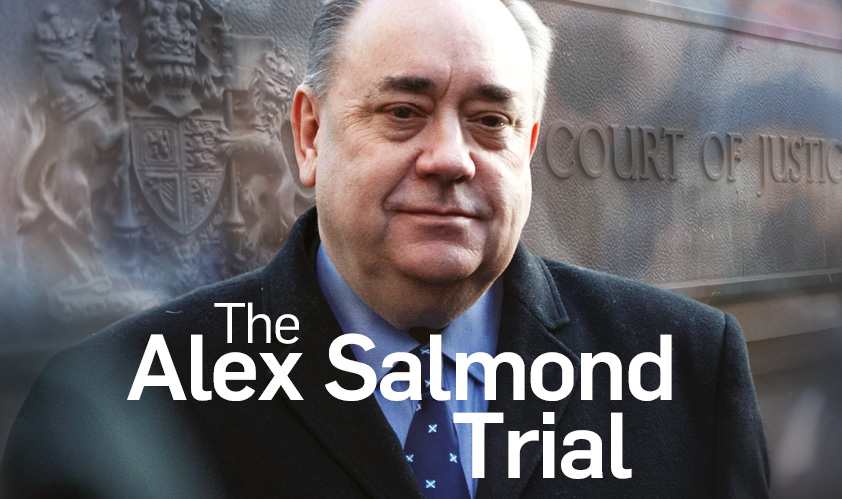 Alex Salmond has branded the allegations made against him as "ludicrous and insane fabrications" that are being used against him for a "political purpose".
The former first minister took the stand at the High Court in Edinburgh today to speak in his own defence.
The 65-year-old has maintained his innocence against the 13 charges against him. They involve nine women.
While on the stand, Salmond accepted that some incidents detailed by the women had happened, but explained they had been "taken out of all proportion" and were being "misremembered."
Gordon Jackson QC, defending, said: "Events that were not viewed seriously are being treated seriously years later."
Salmond replied: "That's correct."
Mr Jackson asked: "Why do you think that is?"
Salmond said: "Two reasons. Some I can tell are deliberate fabrications for a political purpose. Some are interpretations that are being taken out of all proportion."
He accepted he had kissed Woman F on the mouth as she was leaving Bute House on an occasion in either November or December, 2013, but said that he had intended to kiss her on the cheek to say goodnight and had "missed".
Salmond added that he had apologised to the same woman about an incident within his bedroom in December 2013 that he now faces a sexual assault allegation for.
Giving evidence, the civil servant had told the jury the incident happened after the then first minister had been drinking, while she remained sober.
However, Salmond said both were drinking at the time and the woman had voluntarily sat on his bed to put her boots back on – denying a suggestion he had asked her to sit there.
The former first minister said that he had a "sleepy cuddle" with the woman before it ended within "a few seconds".
He said he later offered to apologise to the woman after concerns were raised with him by civil servants.
Mr Jackson asked: "What were you apologising for?"
Salmond said: "I was the first minister. She was in my bedroom. We were tipsy. It shouldn't have happened.
"I put her in a very embarrassing position and that was not right. She said to me 'I was drinking', I told her that I was the first minister and it was my responsibility."
Salmond also denied allegations of attempted rape and sexual assault involving Woman H in May and June 2014.
However, he said that there had been a consensual encounter in August 2013 where both parties remained fully dressed before deciding it was a "not a good idea" – an incident the woman denied took place.
Salmond also denied two allegations of sexual assault involving Woman A that are alleged to have happened in Glasgow in June and July, 2008, and at an Edinburgh nightclub in December, 2010.
The Scottish Government official alleges the then first minister would kiss her on the mouth and touch her inappropriately when he was greeting her or when walking in the street.
Salmond said: "These were public places. It would be insane for me to do anything like that. Her claims are a fabrication from start to finish."
Salmond was also asked by his defence team about claims from Woman B that he indecently assaulted her by asking her to recreate a Christmas card which depicted a couple kissing before seizing her wrists.
Salmond accepted he had suggested they recreate the image but described it as "a joke" and "high jinx" while denying there had been a struggle.