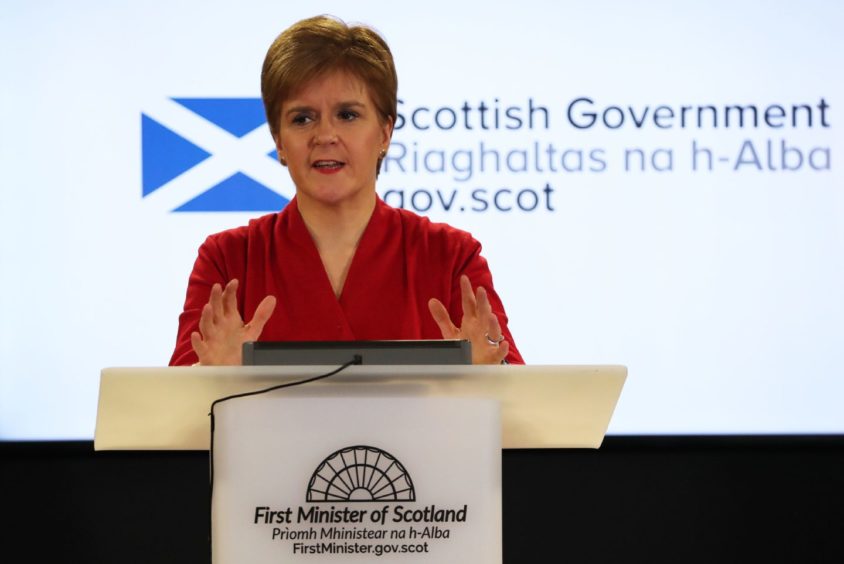 Nicola Sturgeon has announced new measures to protect elderly and vulnerable people after it was revealed a quarter of deaths involving Covid-19 in Scotland have been in care homes.
All residents who show symptoms of the disease will now be tested, rather than just the first symptomatic individual in each centre.
But the first minister was accused of being "too slow to act" as the scale of the deaths was revealed for the first time on Wednesday.
Figures published by the National Records of Scotland showed a total of 237 (25%) of Covid-19 fatalities registered to April 12 related to care homes, while 596 (62%) were in hospitals and 129 (13%) were at home or non-institutional settings.
The organisation introduced a new recording method last week which includes all cases where Covid-19 is mentioned in a person's death certificate.
Six Scottish homes have so far recorded multiple deaths from the virus, with 433 of the just over 1,000 facilities across Scotland now reporting confirmed or suspected cases.
Speaking at her daily briefing in Edinburgh, Ms Sturgeon said the 962 deaths were "higher than anyone would like to think about" but she had "no evidence" more early testing in care homes could have reduced the number.
She added: "This shouldn't need said but I want to say it – the residents of care homes matter every bit as much to us as people in the community or in hospital.
"It is just as important in care homes as it is anywhere else. In fact I'd say it's more important, given their vulnerability or susceptibility to infection spreading, that we do all we can to prevent infection or control it when there is infection in a care home."
Scottish Labour health spokeswoman Monica Lennon said the Scottish Government's efforts to test, trace and isolate Covid-19 had been "woeful".
She has written to health secretary Jeane Freeman asking whether hospital patients are being tested for the virus before they are discharged to a care home.
Ms Lennon said: "Each life lost in a care home due to coronavirus is a tragedy.
"It's heart-breaking that care staff and families fear that older people are being forgotten in the fight against coronavirus.
"The Scottish Government has been too slow to act – Nicola Sturgeon must publish an emergency plan for care homes with guaranteed support on testing and PPE.
"Hundreds of older people have been discharged from hospital in recent weeks to relieve pressure on our NHS – and many of them to residential care.
"Worryingly, we now know that coronavirus is spreading within hospitals, as well as care homes, but efforts to test, trace and isolate the virus are woeful.
"That's why I've asked Jeane Freeman whether hospital patients are being tested for Covid-19 before being discharged to care homes – and if not, why not?
"Urgent action is needed to save lives."
Scottish Liberal Democrat leader Willie Rennie said every person being admitted to a care home should be tested for coronavirus with "no exception".
"For homes that have been diligently applying safety measures to keep residents safe this is an additional risk they should not be forced to accept," he said.
"While new occupants may still need to be isolated, those living and working in the homes deserve this reassurance."
Ms Sturgeon confirmed people leaving hospital to return to care homes in Scotland will not be routinely tested, stating this can be unreliable and she does not want to see "false assurance" individuals are clear of the virus.
The first minister also welcomed the first significant drop in the number of Covid-19 patients in Scottish hospitals with "cautious optimism" as she announced a further 84 deaths had been recorded overnight.
An increase of 390 in confirmed coronavirus cases using laboratory testing has taken the total to 6,748, while 699 deaths have now been recorded using this method.
Ms Sturgeon said the number of people being treated in Scottish hospital with confirmed or suspected cases of Covid-19 had fallen by 53 overnight to 1,748. The number of patients being treated in intensive care also decreased, down by one to 195.
It is the second consecutive day intensive care cases have fallen, after the first minister announced a drop of 15 on Tuesday.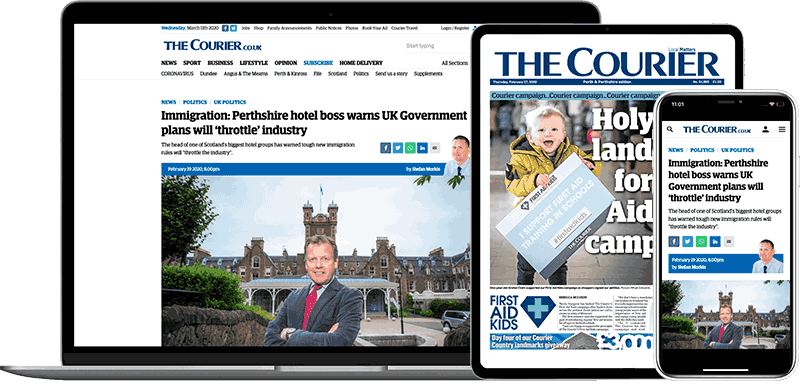 Help support quality local journalism … become a digital subscriber to The Courier
For as little as £5.99 a month you can access all of our content, including Premium articles.
Subscribe