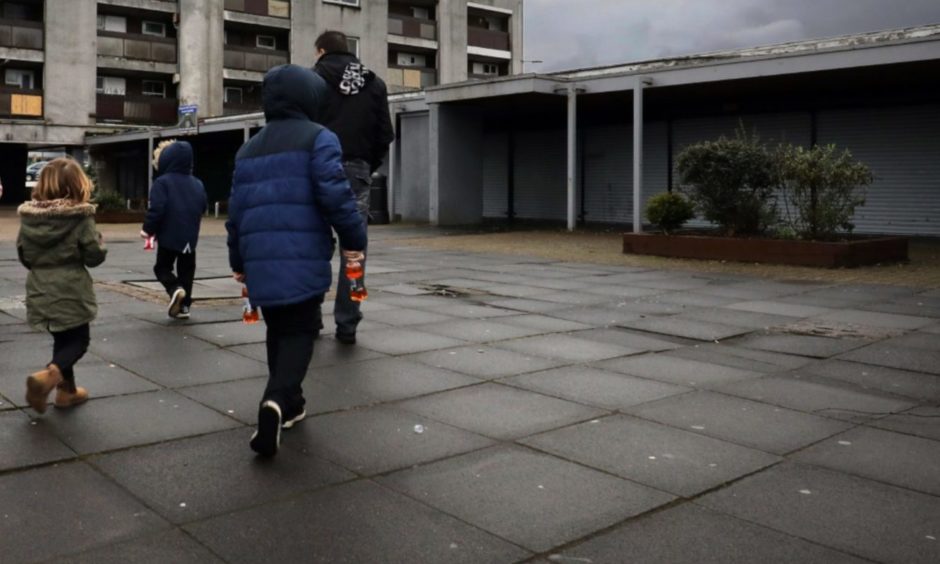 A children's charity boss has revealed that the number of struggling families seeking help has doubled during the coronavirus crisis.
Mary Glasgow, chief executive of Children 1st, issued a plea for public support as she admitted services have been left severely stretched as a result of a deluge of calls about the "distressing" impact of the ongoing lockdown on vulnerable youngsters.
She warned of an "intolerable pressure" building in many households due to the closure of schools and said that it has been made worse by the requirement to stay indoors.
The charity, which supports about 2,000 families across Scotland, has been working with the government to send phones and tablets into households so they can try to keep in contact, check on the safety of youngsters and attempt to ease tensions.
Ms Glasgow said: "We are seeing lots and lots of issues. We've got some calls from parents who are really struggling with children who are distressed and about how they are behaving because of that, because of the disruption to their routine, the lack of usual support and resources.
"It's just a huge, huge pressure on families and children just now, and definitely an increase in risk around their emotional and mental health, but also their physical wellbeing, and we're working with partners across the country to make sure we are still there for children."
With all the family at home right now we know phone calls aren't always easy! Remember #Parentline is also here for you through webchat, as well as on 08000 28 22 33.

Head to https://t.co/4DAde5iD3W and click the pink speech bubble to talk to us online 🗨️#HereForYou #webchat pic.twitter.com/S7MfZpOj14

— Children 1st (@children1st) April 15, 2020
As well as providing family and community services, the charity also runs Parentline, which can be contacted by phone or online by people needing help or advice.
After the schools were closed in Scotland last month, calls to the phoneline soared by about 130% and traffic to the charity's webpages quadrupled, when compared to the same period last year.
"We've seen a quadrupling of contact there. That's from a whole variety of families who are really struggling," Ms Glasgow said.
"There is lots of concern about domestic abuse and the impact that has on women and children, coercive control, parents who have been separated and behaviours around fathers, mainly men, trying to gain more control over the children, putting pressure on women and children that way."
The soaring demand for services has also been having an impact on the charity.
"We're definitely stretched. As you can imagine, all of our staff are also struggling because all of our children are at home from school and nursery as well," Ms Glasgow said.
"I have to say we're doing phenomenally well, managing to keep regular contact while supporting our own staff to be there for their own children when they need to be. But yes, we are incredibly challenged, we're stretched, we've had to scale-up a lot of our response through Parentline."
Ms Glasgow said the extension to the lockdown period was likely to add to the strain on youngsters who had been waiting for it to end, but also that anxiety levels were growing for other children who were now becoming concerned about the prospect of eventually leaving the family home and having to school.
Concerns about rising levels of domestic abuse have also been raised in recent weeks, as well as its impact on children.
"We're especially worried about those most vulnerable children – the children who are living in households where parents have addiction issues, have mental health problems and with all of the normal supports having fallen away," the charity boss said.
"And there is a particular concern for children in households where domestic abuse is a factor.
"We are hearing some really distressing stories about behaviours from perpetrators who are doing all sorts of things to scare and frighten children and women, and that's a worry for us, but we're doing all we can to make sure we're alert to that, speak to the police about it and get help."
We are hearing some really distressing stories."
Ms Glasgow, a former social worker who joined Children 1st in 2014, urged members of the public to keep vulnerable children in mind during the pandemic.
"We need to get a message to the public not to forget these children, to be there for them, to support the work all the charities are doing," she said.
"The public have been fantastic. There has been great generosity, I would want to thank the people who have donated to our activities fund.
"But we always need more support, and in the longer term we need support to have more of our highly trained volunteers and staff available to support children in the aftermath.
"So a plea to the public to keep supporting charities like ours, so we can be there for children, and not just forget them."
---
Parentline can be contacted over the phone for free on 0800 28 22 33 or through webchat at children1st.org.uk/parentline