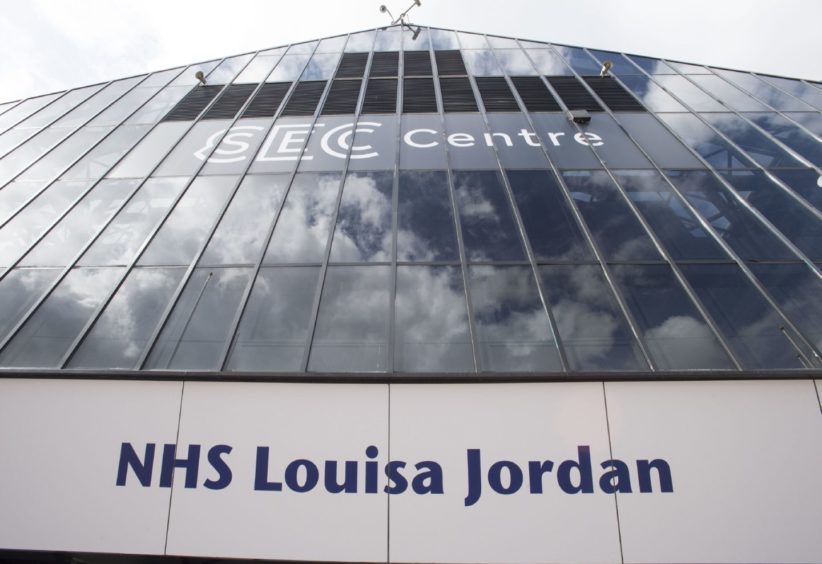 The First Minister has said she is "more than comfortable" with the decision to spend more than £40 million on a new field hospital she hopes will never accept coronavirus patients, adding it would have been "wrong" not do so.
The NHS Louisa Jordan hospital at the Scottish Events Campus (SEC) in Glasgow is now operational and ready to accept patients from all across Scotland, if required, after being constructed in just 21 days.
However, speaking during her daily briefing on Monday First Minister Nicola Sturgeon said she "fervently hopes" the hospital never has to treat any patients as it will indicate grim consequences regarding the spread of the virus across Scotland.
As of 9am on Monday, 169 patients were in intensive care with confirmed or suspected Covid-19, a decrease of five since Sunday, and 1, 809 patients were suffering from a suspected or confirmed case of the virus, an increase of 12.
A total of 8,450 positives cases have been confirmed, an increase of 263 from Sunday, and a further 12 people had died, taking the death toll to 915.
We are taking these decisions to show we have the capacity in our health service that we might need, looking at all the scenarios and options."

Nicola Sturgeon
The First Minister said in the "fullness of time" people may ask why the hospital was built when it may not end up being needed.
But she added: "Let me be absolutely candid, I would rather be in the position of looking back and saying we invested money in something that we might have needed and didn't need because of other things we did than be in a position of finding that we needed a facility like that and we decided not to invest the money in it.
"We are taking these decisions to show we have the capacity in our health service that we might need, looking at all the scenarios and options.
"But all of our strategy has been trying to contain this virus so that capacity in our health service isn't overwhelmed and overrun.
"So I am perfectly comfortable, more than comfortable. I think it would have been wrong not to take the decisions we've taken with the NHS Louisa Jordan, albeit I still hope we never have to use it."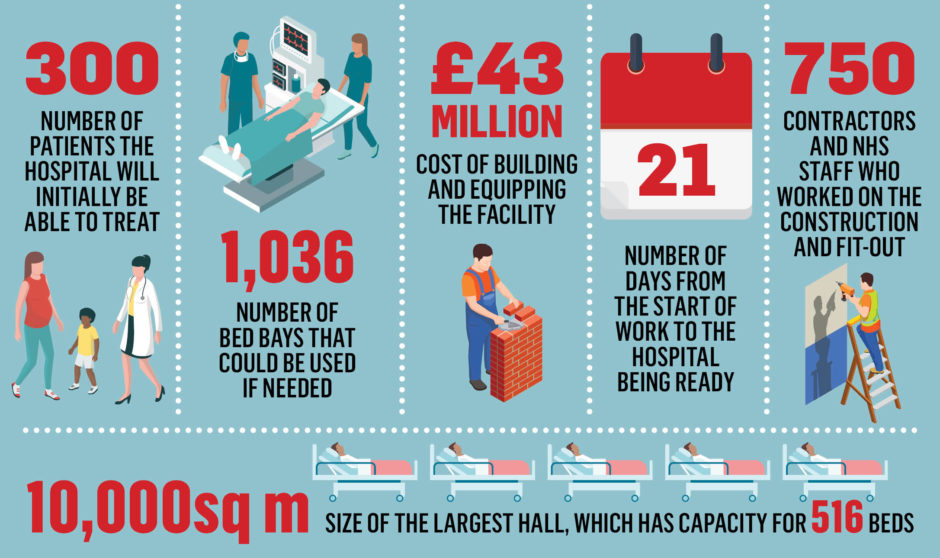 The now-operational hospital will have an initial capacity for 300 beds, which can be expanded to more than 1,000 if needed.
It will remain open for five months in the first instance but can remain as long as it is needed.
Chief executive Jill Young said the £43m cost covers the design, build and construction costs but excludes the ongoing running costs and some of the decommissioning, with the final total made available in "due course".
She added: "We've had just over two weeks to get this up and running and although we were being very careful with value for money and accounting for that, I would like to add that a lot of the expenditure here will be reusable and reallocated back into health board and hospitals.
"The majority of equipment, consumables and supplies will all be reallocated back out if it's not required here."
The numbers of patients requiring hospitalisation are not increasing as fast as they thought and look like they are, in fact, "slowing", the hospital chief said.
But she added it was "far too early" to take any final predictions on that and the hospital and its staff must "stand ready" to open.
She said: "At the moment, the numbers look like we will not be required to open, certainly within the next few days, but we are receiving a daily update on that."
In terms of staffing, the hospital has been speaking to health boards across Scotland but is primarily taking in staff working in the west of Scotland as the "closest neighbours" to the facility.
Over the last two days, more than 100 staff have carried out a full day's training and induction, with the staff returning to work in their individual health boards if the hospital has no patients.
​
Staff will be introduced in a phased opening, to cater for ward sizes of 40 beds, with just over 100 staff ready to cater for the first 40 beds.
Individual health boards will send information through to the Scottish Government on a twice-daily basis with details on occupancy levels in their Covid-19 wards or intensive care units which then provides officials with an overview of who is reaching full capacity earlier than others.
The patients who attend the hospital will be adults aged 18 and over, suffering from Covid-19 and not in intensive care, but patients could be released from intensive care wards in other hospitals in Scotland when their condition improves and transferred to the hospital.
It is a national facility and is open to accept patients from "anywhere in Scotland" but Ms Young said decisions need to be taken for individual patients and whether a two, three or four-hour trip by ambulance is advisable.
Ms Young said: "The regional health boards have also agreed a mutual aid to each other so if someone in the north of Scotland required admission to a hospital and, say, hospitals in Aberdeen or Tayside were reaching full capacity then they would potentially move patients on to us to free up capacity for patients in the north of Scotland because that is in the best interests of those patients."
All of the equipment and PPE for the hospital is "in addition" to the requirements of other hospitals and the new facility has not taken any supplies or equipment from existing hospitals.
The hospital is named after Glasgow-born First World War nurse Sister Louisa Jordan, who died on active service in Serbia in 1915 as part of Scottish Women's Hospitals for Foreign Services.
Contractors involved in the construction of NHS Louisa Jordan are Balfour Beatty Group, Kier Group, Robertson Group and Graham Construction.
NHS employees applauded the construction teams behind the new hospital as they left site after completing the national facility.
Robertson employees put together an online clap for the NHS and all of the site teams who they say worked "tirelessly" to ensure the hospital is ready for service if required.