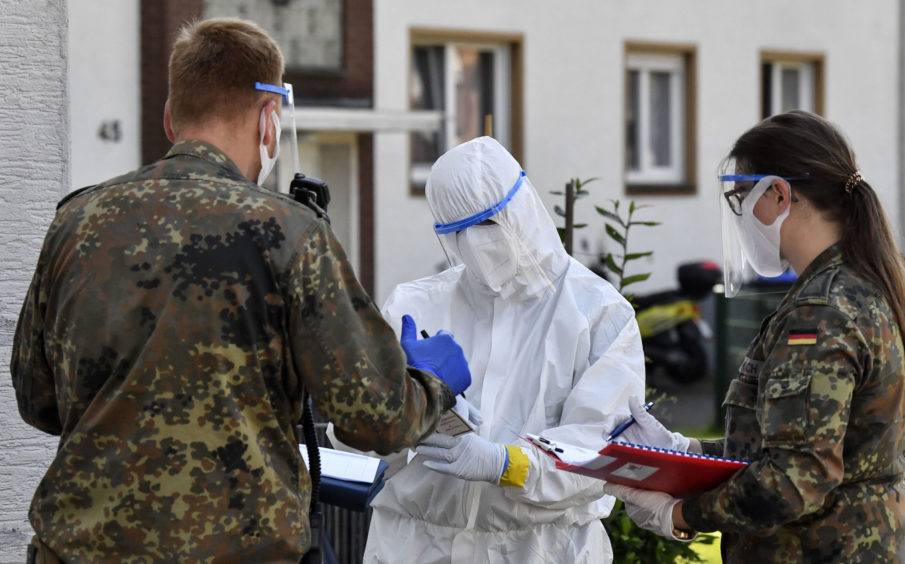 Some countries across the world have started to see coronavirus infections rise as they embark on the path out of lockdown.
First Minister Nicola Sturgeon used her daily briefing on Monday to give examples of countries, including China and Germany, who are already dealing with spikes as a result of "significant outbreaks".
She also highlighted the experience of South Korea where health officials have said they believe the country is experiencing a second wave of infection, before warning Scotland's citizens about the careful path it must tread out of lockdown.
We take a look at some of the countries experiencing signs of a second wave as they relax restrictions and take a step towards normality.
Germany
Following a string of localised outbreaks, including most notably in a meat processing factory, Germany's reproduction rate of Covid-19 spiked from 1.06 to 2.88 in the space of two days.
The Robert Koch Institute (RKI) said the R-number jumped to 1.79 on Saturday and 2.88 on Sunday, sparking fears of a second wave.
The outbreak at the Rheda-Wiedenbrück meat processing plant, in the district of Gütersloh near Bielefeld, was made public on June 17.
However, since case numbers in Germany are generally low, these local outbreaks have a relatively strong influence on the value of the reproduction number.
Daily confirmed cases rose to 770 on June 19, although daily confirmed cases are still much lower than the peak on March 28, when there were 6,294.
The western German region of Guetersloh, home to around 360,000 people, has been placed back under lockdown until June 30, following the outbreak at the Tonnies meat-processing plant.
RKI said more than 1,000 employees have tested positive for Covid-19, with the affected plant temporarily closed at short notice and all employees quarantined, as well as other members of their household.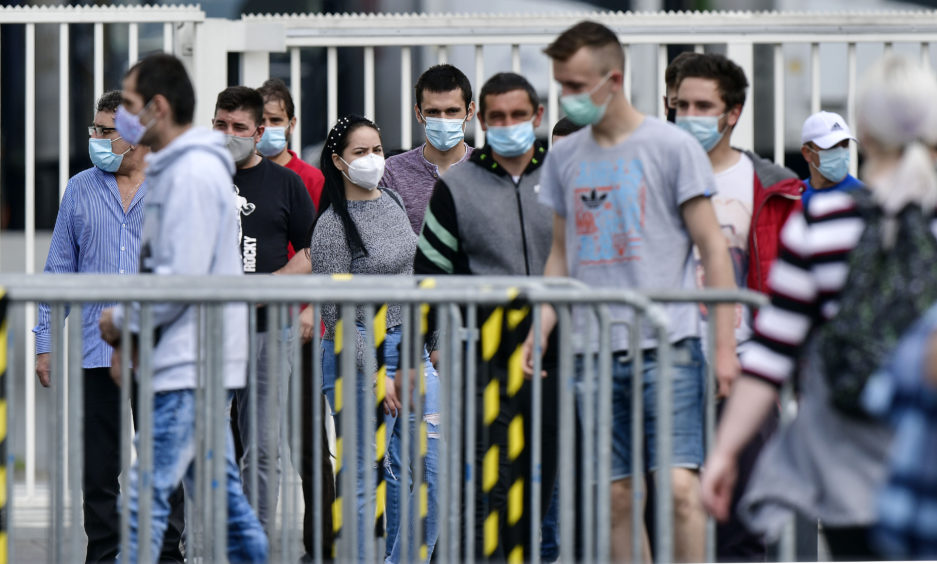 In addition, all schools and day-care centres in the district have been closed since June 18 until the end of the summer holidays on August 11.
The RKI said on Monday that a large Covid-19 outbreak in the district of Goettingen in Lower Saxony was linked to highly crowded housing conditions and, in Berlin, an outbreak there of 85 cases has been linked to members of a religious community.
Iran
Iran was one of the worst-hit countries when the coronavirus initially swept across the globe in February.
The country of around 82 million started to relax its restrictions in mid-April after a fall in the number of infections.
However, by the first week of June new reported infections were averaging more than 3,000 a day, a 50% rise on the previous week.
The figure reached a peak of 3,574 on June 4, before dropping slightly, and in the last week has averaged more than 3,000 a day.
The previous highest figure of confirmed cases was 3,186 on March 30 during the initial outbreak.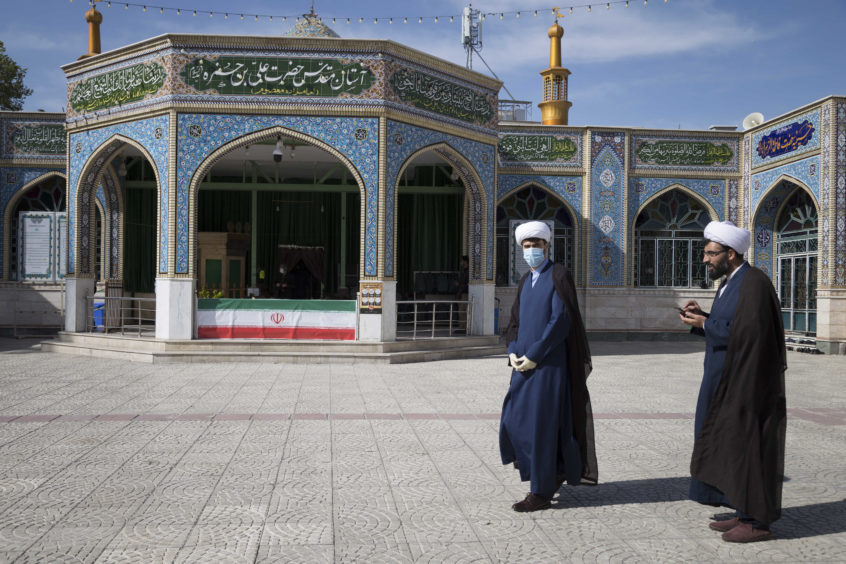 The highest number of daily deaths was on April 4 when there were 158 recorded, but since June 14, has spiked consistently above 100 deaths.
Officials have suggested the surge in cases could be down to more testing resulting in more confirmed cases.
However, speaking in early June, Health Minister Saeed Namaki said people were ignoring social distancing rules.
He told an Iranian news agency: "People have been completely careless regarding this disease.
"If our people fail to respect the health protocols… we must prepare ourselves for the worst situation."
South Korea
The First Minister referenced South Korea in her daily briefing on Monday as an example of a country experiencing a second wave of the virus.
Health officials have said they believe this to be the case, despite recording still relatively low numbers.
A total of 281 deaths have been recorded in a country that has been widely praised for its handling of the Covid-19 pandemic and there have more than 12,000 confirmed cases since the outbreak began.
South Korea managed to avoid imposing a country-wide lockdown and instead introduced voluntary social distancing measures alongside an effective track, trace and test strategy to tackle the spread of the virus.
However, since May, clusters of new cases have grown, including outbreaks at nightclubs in the capital, Seoul.
The Korea Centers for Disease Control and Prevention (KCDC) said on Monday that it had become clear that a holiday weekend in early May marked the beginning of a new wave of infections in the densely populated capital city.
"In the metropolitan area, we believe the first wave was from March to April as well as February to March,", KCDC director, Jeong Eun-kyeong told reporters earlier this week.
"Then we see that the second wave, which was triggered by the May holiday, has been going on.
"We originally predicted that the second wave would emerge in fall or winter.
"Our forecast turned out to be wrong. As long as people have close contact with others, we believe that infections will continue."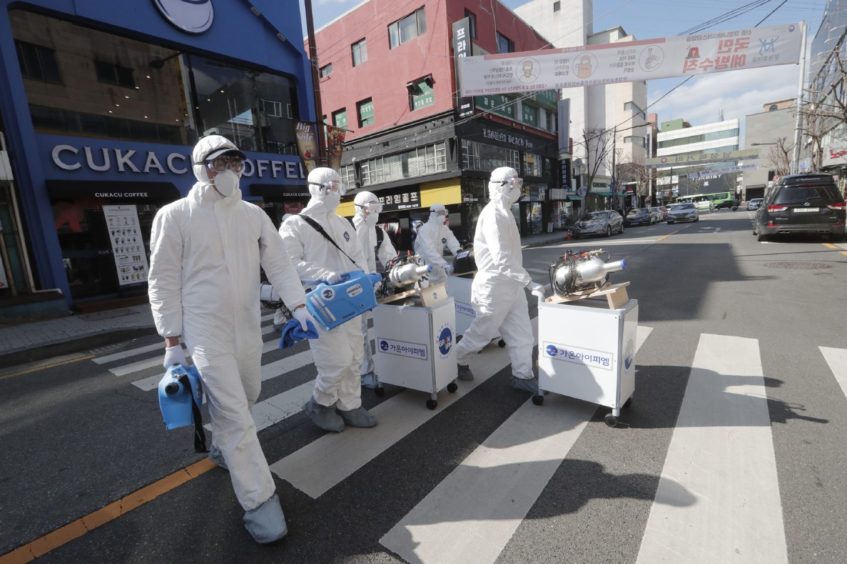 The tracking and testing campaign helped reduce numbers of infection to single digits by late April but this had increased to 67 cases last week.
The mayor of Seoul, Park Won-soon, said more stringent physical distancing measures would be introduced if the daily jump in infections does not fall below an average of 30 by Thursday.
Australia
Australia eased most of its coronavirus restrictions around a month ago but authorities are already considering reimposing lockdown measures in certain localities, amid fears of a second wave of cases.
The recent spike in infections centres on the state of Victoria, which has reported double-digit increases for almost three weeks.
The country had reported more than 7,500 confirmed cases and 103 deaths as of June 24, with a total of 30 new cases recorded in the last 24 hours.
Of these, a total of 20 new cases were recorded in Victoria in the last day, along with 10 new cases in New South Wales.
After a concerning spike in coronavirus cases over the weekend in Victoria, Premier Daniel Andrews announced on June 20 that he would reimpose restrictions in the home, reducing the number of visitors from 10 to five, and delay the increase in the number of patrons in pubs, cafes and restaurants from 20 to 50.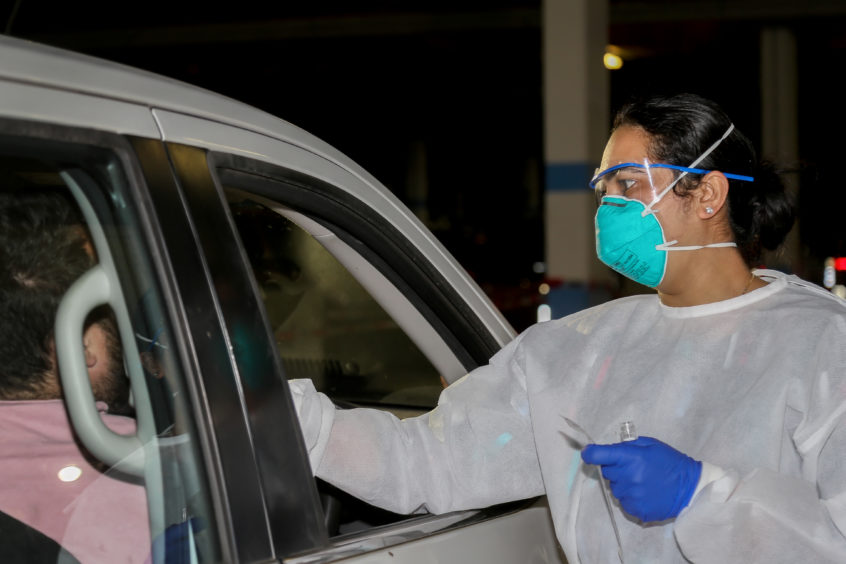 Victoria Health Minister Jenny Mikakos said that spread occurred when extended family members came together, visiting each other across different households and spreading the virus.
"The risk there is that the family members can transmit the virus to workplaces, to school settings, and other locations."
Australia's chief medical officer, Professor Brendan Murphy, told reporters on Monday that there is "no definite definition" of a second wave.
He added: "If this outbreak escalated and we had several hundred cases, that would be the sort of situation where I would be extremely concerned.
"But there is no official definition of a second wave, it's a concept where the outbreak is such that you don't think the public health measures can easily control it in the short term.
"At the moment, I have great confidence in the Victorian response, they are responding very effectively and we need to watch things over the next few days to see how it happens."
China
Strict lockdown measures have been reintroduced in an area of the Chinese capital of Beijing, after the city's first coronavirus cases in more than 50 days.
The most recent outbreak was linked to the Xinfadi market in the city's south-western Fengtai district, which was shut down on June 13 after two people who had recently visited were reported to have Covid-19.
A district official confirmed that a total of 45 people out of 517 tested positive following testing at the market, despite no one displaying symptoms.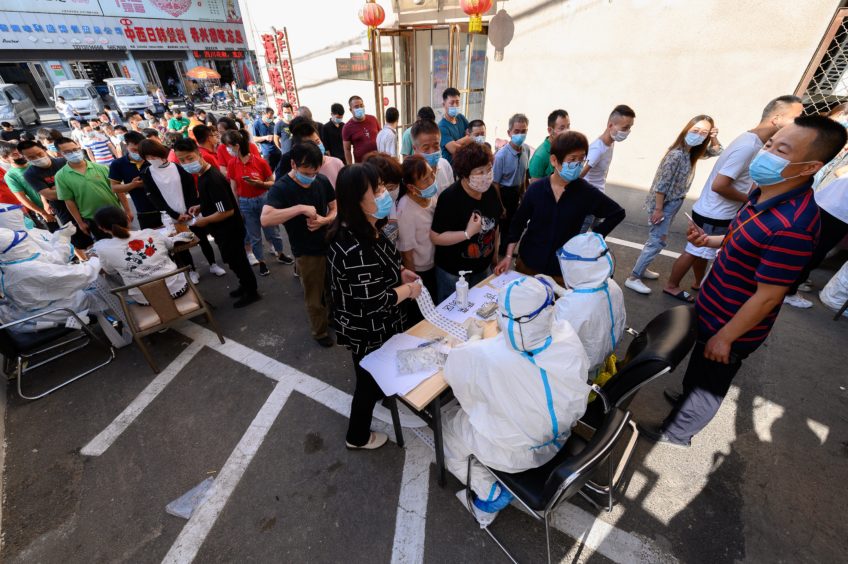 As a result, lockdowns have been imposed in 11 nearby neighbourhoods, with 10,000 market staff tested.
Local media has reported that the virus was discovered on chopping boards used for imported salmon at the market, which prompted major supermarkets in Beijing to pull the fish from their shelves.
The city moved quickly to implement level three emergency measures as a result of the outbreak, including shutting schools.
Other measures introduced include a requirement for everyone in the city to be checked for fever before entering businesses, close car traffic in higher-risk areas and prevent people from leaving higher-risk communities.
The coronavirus was first reported in December at a market in Wuhan, China, where live animals were sold.