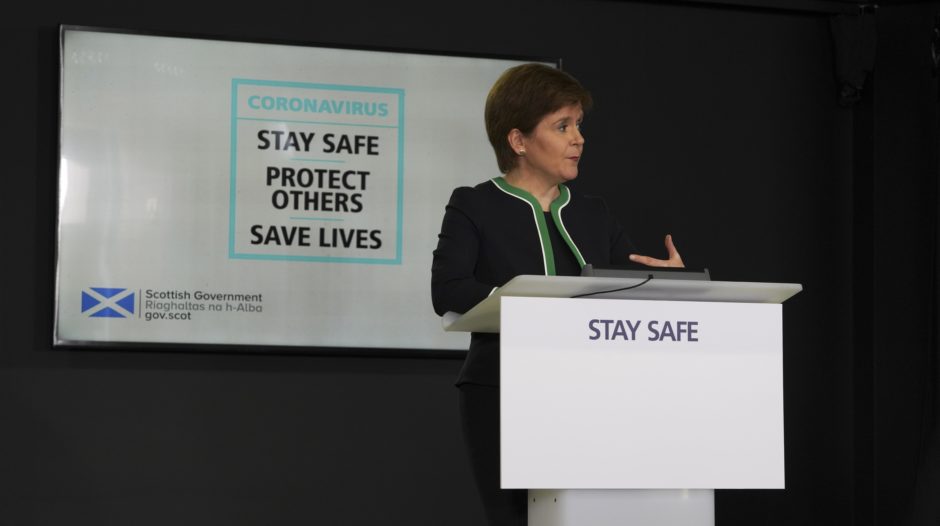 Nicola Sturgeon has insisted an "ultra-precautionary" approach is being taken to prevent Covid-19 spreading, after two workers at RAF Lossiemouth tested positive for the virus.
The first minister sought to reassure locals as it emerged that the tests showed the contractors had been infected with the coronavirus in the past but were "unlikely" to be infectious currently.
NHS Grampian health officials are investigating the cases, contacts of the workers are being traced and the two individuals are isolating.
The tests led to the suspension of a £75 million project to resurface the runways at the Moray RAF base being carried out by Ministry of Defence (MOD) contractor Volker Fitzpatrick.
The two workers are employed by Volker Fitzpatrick and were tested by the company.
The positive tests followed concerns that more than 100 staff were travelling weekly from England and the south of Scotland to Moray to carry out the construction work.
It has been reported staff have been using hotels and caravan parks to stay in the town, as well as in communities spread from Fochabers to Nairn.
The MOD had argued the project was vital to national security when asked why the work was carrying on in lockdown.
At her daily coronavirus briefing, Ms Sturgeon said the "antibody tests" for which the workers had tested positive revealed they had the virus previously but did not confirm they had it now.
📺 Watch live: First Minister @NicolaSturgeon holds a press conference on #coronavirus (#COVIDー19).

Joining the First Minister today is Health Secretary Jeane Freeman and National Clinical Director Jason Leitch. https://t.co/PhyW4nGCMF

— Scottish Government (@scotgov) July 1, 2020
They have since taken "antigen PCR tests", the more commonly used tests that give a positive result when the virus is present and an individual is actively infected. One of those PCR tests has returned a negative result. Volker Fitzpatrick is awaiting confirmation of the results of a retest on the second individual.
That is ultra -precautionary and all of the steps that would have been taken had these been positive antigen PCR diagnostic tests are being taken, anyway. I hope that should give local people some assurance."

Nicola Sturgeon
Ms Sturgeon said health officials were acting on the assumption that there could be an outbreak to contain and that they still had the virus.
"That is ultra -precautionary and all of the steps that would have been taken had these been positive antigen PCR diagnostic tests are being taken, anyway. I hope that should give local people some assurance," the first minister said.
National Clinical Director Professor Jason Leitch said: "NHS Grampian are fully engaged with all of the organisations involved there including the contractor and are seeking clarity on exactly the testing that took place and doing their own version of that testing to ensure the safety of the workforce and the wider community."
When asked about concerns about workers travelling to Moray to work on the project, Professor Leitch said Health Secretary Jeane Freeman had instructed officials to get in touch with the company.
Volker Fitzpatrick had been informed of Scottish guidance on testing, workplace behaviour including social distancing and the rules on travelling and commuting.
"We have been in touch – public health colleagues in Grampian – with the organisation to emphasise and ensure that everybody, even if they don't permanently live in Scotland, understands the Scottish rules for working here and engaging with the Scottish Health Service," Professor Leitch said.
Workers likely to have been infected several weeks ago
Professor Leitch also explained that the antibody tests taken by the workers probably showed that they had been infected with the virus several weeks ago.
"Antibody tests tend to show late antibodies not immediate antibodies," he said. "Therefore it means the infection was some weeks ago – I can't be absolutely certain but that would be conventional antibody testing. That would mean these individuals are not infectious to those around them."
He added that it would be "unlikely" for an individual to test positive in an antigen/PCR test if they had had a previous infection.
"It would be global news if they have a second infection. That hasn't happened anywhere in the world. I think we can, as far as possible, reassure the public that what can be done is being done," Professor Leitch added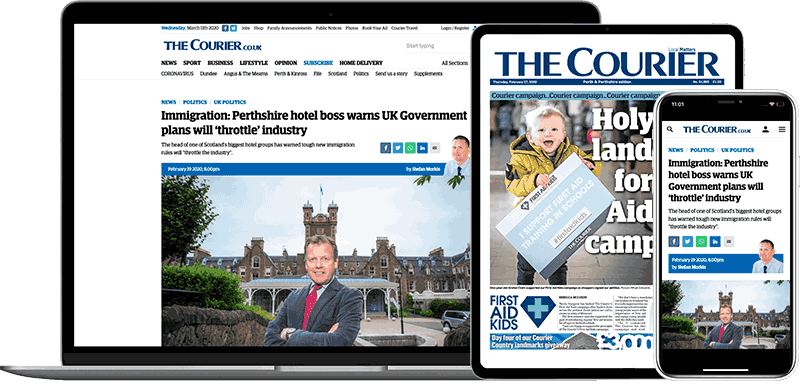 Help support quality local journalism … become a digital subscriber to The Courier
For as little as £5.99 a month you can access all of our content, including Premium articles.
Subscribe