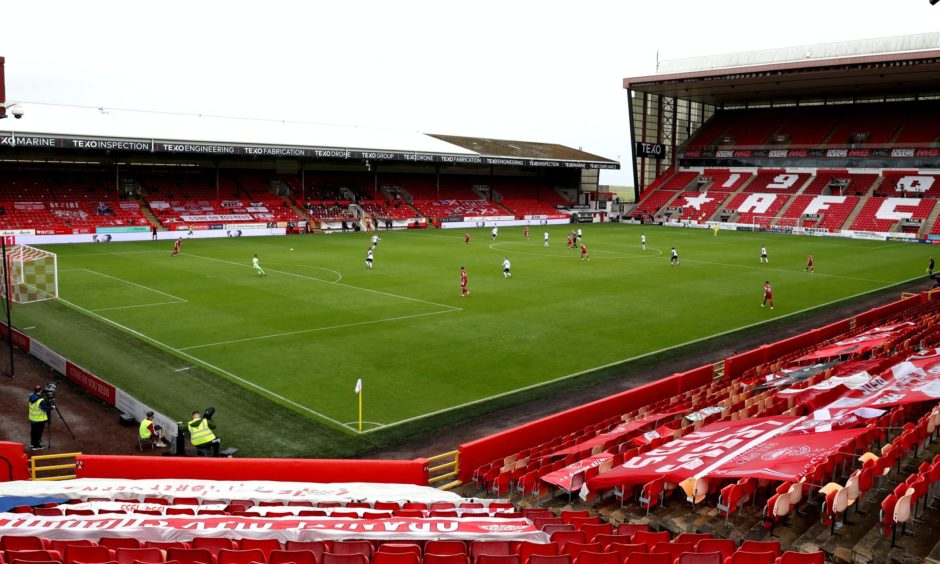 A "furious" Nicola Sturgeon has criticised Aberdeen FC players who breached coronavirus protocols to visit a city bar as she warned the professional game could be put at risk by future rule breaking.
The first minister said the players "blatantly broke rules" agreed by the Scottish Football Association, Scottish Professional Football League and Scottish Government to protect the football "bubble" by attending the premises on Saturday night.
Ms Sturgeon said the breach was "to put it mildly, completely unacceptable" and warned if the rules are broken again "all bets are off" for the whole of Scottish football.
"The decision to allow competitive sport to get up and running again wasn't one we took lightly," she said.
"There are lots of reasons why it was something we were nervous about. But we got to the point of giving it the go-ahead because a lot of work went into agreeing the guidance which underpins it. So it was very much conditional on that.
"If that guidance is not going to be adhered to then all bets are off."
Two Aberdeen stars who tested for Covid-19 in the wake of the outing, along with six other players who had been in close proximity with the duo, are now self-isolating.
The Pittodrie side's clash against St Johnstone on Saturday, part of the second weekend of Premiership action since last season was halted by the pandemic, has been called off following a meeting between league officials and sports minister Joe FitzPatrick.
It comes amid a growing coronavirus outbreak in Aberdeen that now includes 101 confirmed cases, an increase of 22 from yesterday.
Of the 43 new cases across Scotland over the previous 24 hours, provisional figures indicated more than half, 27, were in the Grampian health board area.
Indoor hospitality venues across the city have been closed, residents are not allowed visitors into their homes and a five-mile travel limit for leisure has been put in place.
Ms Sturgeon said the Scottish Government would contact managers and club captains across Scottish football to emphasise the importance of following the rules, and hoped "lessons would be learned" from the incident.
The SNP leader said professional footballers are role models and should behave as such, adding the presence of high-profile players at the bar also risked attracting crowds.
"We are expecting members of the public to behave in a highly precautionary manner right now," Ms Sturgeon.
"When a football club ends up with players infected with Covid – and let's remember that this is not through bad luck but clear breaches of the rules – we cannot take even a small risk that they then spread the infection to other parts of the country."
Aberdeen Central MSP Kevin Stewart said he was "absolutely gutted" by the confirmation players "blatantly broke the rules".
"These players have tarnished the club's name, betrayed fans and put themselves and our community at risk," he said.
Aberdeen FC chairman Dave Cormack said the club is treating the issue "with the seriousness it deserves" and he could "fully understand" why the Scottish Government had asked for the match to be postponed.
Mr Cormack said he was "very grateful" a decision had been made to postpone rather than forfeit the game and confirmed he had apologised to football and health authorities, and to other Premiership clubs.
It is not yet clear whether the club, which is due to face Hamilton Academical on Wednesday and Celtic next weekend, could face sanctions under league rules.
Got the JRG decision on affected players 30 mins before it went public. Don't have all the facts. Asking fans for their patience and trust. Please give the players the time they need to ensure they are healthy & to allow us time to review and reflect on what happened. Stand Free! pic.twitter.com/yNy2nqYjuY

— Dave Cormack (@CormackDavie) August 7, 2020
Ms Sturgeon also announced pubs, bar, cafes and restaurants will be compelled by law to collect customer contact details from August 14 to help support contact tracing.
The first minister said a common factor in outbreaks across the world – including the Aberdeen cluster – is the hospitality sector, with settings such as pubs and restaurants particularly susceptible to the spread of the virus.
There will also be an expansion of premises where face covering are mandatory to include libraries, museums and places of worship.
Ms Sturgeon said most premises across the country had been complying with guidance to note customer details but she was aware some were not. Police Scotland will now have powers to enforce the measure if necessary.
A total of 18,890 people have tested positive for Covid-19 in Scotland but no patients have died from the virus for 22 consecutive days, with the total remaining at 2,491.