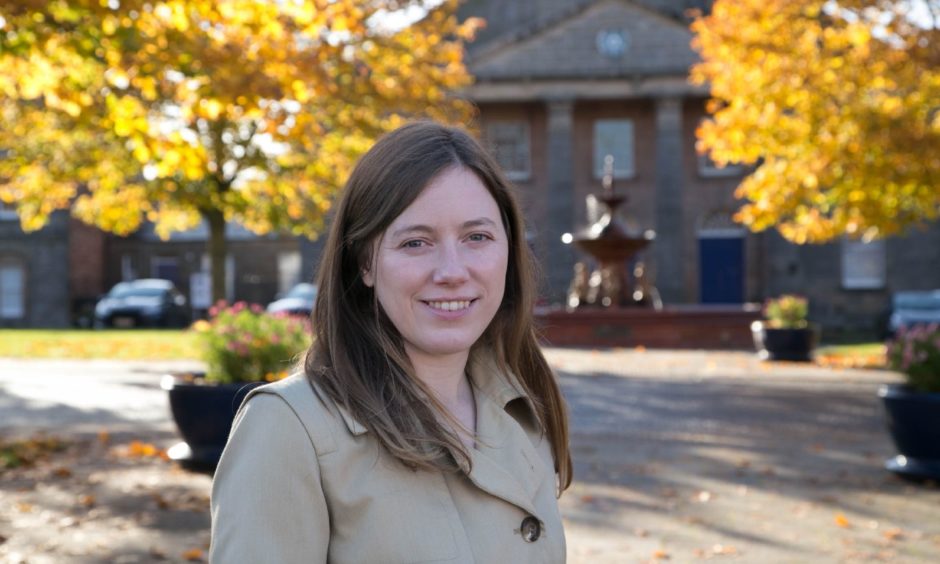 Laura Mitchell does not need to be reminded that she came agonisingly close to changing the course of Scottish politics in December last year.

Any defeat is hard to take for an up-and-coming politician, but to come within 513 votes of a high-profile victory that would have reclaimed her home seat for her party is particularly tough.
Added to that is the possibility she now knows that winning Moray for the SNP would have ended the political career of a man who has since gone on to become leader of the Scottish Conservatives, Douglas Ross.
"I think it being so close possibly made it worse, losing by 500 votes," she said.
"In the course of a campaign, and it was a short campaign, to be fair, you know that you've got however many weeks and you've got to maximise your vote and get everyone out to vote; to lose by 500 votes, you spend the next three months thinking, 'if only we had done that, if only we had done this'.
"But it was an amazing experience and I loved it. I obviously just wish the result might have been slightly different."
Working class roots
Ms Mitchell now has other matters on her mind, however, as she has recently donated a kidney to her mother, Frances, who suffered kidney failure.
At 32, she is also likely to have further opportunities to stand for election to represent Moray at Westminster or Holyrood, if she wishes.
Ms Mitchell grew up in Keith, in "just a fairly regular, working-class council house family".
She attended Keith Grammar School, which counts several political figures as alumni, including SNP politicians Hamish Watt, his daughter Maureen Watt, and Brian Adam, as well as Labour peer George Foulkes and broadcaster James Naughtie.
"I was always really interested in politics, I always made them (family members) watch the news, and I loved Modern Studies," she said.
"Then, when I was in secondary school, my brother went to Iraq, so that sparked quite a big political interest within me as well."
Devolution and the establishment of the Scottish Parliament was another influence on Ms Mitchell growing up.
"The first general election I really remember was Tony Blair getting in, and I remember going down to the polling station when we had the referendum for the Scottish Parliament with my dad," she said.
"My dad always took me down when he went to vote. And I just remember this feeling of massive excitement about a Scottish Parliament, and thinking, 'wow, what is this about?'
"As I got older and we had the Scottish Parliament, just seeing policies that were a lot more progressive and things that actually affected my family.
"My mum is quite sick, so things like the introduction of free prescriptions, which sounds like such a small policy but actually made a huge difference to my mum and our family and our household budget.
"Just things like that made me think, 'well, hold on a minute, we can do different things and better things if we are independent'.
"The SNP were obviously pushing for these policies and things, so it seemed like a natural place to go."
She joined the party after school but did not immerse herself in politics while studying media and communications at Queen Margaret University in Edinburgh.
After graduating, however, she returned to Moray to work in the constituency office of local MSP Richard Lochhead, and now serves as his communications manager.
Mr Lochhead said: "I've known Laura for a number of years now and she is a proud Keith quine who has gained huge admiration for her very principled and caring approach and whom people easily take to.
"Laura's big strength is that she is motivated by a burning determination to see a more equal and fairer world and there is no doubt she has a big future in politics given that she is such a refreshing contrast to the superficial populism that too many politicians promote these days."
Mitchell 'would love' to run again
Ms Mitchell first stood for election on the Highlands and Islands regional list in 2016, before almost ousting Mr Ross at the December election next year.
It may not be the last time the Scottish Conservative leader hears of Ms Mitchell, as the 32-year-old has not ruled out standing again.
"It's something that I would love to do but, like everyone, I think there is that kind of imposter syndrome, where you think, 'oh, am I really up to that'," she said
"But people are really encouraging, and people in the party locally have been so encouraging.
"So it is other people who have kind of egged me on a bit and said, 'if this is what you want to do, you are absolutely capable, and don't let the fact that you've got doubts at the back of your mind put you off, everyone has that and everyone has got that bit of self-doubt and if you don't, you probably shouldn't be doing it."
---