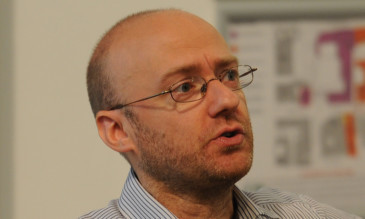 Deluded politicians are "sticking their heads in the sand" over the decline of oil, the Scottish Greens co-convener has warned.
Patrick Harvie, who was visiting Fife College, said the Scottish Government's assumption the price slump is just a blip will see more lucrative decommissioning contracts lost to rivals like Norway.
There is an emerging industry for dismantling North Sea oil rigs that is thought to be worth at least £30bn, with unions saying Dundee is ideally placed to capitalise.
Mr Harvie said Tayside and Fife have the engineering skills to take on the work, but claimed the SNP has failed to make economic plans, in the same way they and previous governments were too slow to help Longannet workers.
"Those high quality, high value oil and gas decommissioning jobs could be coming to companies based in Scotland, including in Fife," he told The Courier.
"But if we don't take that opportunity, if we just continue to stick our heads in the sand and say 'everything will go back to business as usual, fossil fuels will last forever', that's a delusion.
"If we persist with that delusion then the work will go to companies in countries like Norway, who will then get that reputation as the 'go to guys'."
He drew parallels with the lack of planning to support workers at Longannet, the coal-fired power station which closed in March.
"Everyone has known for years that plant was coming to the end of its life. It closed a year or two earlier than would have been expected, but not decades earlier," Mr Harvie said.
"The point is we have got this bizarre process where governments at local and national level wait until an announcement is made that jobs are going and only then set up a taskforce."
Mr Harvie, who is calling on London and Edinburgh governments to grasp the opportunities from renewable energy, was in Rosyth meeting students training to be wind turbine technicians.
An SNP spokesman said: "Unlike Patrick Harvie, the SNP believe that North Sea industry has a long-term future and we are determined to retain jobs and skills in Scotland.
"If you want a government that will stand up for North Sea jobs and put pressure on the UK Government to take real action to support exploration and investment, you should cast both votes SNP."