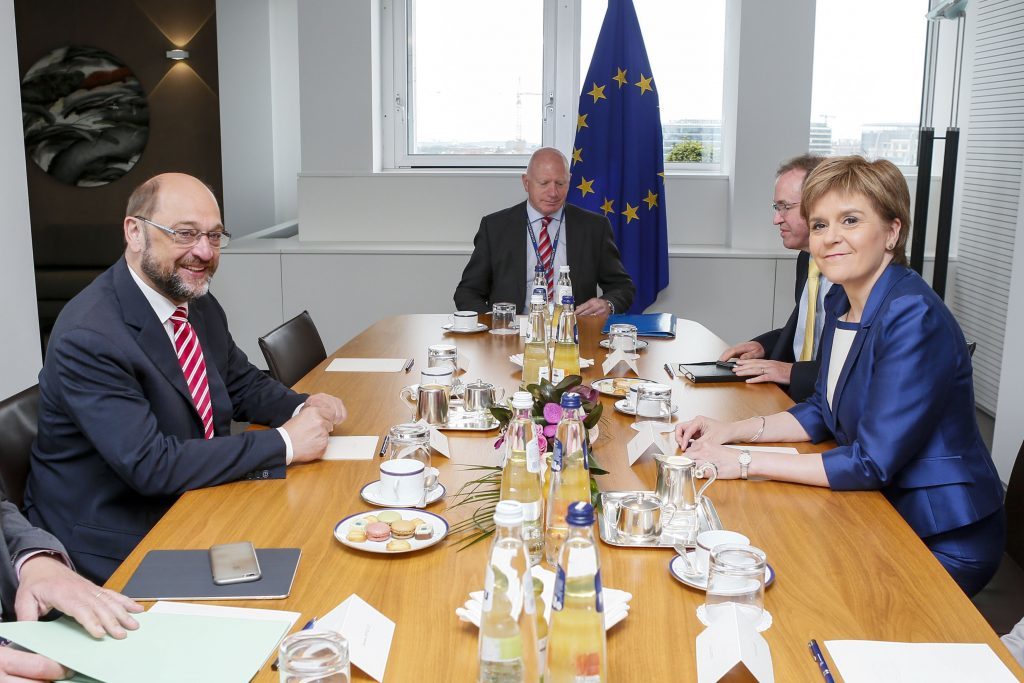 First Minister Nicola Sturgeon insisted she has had a "sympathetic response" from European Union (EU) leaders when she told them Scotland wants to stay in the EU, despite the UK voting for Brexit.
The SNP leader said she had been "heartened" by the "willingness to listen" of the political leaders she met in Brussels.
"I found doors to be open here today," she said.
A total of 62% of Scots supported staying in Europe in last week's referendum, with Ms Sturgeon having warned a second independence referendum is "highly likely" in the wake of the UK decision to leave.
Ms Sturgeon, however, stressed: "If there is a way for Scotland to stay, I am determined to try to find that way."
Ms Sturgeon held talks with European Parliament president Martin Schulz and the leaders of several of the groups in the European Parliament before going on to meet European Commission president Jean-Claude Juncker, who she said had given her a "very sympathetic response".
Prior to that meeting President Juncker had said that Scotland had "won a right to be heard" in Brussels.
But he poured cold water on Scottish hopes of negotiating a separate deal to stay in Europe, saying that neither he nor European Council president Donald Tusk would interfere in internal British politics.
"I will listen carefully to what the First Minister will tell me, but we don't have the intention – neither Donald nor myself – to interfere in the British process," said the commission president.
"That is not our duty and not our job."
Meanwhile Spanish prime minister Mariano Rajoy told reporters at the European Council summit in the Belgian capital: "If the United Kingdom leaves, so does Scotland.
"Scotland has no competences to negotiate with the EU. The Spanish government rejects any negotiation with anyone other than the United Kingdom."
That sentiment was echoed by the French president Francois Hollande, who said: "The negotiations will be conducted with the United Kingdom, not with a part of the United Kingdom."
But Ms Sturgeon told reporters: "I've found enormous interest in the referendum result, as you would expect, and I've also had a sympathetic response to the situation Scotland now finds itself in, facing the prospect of being taken out of the
European Union against our will, a position not of our making and not one we wanted."
She stressed she had not travelled to Brussels to "press for any decisions or for any commitments", saying she had instead gone to "make sure Scotland's voice is being heard and that Scotland's position is understood".
The First Minister said: "In the discussions I have had throughout the day I have heard, as you would expect, concern about the impact of the referendum, not just on Scotland or indeed on the UK, but also on people in all of the countries and on the European Union itself.
"For my part I have emphasised that Scotland voted to remain part of the European Union and I have a duty as First Minister to respond to and to seek to find a way to give effect to the democratic will of Scotland."
She continued: "We are right now in uncharted territory and none of this is easy, but my task is to try to bring some principle, some purpose and some clarity to the situation, and to seek to speak for the people I am elected to represent, the people of Scotland.
"We are very early in this process, the referendum is not yet a full week behind us and it has been a long week for all of us.
"My concern at this stage is to ensure that once the UK's negotiations with the EU start then all of the options are on the table. I don't underestimate the challenges of that but I have been heartened today that I have found a willingness to listen."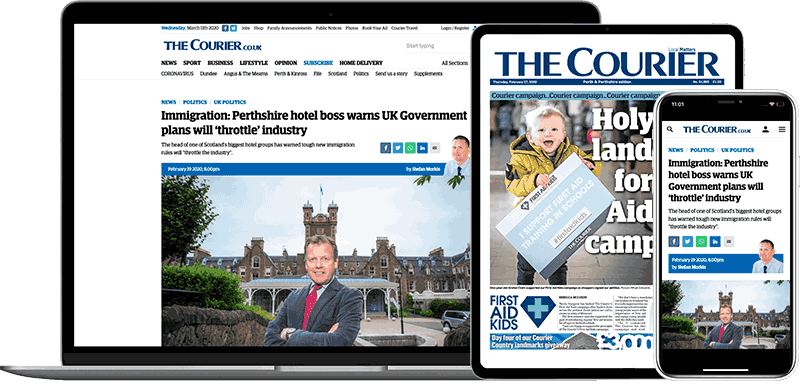 Help support quality local journalism … become a digital subscriber to The Courier
For as little as £5.99 a month you can access all of our content, including Premium articles.
Subscribe