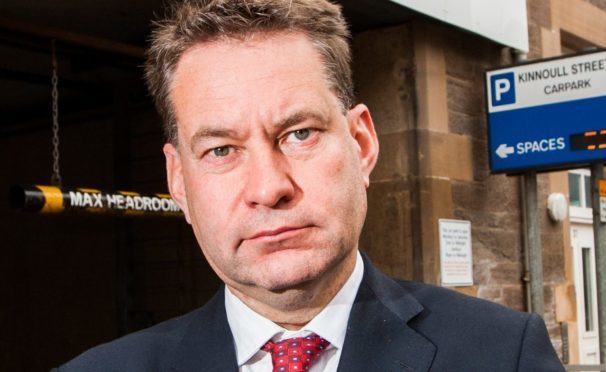 The NHS is facing a "retirement boom" that could leave wards across Tayside and Fife without enough nurses, The Courier can reveal.
Nearly 1,800 nurses across Courier Country are approaching retirement age, with nearly one in five now at least 55.
Murdo Fraser, the Scottish Conservative MSP, has warned the Scottish Government to act quickly to stop the NHS-wide staffing crisis getting worse.
In Fife, 19% of nurses and midwives are 55 or over, compared with 15% five years ago, according to analysis of NHS Scotland figures by the Conservatives.
Tayside has 16% in that category, up two percentage points from 2011.
Mr Fraser, a Fife MSP, said: "The experience and commitment older nurses bring is of course valuable to the NHS.
"But we can't rely on it forever, and over the next decade the NHS in Fife and Tayside will be facing a retirement boom. Up to a fifth of nurses and midwives in Fife will be looking to leave, and that creates a real problem for wards.
"The Scottish Government has to start planning now for this to avoid a scenario where hospitals are even more short-staffed than at present."
Mr Fraser's call comes just weeks after official figures showed Tayside's spending on agency and bank nurses to cover workforce gaps soared by a third to nearly £9m a year.
George Doherty, Tayside's human resources director, said: "Scotland's population is ageing, and the general profile of our workforce reflects this.
"While this can present challenges, age is no longer an indication of working intentions and, while some staff can retire, this does not mean that this is their plan, as demonstrated by our relatively low rate of employee turnover of just under 10%.
"Through a number of measures and initiatives, we are working hard to maintain the availability of the right numbers of nursing and midwifery staff to deliver our services, now and in the future."
An NHS Fife spokesman said while the number of nurses aged 55 and older has gone up since 2011 there has been a "significant rise" in those aged 20 and 34 as well.
He said they are boosting recruitment drives to ensure they can meet demand for services, which includes extending partnerships with local universities such as through their HNC Nursing Qualification with Dundee.
The NHS also faces major challenges in recruiting GPs, with a shrinking pool of family doctors in Tayside and Fife caring for rising numbers of patients.
Health Secretary Shona Robison said: "Under this Government, NHS staff numbers have risen significantly, with record number of consultants, nurses and midwives and allied health professionals now delivering care for the people of Scotland.
"This government has also committed £450,000 over three years to reintroduce a national return to practice scheme.
"The scheme is well underway and has already attracted around 160 former nurses and midwives who wish to get back into the profession."