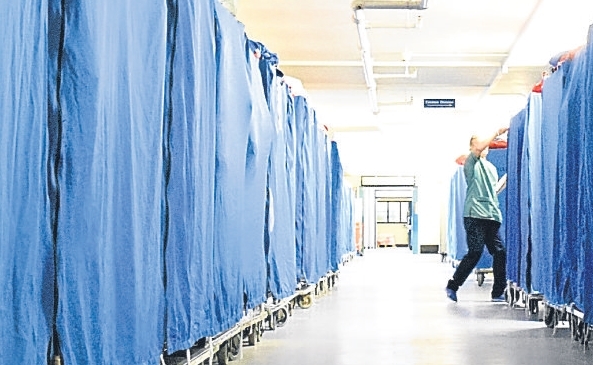 A patient had to wait more than a year in hospital despite being medically fit to leave, according to NHS figures.
In Fife, one person was discharged into the community 418 days after being declared clinically ready to move on.
A Tayside patient was held back for 228 days in another example of the widespread NHS phenomenon known as bed-blocking.
The lengthy discharge delays were revealed in freedom of inquests made by the Scottish Liberal Democrats covering the three years to 2016.
Delayed discharges occur when a patient is medically ready to leave hospital but continues to occupy a bed after their release date.
It often relates to a lack of capacity in community services, like care homes.
Alex Cole-Hamilton, the Scottish Liberal Democrat's health spokesman, said the delays are "simply uncceptable".
"These are delays that could be stopped if the SNP got to grips with the situation," he added.
The SNP hopes to eradicate delayed discharge through closer integration between NHS boards and councils, which have responsibility for social care.
A Scottish Government spokeswoman said: "We have integrated health and social care to ensure patients are at the heart of care decisions and receive more treatment in their communities, reducing demand for acute hospital usage by reducing avoidable admissions, lengths of stay and delayed discharges."
Michael Kellett, director of the Fife Health and Social Care Partnership, said some complex cases require individuals to remain in hospital.
He added: "In these cases expertise from social work, housing and health services may be required to ensure that individuals are given the specialist person centred support they need to ensure a smooth and successful discharge."
An NHS Tayside spokeswoman said: "NHS Tayside has been working very closely with the three health and social care partnerships and third sector partners in Angus, Dundee and Perth & Kinross to build sustainable solutions that seek to reduce unscheduled care and demand and avoid unnecessary delays in discharging patients from hospital."
She added they are expanding their community support services, which will help avoid unnecessary hospital admissions.