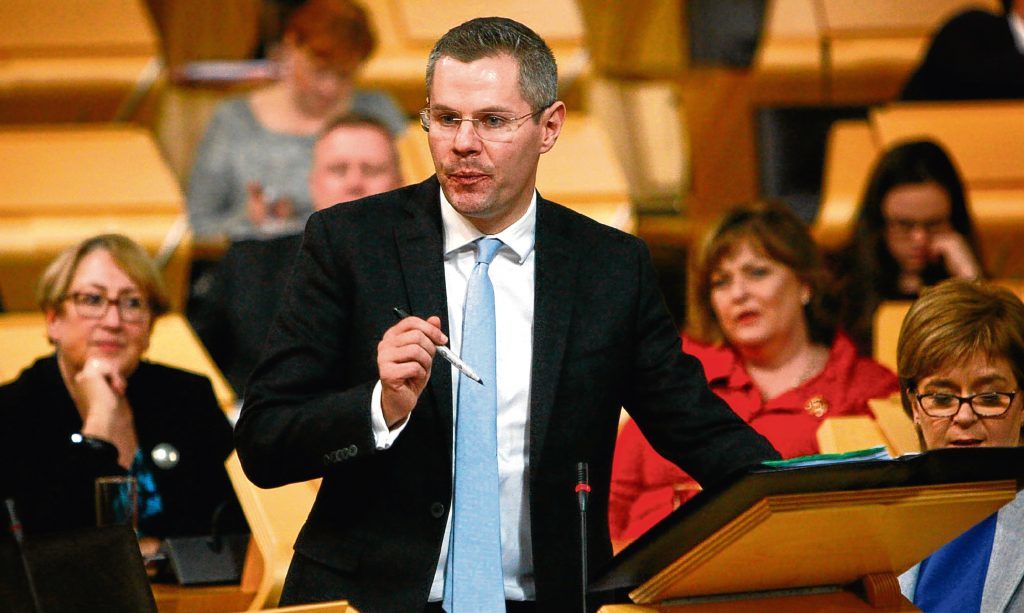 Derek Mackay has sought to see off the business rates revolt by capping rises for thousands of firms.
The finance secretary bowed to pressure on Tuesday to deliver a £45m emergency package for the hospitality sector that limits their tax hikes to 12.5%.
While 979 hotels, pubs, restaurants and cafes in Tayside and Fife will benefit from that relief, 6,575 premises also facing rates increases will not gain at all, according to figures from the Scottish Parliament Information Service.
In a major climbdown, Mr Mackay also announced extra support for offices in the north-east, as well as the renewables sector, in a statement to MSPs.
But the SNP minister's intervention was slated as a "sticking plaster" by business leaders and "desperate" by the Tories.
Under the plans, the hospitality sector across Scotland, as well as offices in Aberdeen and Aberdeenshire, will not face any increase above 12.5%.
Hotels and pubs were among those to suffer the most crippling rises of more than 200% as some businesses threatened a rates boycott.
Mr Mackay said 9,500 businesses across the country would get extra support under the scheme.
"Although councils retain all the revenue from business rates, and have the power to offer rate reductions, it has become clear that there are some sectors and regions where the increase in rateable values is out of kilter with the wider picture of the revaluation.
"I have listened and decided that we will act nationally to tackle the impact."
He said the new package is on top of a system in which half of businesses will pay no rates at all and 70% pay the same or less.
The rates row erupted as thousands of businesses learnt they were to see their bills soar because of a 2015 recalculation of the rental value of premises by the independent Scottish Assessors.
Those new values are multiplied against a figure set by the Scottish Government known as the poundage, which is currently set just below £0.47, to determine how much is owed for the year.
Murdo Fraser, for the Scottish Conservatives, said: "It's a desperate eleventh-hour move which will do very little to ease concerns within Scotland's business community, given that it is for one year only."
Ewan MacDonald-Russell, from the Scottish Retail Consortium, said Mr Mackay's announcement is "yet another sticking plaster on the suppurating wound of the unreformed business rates system".
A Scottish Government source said the new relief measures, which will cost £45m and could be extended to the following year, will be financed by spare central cash used to top up any shortfall in the business rates pot.
A major review into the business rates system is being conducted by Ken Barclay and is due to be published in July.
Mr Mackay said that councils have the power to reduced rates through schemes such as additional hardship relief
Cllr Willie Sawers, the finance spokesman for Dundee City Council, said: "I very much welcome the announcement by the finance secretary that will mean over 100 businesses in Dundee will have their rates rise capped and will mean the hospitality sector in the City benefiting to the tune of £500,000.
"This is a clear sign that the Scottish Government is prepared to take action and respond to concerns when raised."
An Angus Council spokesman said they will "continue to work closely with local businesses to ensure they have access to the rates relief schemes available to them".
A spokesman for Perth & Kinross Council said it provides "further financial support" to small retail businesses as part of its city centre resilience plan.
Help support quality local journalism … become a digital subscriber to The Courier
For as little as £5.99 a month you can access all of our content, including Premium articles.
Subscribe