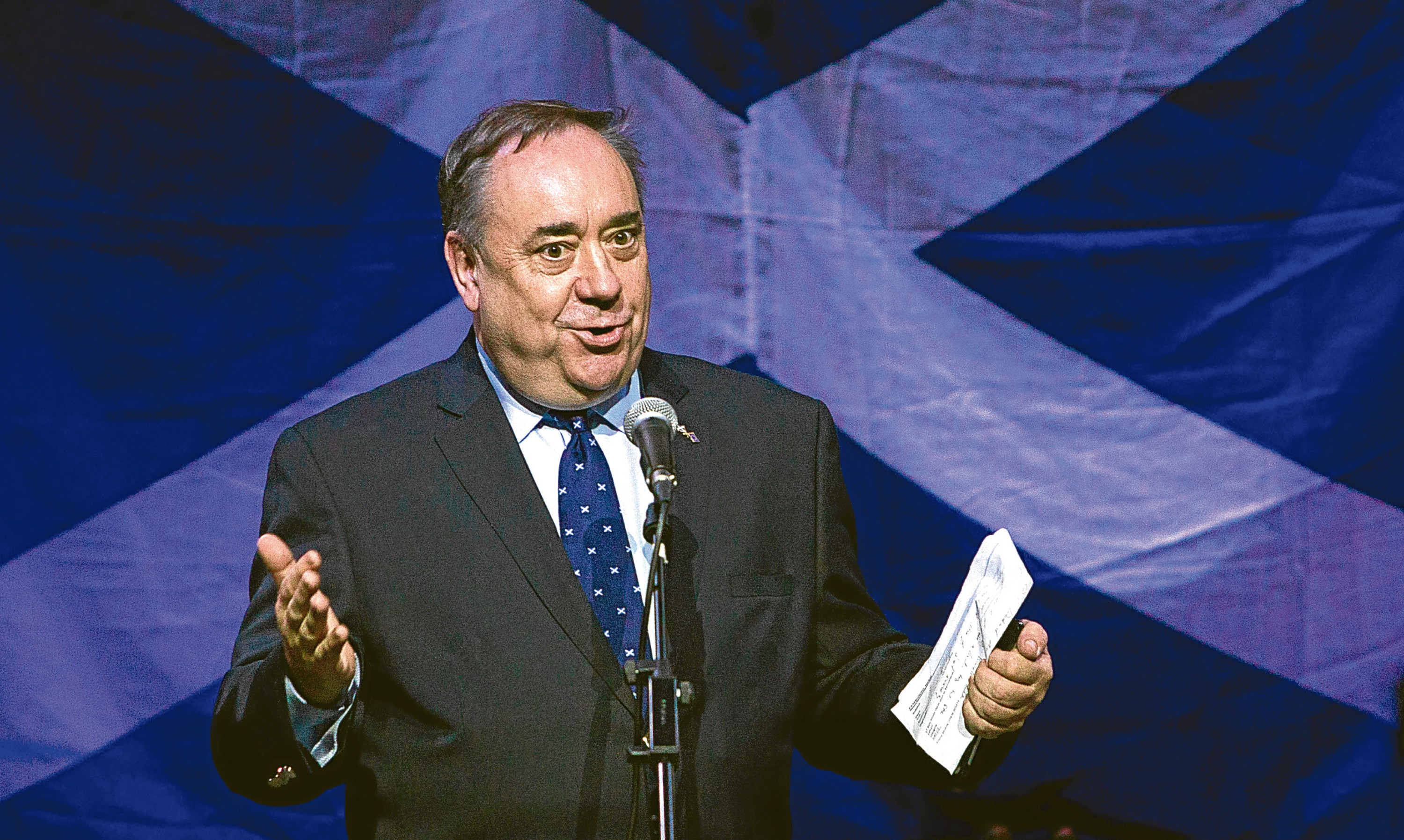 Alex Salmond has denied calling the 2014 independence referendum a "once in a lifetime" opportunity.
Video evidence exists from the run up to the last vote where the former First Minister says: "In my view this is a once in a generation – perhaps even a once in a lifetime – opportunity."
Caught in a lie pic.twitter.com/DKMe6Gjpv1

— Mat Flusk ??? (@MatFlusk) March 19, 2017
But appearing on Radio 5Live's Pienaar's Politics on Sunday, Mr Salmond said: "The phrase was not once in a lifetime, it was the opportunity of a lifetime, I said it on the Andrew Marr show, it's just one of these collective myths that evolve."
He later denied his denial, calling the story "bizarre".
In a series of tweets, Mr Salmond said: "I wasn't denying the once in a lifetime remark this morning, but rather pointing out that the interview in which it was actually made I described my view as 'perhaps even once in a lifetime – OPPORTUNITY'.
"It was not some writ that a referendum is for life but an observation that perhaps an opportunity which might only occur once in a lifetime."
On the radio this morning I was contrasting that remark from a television programme in 2014 with an election manifesto commitment from 2016…

— Alex Salmond (@AlexSalmond) March 19, 2017
…in which Nicola Sturgeon said that the Scottish Parliament should have the right to hold another referendum if…

— Alex Salmond (@AlexSalmond) March 19, 2017
…Scotland was dragged out of Europe against the will of the Scottish people. That is what is happening and that is what she is doing.

— Alex Salmond (@AlexSalmond) March 19, 2017
The SNP has come in for criticism from its Unionist opponents for pushing for a second referendum two-and-a-half years after 55% of the country voted No.
Ruth Davidson, the Scottish Conservative leader, said calls for another plebiscite would be "against the majority wishes".
She told BBC One's Andrew Marr Show that Nicola Sturgeon was "hell bent" on destroying the United Kingdom and described Brexit as "this week's excuse" for another independence referendum.
Ms Davidson said: "The SNP is not Scotland and they are acting against the majority wishes of the people of Scotland in putting forward their proposition on Monday.
"I've read far too many headlines saying, 'Scotland reacts X, Scotland reacts Y'. No, it doesn't.
"There are people right across Scotland, many, many thousands of them, that are so thankful for the Prime Minister to say let's take a pause on this."
She said it was "astonishing" that the SNP had not outlined a plan for independence during their spring conference in Aberdeen over the weekend.