A Perthshire MP has been criticised for posting an image directing sexual slurs at opposition parties.
The SNP's Pete Wishart posted a mocked-up ballot paper on his Twitter account, with four-lettered insults written next to the Conservatives, Labour and Lib Dems.
The meme, which listed the SNP and the Greens as "good guys", appeared to send up a sketch from the Chewin' the Fat television show.
It was targeted at the pro-Union parties and came just days after Nicola Sturgeon called for politicians to set the right tone for a civilised independence debate.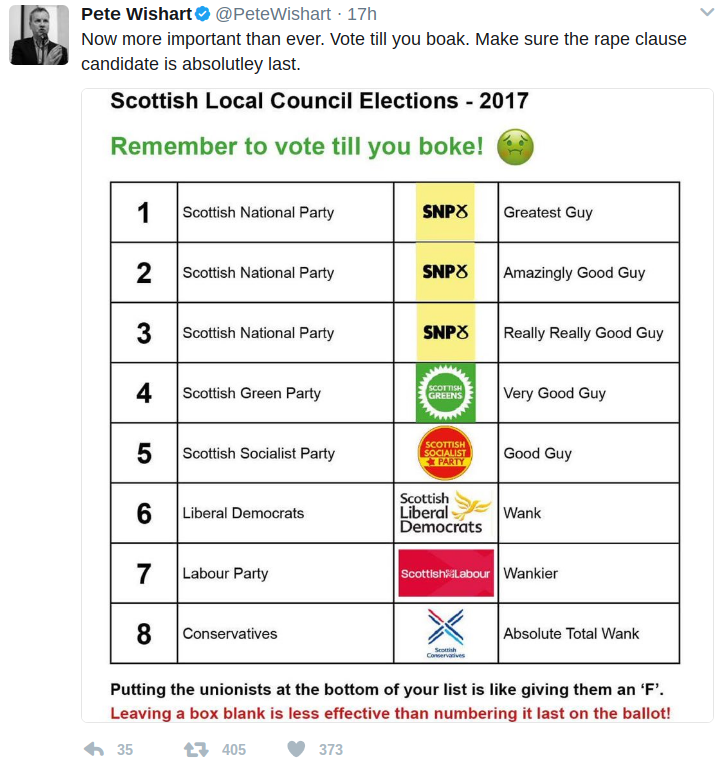 In his post, Mr Wishart said it is "now more important than ever" to back the right candidate in the local elections on May 4 in the wake of the Scottish Conservatives' support of the two-child tax credit cap and so-called rape clause.
James Kelly, the Scottish Labour MSP, said: "These comments are highly inappropriate and offensive, particularly coming from an MP.
"Yet again, Pete Wishart has insulted thousands of his own constituents and many more people across Scotland who choose not to support the SNP's agenda of division and grievance.
"These comments come just days after Nicola Sturgeon herself again had to call for a civilised political debate in Scotland.
"Unfortunately, many in her party – including her elected members – seem utterly unable to follow this advice."
An SNP spokesman said: "Despite political differences, those from all sides of the debate should seek to make their case with courtesy, understanding and respect."