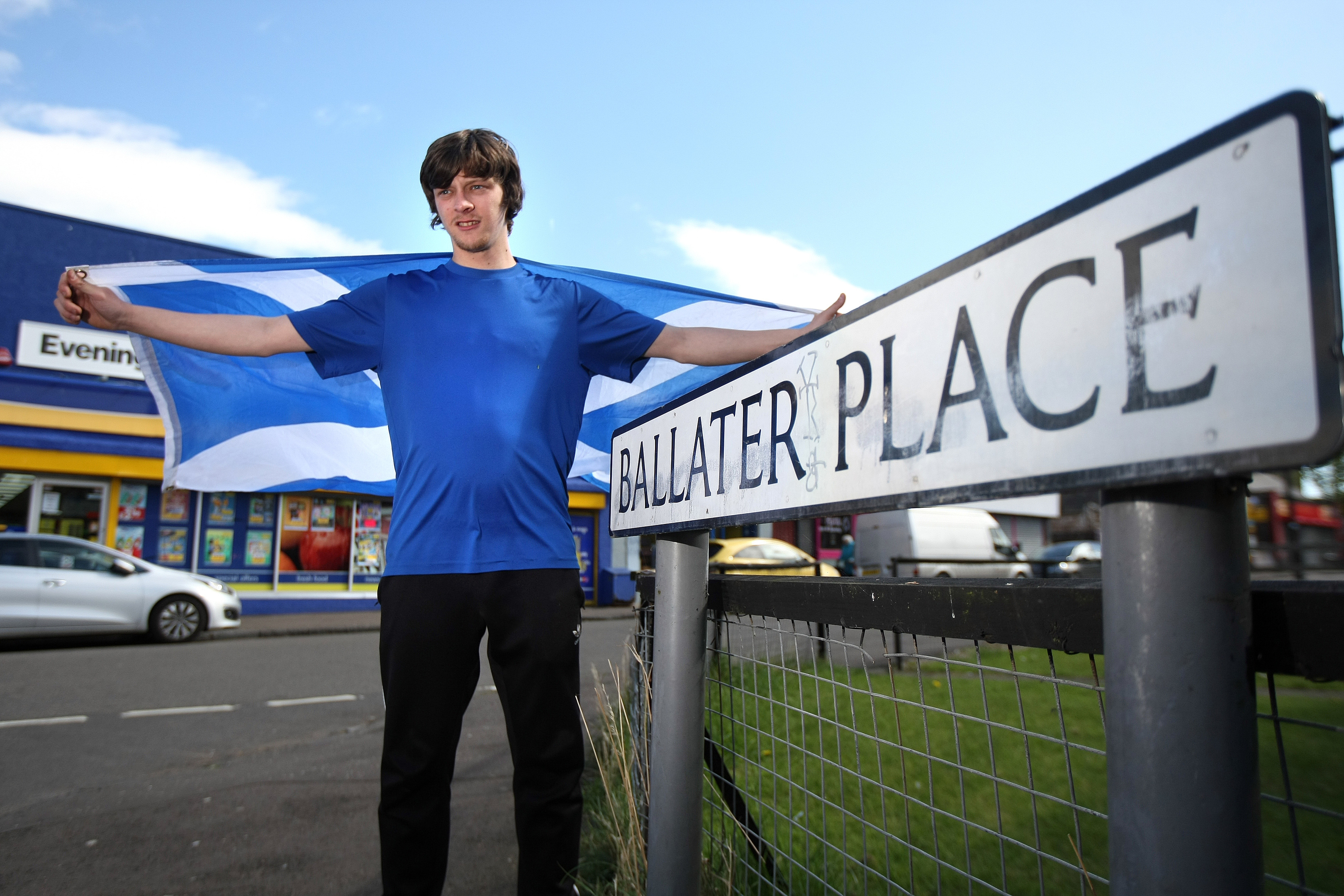 A Dundee street is the least British in the UK, new research has found.
Just one person from the 99 surveyed in the neighbourhood around Ballater Place, in the Douglas area of the city, identified themselves as belonging to the United Kingdom.
The analysis, based on official census data and carried out by the respected Electoral Calculus, should perhaps not come as a surprise given Dundee was dubbed "Yes City" and had the highest percentage support for independence in the 2014 referendum.
The report notes: "Only one of the 99 respondents declared themselves to be British or partly British, giving a nationwide low score of 1% British, with 91% of people identifying as Scottish.
"The residents are mildly left-of-centre, strongly SNP-supporting, and mostly UK born. The area voted to leave the EU, and has education and economic indicators significantly below average."
Laura Smith, who lives in the street, voted Yes and said she would be prepared to take some short term pain in an independent Scotland if it improved her granddaughter's life chances.
The 48-year-old said: "I don't say British, I say Scottish. The English don't us Scottish, they call us British.
"I stayed in Mitcham (in south west London) for four months, they were very ignorant, and in Exeter and they were very ignorant. The English think we are lower than them.
"I will never pass myself as British, only because of the English. I like the Welsh."
She added: "I've never went without a job but now I can't find a job. I think that's because of all the foreigners coming in. I voted to Leave but I don't understand much about it."
Neighbour Tammy-Leigh Redford, 27, also backed quitting the EU last June, and both she and her 22-year-old friend Lee McGregor said the area in which they live is tight knit with families looking out for each other.
Ms Redford added: "I feel Scottish because I was brought up in Scotland. We fought for our freedom."
Not everyone feels the same way, however. Joyce Byres has lived in the area for 46 years and voted No in 2014.
The 78-year-old said she would cast her ballot the same way if there was another referendum, adding: "I am proud to be Scottish but, to be honest, I don't believe in Nicola Sturgeon or separation.
"I would prefer it if we were part of Britain. I'm proud to be Scottish but I like to be living in Britain and wouldn't like separation."
Mohammad Adrees, who owns the Key Stores shops at the the end of Ballater Place, said he has noticed a generational difference between residents.
He said: "Maybe older people say they are Scottish and British. Youngsters all feel like that (solely Scottish), especially when a football match is on.
"If one side is English and the other is a foreign team, most people support he foreign team. That (feeling) has got more strong, especially since the SNP."
Most British neighbourhood
It may seem counter intuitive but there are many similarities between the most and least British neighbourhoods in the UK, according to expert analysis.
Electoral Calculus found the streets around the junction of Chadderton Way, Ruskin Street and Davies Street in Oldham are the polar opposite of Douglas in Dundee when it comes to national sentiment.
Of those surveyed in the Greater Manchester locality, 85% of residents felt British or partly British compared to just 1% in its counterpart in the City of Discovery.
Yet people in each area share similar circumstances. Both are reported as being "mildly left-of-centre", narrowly voted to leave the EU and have overall levels of education and economic status well below the national average.
The major domestic difference, apart from party allegiance, is that 96% of people in Ballater Place are UK born, compared to 57% in Chadderton Way.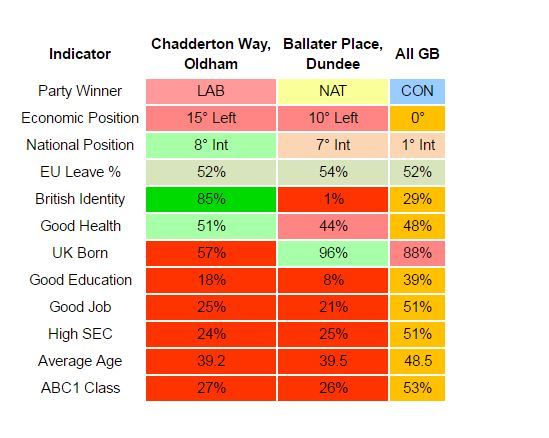 'Inherent contradiction'
Ballater Place is indicative of "the inherent contradiction" of supporting Scottish independence and EU membership, a Tory MSP has said.
Bill Bowman, who represents the North East region at Holyrood but is based in Dundee, attacked the SNP's desire to be both part of the Brussels bloc but also leave the United Kingdom.
He said: "This research highlights the inherent contradiction at the heart of the SNP's policy on EU membership for an independent Scotland.
"Nicola Sturgeon doesn't want to be ruled by Westminster, but she is quite happy to be controlled by Brussels. The problem is that many of her own voters don't agree.
"It is estimated that about 400,000 Yes supporters also backed Brexit. That would explain the cynical softening of the SNP position on full membership of the EU that we have heard from senior figures such as Alex Salmond in recent weeks."
First Minister Nicola Sturgeon has reiterated her party's commitment to the EU in recent weeks but Alex Neil, the former health secretary, publicly backed a Leave vote.
Jim Sillars, the SNP's former deputy leader, has also claimed that "five or six" elected Nationalist politicians backed quitting Europe in June's referendum.
Findings are 'not surprising'
Strong pro-independence feelings in the east of 'Yes City' Dundee should come as no surprise, the local MSP has said.
Shona Robison, who represents Dundee City East at Holyrood, said she was "proud" to have the backing of people in Douglas.
But the Scottish Health Secretary stressed she represents every voter in her constituency, not just those who vote for her party or believe in Scotland leaving the UK.
She said: "Given Dundee returned the highest Yes vote in the independence referendum, it is not surprising that the residents of Ballater Place reflect that view and I am very proud to have their support for both the SNP and independence.
"However I know that not all Dundonians support independence but vote for the SNP because of other factors.
"I am proud to represent everyone in my constituency regardless of how they vote or whether they support independence.
"We also have a job to do to try and persuade those yet not convinced of the merits of independence that this provides the best future for them, their families, their city and their country."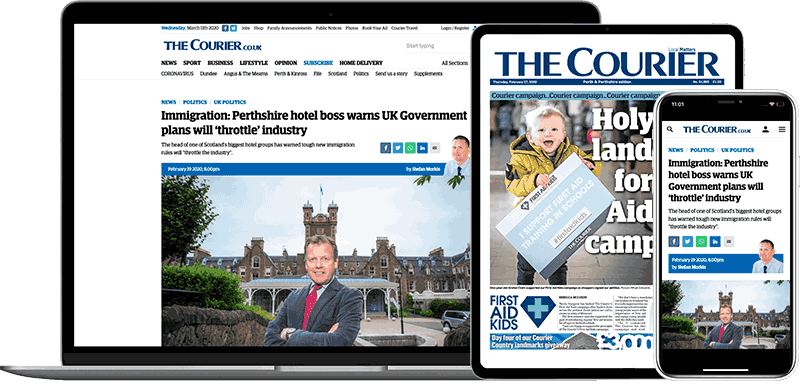 Help support quality local journalism … become a digital subscriber to The Courier
For as little as £5.99 a month you can access all of our content, including Premium articles.
Subscribe