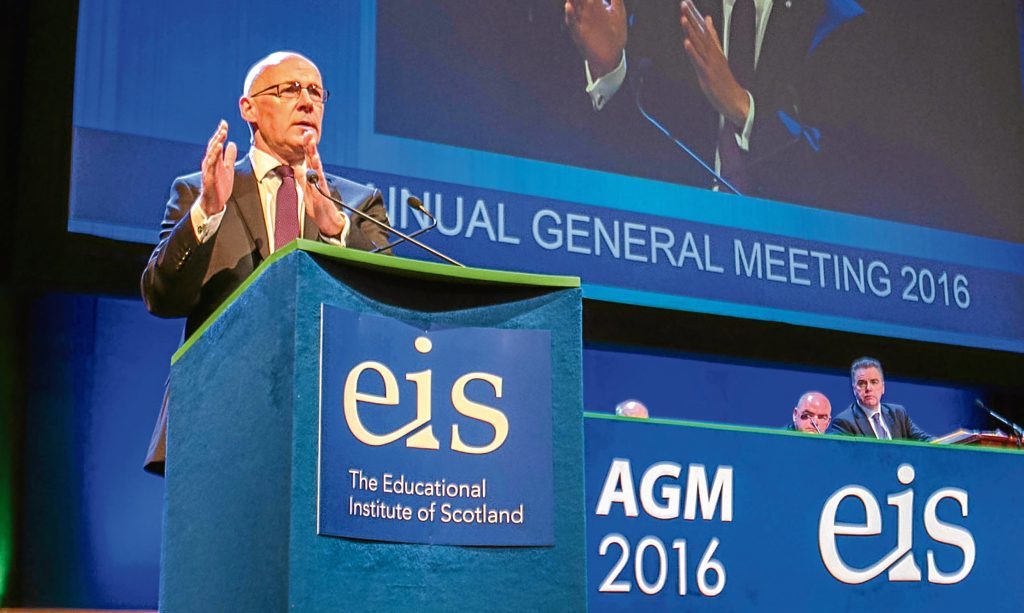 Teachers have rejected claims from the Education Secretary that bureaucracy is being reduced in classrooms.
A potential collision course was set after an ill-tempered exchange at Holyrood where John Swinney was accused of having "completely lost the confidence of the teaching profession".
The Perthshire MSP was questioned on classroom capacity after a survey by the EIS union found 87% of respondents said their workload increased during the 2016-17 school year and 19% would not recommend the profession.
The research was released days after the union signalled it could order strikes unless action is taken to increase pay.
Labour's education spokesman Iain Gray said: "This week, the EIS survey showed that over 86% of teachers are telling us their workload has increased in the last year, not decreased as the Cabinet Secretary has claimed.
"Does the Cabinet Secretary understand that he has completely lost the confidence of the teaching profession?"
Mr Swinney said the government had simplified the controversial Curriculum for Excellence in the past year and taken steps to reduce teachers workload, including reducing bureaucracy in schools and evidence from inspectors showed "workload is reducing as a consequence".
He added: "Of course, the EIS is free to publish the survey evidence it wishes but I'm also to free to put into parliament evidence that members of parliament should take seriously."
An EIS spokeswoman argued teachers have not seen "sufficient evidence" to back up Mr Swinney's claims as being true.
She said: "This survey, which is based on responses from a representative sample of EIS members, indicates that the intended reductions in bureaucracy and workload are not being delivered at school level.
"While the Scottish Government has made strong statements about its desire to cut excessive workload, teachers have not yet seen sufficient evidence that this is actually happening in their schools."
There are 4,000 fewer teachers in Scotland than when the SNP took power and the spokeswoman claimed that a combination of high workload, declining resources, reductions in staff numbers and real-term cuts in teachers' pay could lead to a "major crisis of morale" that would make recruitment difficult.
More from The Courier Scottish politics team