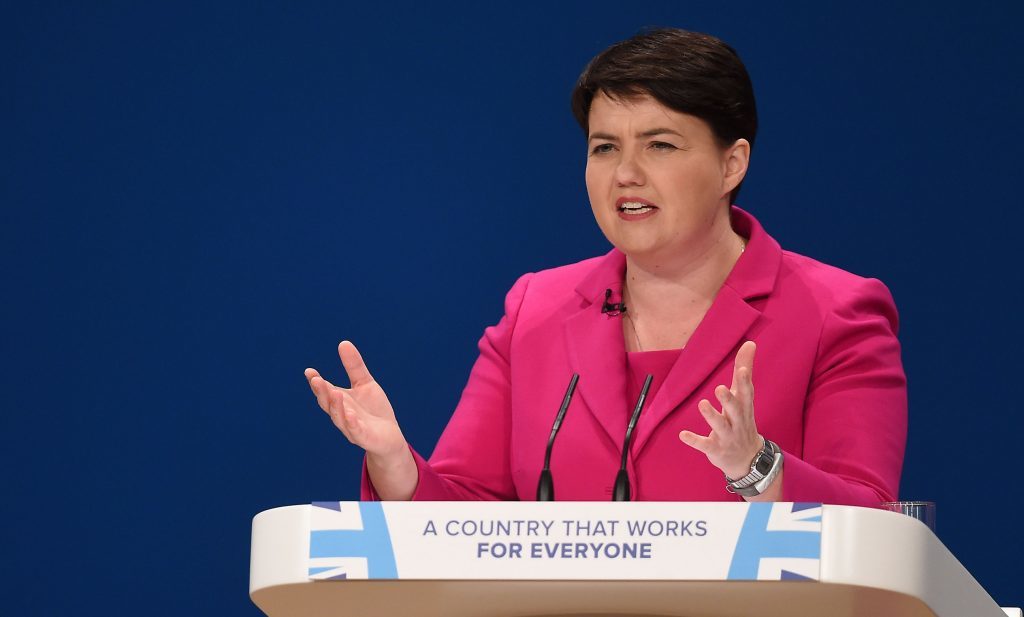 Ruth Davidson called for the party to unite behind Theresa May in a direct plea to conspirators plotting against the prime minister.
The Scottish Conservative leader sought to use her star appeal from reviving the party north of the border to relieve the pressure on the PM from members of her own cabinet.
However, earlier at the party conference in Manchester the Edinburgh MSP refused to rule out succeeding Mrs May, whose authority has been crushed since losing her Commons majority.
In her main speech to delegates, who twice gave her a standing ovation, Ms Davidson said: "It's time we in this party made it clear – that we're not Leavers or Remainers anymore – we're just Brits.
"People who were asked to make a decision, did.
"They now want us to deliver that decision in the best way possible. And now we must unite behind our leader to get the best deal for us and the right deal for Europe as well."
Mrs May's start to the conference has been mired by manoeuvres from Boris Johnson, in which he has challenged her premiership by advancing his own demands for Brexit.
At a fringe event, Ms Davidson was asked to rule herself out of standing for leader of the UK party.
She was also pushed on whether the PM should be prepared to sack Mr Johnson over his interventions on Brexit.
"I'm not standing to be the leader of the party," Ms Davidson said.
"I don't sit in the House of Commons, let's get back to why we are here – to talk about the real issues and not about the Tory psychodrama."
Asked about Mr Johnson's potential appeal to young voters, Scottish Secretary Mr Mundell poked fun at his fellow cabinet minister, saying: "I'm sure none of my colleagues indulge in hypothetical questions although I do recall Boris Johnson once stood for rector of Edinburgh University and you can look at the result of that."
In the 2006 vote, Mr Johnson finished third in the race for the Edinburgh University post.
Mrs May insisted her cabinet is "united" behind her in an interview with the BBC.
The Maidenhead MP swerved the question of whether Mr Johnson was "unsackable" after he laid out his own vision of secession from the EU, which was at odds to the one the PM was about to make in a key speech in Italy.
Mrs May told the Andrew Marr Show: "Boris is absolutely behind the Florence speech and the line that we have taken.
"What Boris is saying is the importance of the approach we have taken in the Florence speech.
"That has moved the discussion on and created a momentum in the negotiations."
Ms Davidson has emerged as a leading light in the UK party, thanks to the Scottish Conservatives surging from one to 13 seats in the general election.
Delivering her main speech, she said Jeremy Corbyn's star will wane in the same way it has for Nicola Sturgeon, whose party lost half a million votes in June.
"Just as the SNP came crashing down to earth, just as they lost 40 per cent of their seats in June, just as half a million Scots chose to take their vote away, so too can the Corbyn bubble burst, but only if we work hard to make it so," she said.
Ms Davidson also called for the Union to be protected by ending London bias for civil service jobs and investment.
She said projects like the V&A in Dundee were a start but "we need to see more".
"The truth is for all the devolution of power in the last 20 years, our Union continues to be far too London-centric," the former Fife schoolgirl added.
Joan McAlpine, the SNP MSP, said: "Given the nature of Ruth Davidson's speech this afternoon, we now expect her to stand up to Theresa May and get behind our efforts to bring more powers to Holyrood after Brexit."
The Tories and SNP are feuding over which parliament receives Brussels powers covering devolved areas when they are repatriated after Brexit.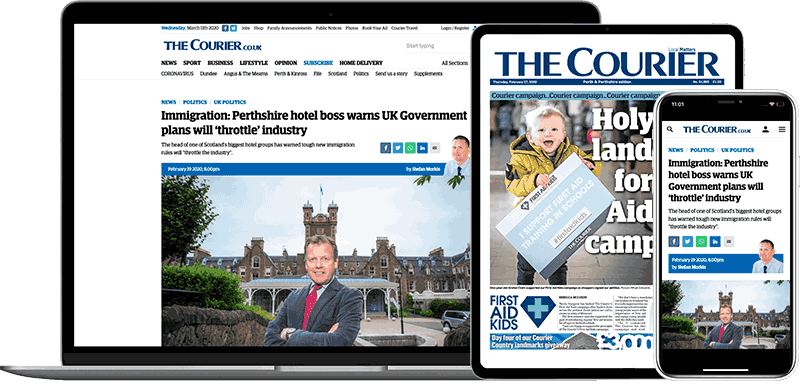 Help support quality local journalism … become a digital subscriber to The Courier
For as little as £5.99 a month you can access all of our content, including Premium articles.
Subscribe