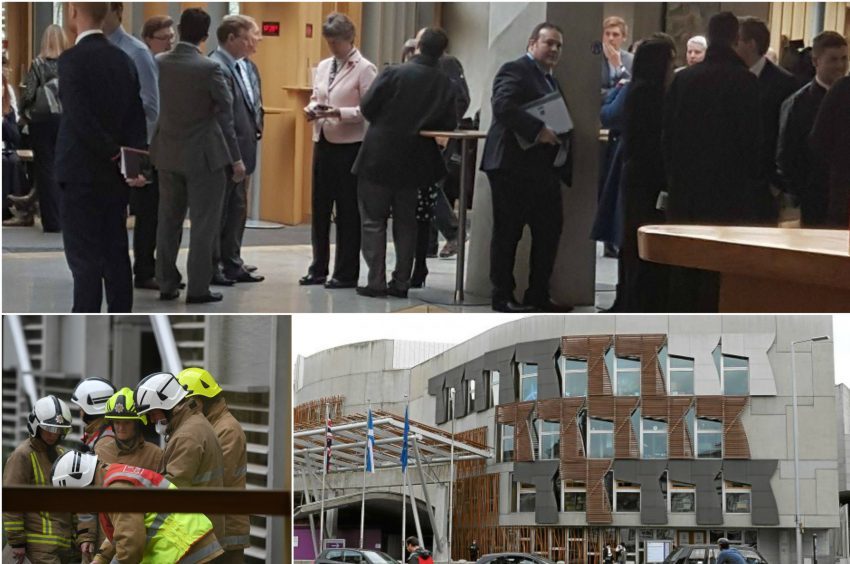 A section of the Scottish Parliament was evacuated after the discovery of several suspicious packages on Tuesday morning.
The MSP building in Holyrood, Edinburgh, was cleared following the find at about 11.30am.
Police and firefighters were called to the scene.
Two fire and rescue appliances from the city, along with several specialist units, were called to the Scottish Parliament.
The find is said to have been made on the Tory floor of the building.
A source at the parliament said the first of the packages appeared to have been sent to Highlands and Islands Conservative MSP Jamie Halcro-Johnston.
It was thereafter delivered to his office and opened by a staffer, prompting a swift call to the emergency services and the evacuation of the parliament's MSP block.
Two further packages, addressed to conservative parliamentary colleagues Liz Smith, who represents Mid Scotland and Fife, and Edward Mountain, who also represents the Highlands and Islands.
Another is said to have been sent to Highlands and Islands politician Donald Cameron.
Police and fire brigade at Holyrood after white powder was sent to an MSP. MSPs evacuated from office. pic.twitter.com/W6V5QOEeer

— BBC Andrew Kerr (@BBCandrewkerr) November 7, 2017
A spokesman for Ms Smith confirmed the parcel had not made its way to her office at Holyrood and had been contained as part of the operation now taking place.
He said it was likely to be some time before MPs and their staff could return to their offices.
The incident was resolved at about 1.30pm, with staff allowed back into the MSP building.
A Scottish Parliament spokesman said: "An incident has occurred requiring the evacuation of the MSP building at Holyrood.
"The MSP block is currently closed. Parliament staff are working to assess the situation.
MSPs evacuated from Holyrood offices after 'white powder' package opened in Tory Jamie Halcro Johnston's office. pic.twitter.com/YU6O1Igi0k

— andy philip (@andydphilip) November 7, 2017
"The Police are in attendance at the scene. The Parliament's incident management team has been activated.
"This is part of a pre-arranged process put in place, ready to deal with such developing situations."
More to follow.
An incident has occurred and the MSP building at Holyrood has been evacuated. Staff are working to assess the situation 1/2

— Scottish Parliament (@ScotParl) November 7, 2017
https://twitter.com/camusson/status/927867067218452482
"White powder incident" at Holyrood. MSPs building evacuated!

— Colin Mackay (@STVColin) November 7, 2017
Incident at Holyrood: MSPs evacuated from one of the corridors, now all milling around the garden lobby.

— Hamish Macdonell (@HamishMacdonell) November 7, 2017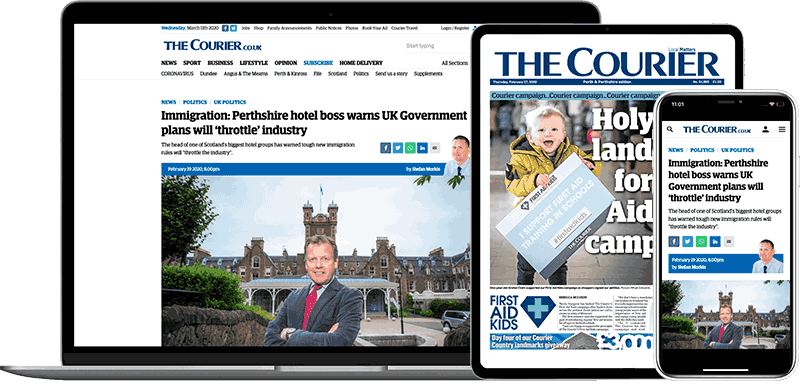 Help support quality local journalism … become a digital subscriber to The Courier
For as little as £5.99 a month you can access all of our content, including Premium articles.
Subscribe