The campaign to stop bank closures in Scotland has reached Holyrood as the SNP warned the UK Government not to be a "passive bystander".
The taxpayer-owned bank is closing 62 branches in Scotland – eight of them in Courier Country.
Last week's announcement came hot on the heels of the Bank of Scotland revealing 49 of its branches would shut, with Carnoustie and Lochgelly go.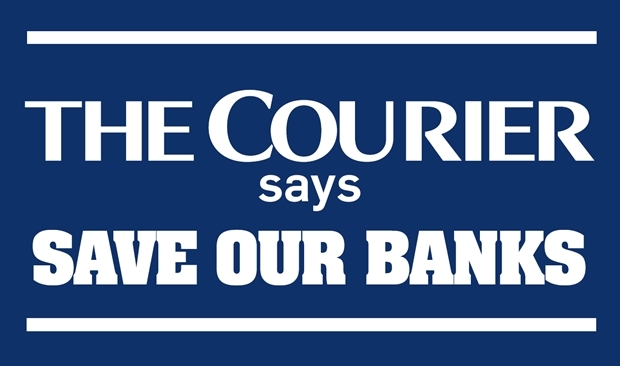 The Courier is campaigning against the closures, which threaten to cut off vulnerable customers and make life even more difficult for small businesses.
The issue was raised in Holyrood on Tuesday by Kate Forbes, the SNP MSP, who warned of the implications of the closures.
Paul Wheelhouse, the business minister, said: "In our view, the UK Government should not be a passive bystander.
"It should take immediate action to defend customers and ensure that communities – in particular, the most vulnerable members of those communities – continue to have access to day-to-day banking services, including ATM provision, and that businesses have the ability to deposit their takings safely, locally."
The Scottish Government "remains steadfast" against closures until banking provision in communities is given special protection,  Mr Wheelhouse added.
Perthshire is one of the worst affected areas, with three RBS branches to close there despite woeful broadband speeds in some wards.
Murdo Fraser, the Scottish Conservative MSP who represents Mid-Scotland and Fife, called on the SNP Government to join him in challenging RBS over their references to the growth of internet banking as justification for the closures.
"In many parts of rural Scotland, including in Perth and Kinross, where a number of branches are closing, both mobile and broadband connectivity are such that people cannot do internet banking, even if they want to," he said.
Mr Wheelhouse replied: "Progress is being made on ensuring digital access, but we are all aware that the reality on the ground is that there are communities in Perthshire, the Highlands and other parts of rural Scotland, and some urban communities, where mobile banking via mobile phones or broadband is still a challenge.
"We strongly encourage RBS to consider that matter. I have raised—and will continue to raise—that with the bank, and I hope that we will make progress."
The UK Government has said banks must mitigate the impact of the closures with clear information about alternative options.
Ministers say their sympathise with those communities losing branches, but is refusing to intervene in a "commercial decision".
RBS says that customers who are losing their branch will still be able to perform some tasks locally at mobile banks, post offices and cash machines.