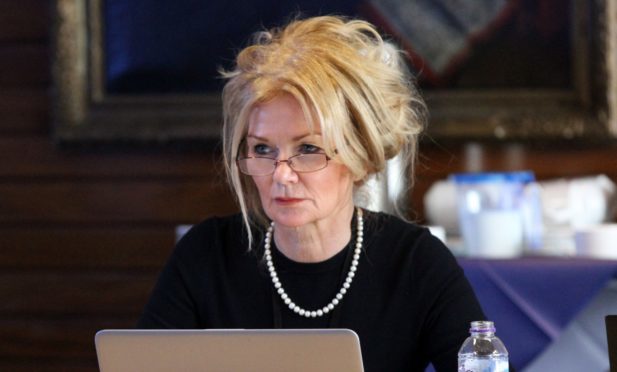 The former boss of NHS Tayside is pocketing a chief executive salary despite being removed from the post over a month ago, MSPs were told.
Lesley McLay was effectively dismissed from the role and the board the day before she went on sick leave, in the wake of fresh revelations about Tayside's finances.
But she remains an NHS employee without a job, Holyrood's public audit committee heard on Thursday, and receives a salary of £120,000-£125,000.
That means she has earned £10,000 since being replaced as CEO on April 5.
Paul Gray, the chief executive of NHS Scotland said all employees in the service are entitled to full pay for a period while on sick leave.
Ms McLay was signed off sick by a doctor the morning after she was removed as Tayside's accountable officer, but before the start of the disciplinary process, MSPs were told.
That process is due to begin whenever Ms McLay returns to work, Mr Gray said.
Raising the prospect of the former CEO being redeployed in the service, the civil servant added: "At the moment she doesn't have a job today because she is off sick, but when she is able to return to work then we will agree with her what her future employment status should be and that will be done appropriately.
"It is important that we go through a proper employment process with every employee and I do know of some situations in which an employee has not been able to fulfil one role has nevertheless been offered an alternative role that better meets their skills."
Alex Neil, the former health secretary, suggested it was "one rule for chief executives and a different rule for everyone else".
The SNP MSP said there seemed to be a "two-tier system" that allows senior executives who are not up to the job to stay in the organisation "possibly on a protected salary".
"You can see the concern that there is here, where somebody is being dismissed from the job they're in," he said.
"(They) appear to be possibly be given alternative employment, possibly getting a severance payment, possibly before any of that happens could be off sick for up to a year, at taxpayers' expense obviously.
"That's employment law, I realise that, but these circumstances really create a lot of cynicism, amongst other employees at the health service, particularly those further down the rung, who don't get this kind of treatment."
New leadership was brought in at Tayside after it emerged earlier this year that the board bent its own rules to use donations to pay for an IT system.
That came just weeks after a scheme was exposed in which finance chiefs fiddled digital healthcare funds to make the board's financial position appear better than it really was.
Scottish Conservative shadow health secretary Miles Briggs described the revelations about the former CEO as a "shocking waste of money for a health board which is utterly strapped for cash".
"It's hard to see how anyone can justify this when money is so tight and the health board is performing so poorly," he said.
"Patients and hardworking staff in Tayside will be absolutely furious at this situation."