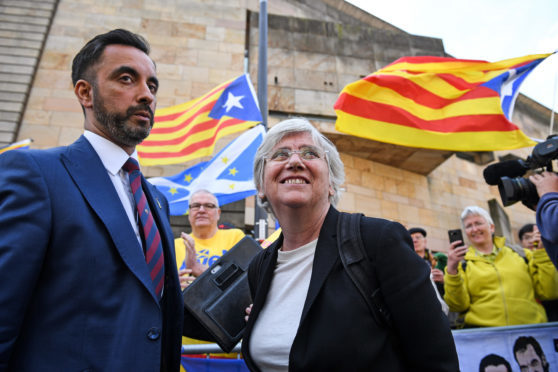 St Andrews professor Clara Ponsati returned to court today to continue her fight against extradition to Spain.
The ex-minister was greeted by flag-waving Catalonia supporters for the hearing at Edinburgh Sheriff Court.
Gordon Jackson QC, for Prof Ponsati, said her solicitors had visited the region to meet legal experts as part of preparation for the court battle, which could cost £500,000.
Outside court, her lawyer said Spain's extradition bids show the country is facing its "greatest crisis since the dark days of General Franco".
The former Catalan minister is fighting extradition to Spain for her part in an unsanctioned independence referendum in the region last October.
She is wanted by the Spanish authorities on charges of violent rebellion and misappropriation of public funds.
Her legal team say the extradition is being fought on several grounds including the validity of the warrant and Prof Ponsati's human rights.
During the short procedural hearing, lawyers drew battle lines over the definition of corruption in the two legal systems.
Under the rules of the European arrest warrant, a suspect can only be extradited if there are equivalent laws in both jurisdictions.
After the hearing, Mr Anwar accused Spain of "abusing" the arrest warrant as a "tool of political oppression".
"The courts can never be a solution to political negotiation," he told Prof Ponsati's supporters.
"Spain today faces its greatest crisis since the dark days of General Franco.
"Without the unconditional release of all political prisoners and the withdrawal of the European arrest warrants, there will never be a resolution to this crisis."
A further procedural hearing is due to take place on June 12 and July 15, before the professor's case is heard in full over two weeks from July 30.
Prof Ponsati was head of economics at the university when she became the region's education minister, just a few months before the referendum.
She returned to Scotland in March and resumed working at the University of St Andrews in Fife ahead of the reactivation of the arrest warrant.
<script src="https://content.jwplatform.com/players/URjbgxmj-xYmBS0Bi.js"></script>