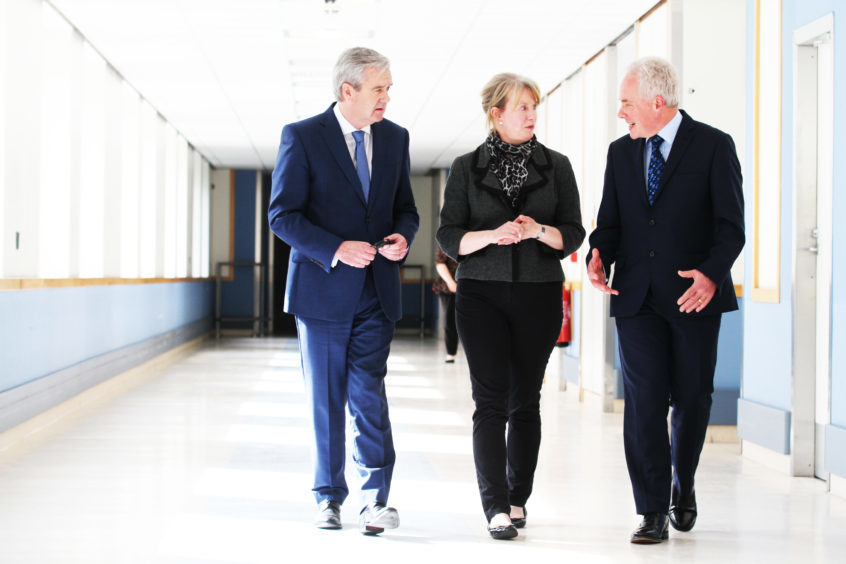 NHS Tayside's board is having its competence assessed following a series of financial scandals at the organisation.
Members will be tested for their skills and experience during the "risk assessment" of the Dundee-based operation's leadership.
It follows revelations about the misuse of funds at NHS Tayside, including the funnelling of donations for core spending.
The review has been announced ahead of Health Secretary Shona Robison's appearance before Holyrood's public audit committee on Thursday.
Susan Walsh, who is on the board of Health Improvement Scotland, is conducting the review, which was commissioned by new Tayside chairman John Brown.
In a letter to committee convener Jenny Marra, NHS Scotland boss Paul Gray said former nurse and college principal Ms Walsh would "undertake a risk assessment of the board's governance system".
"This will include identifying areas of strength and weakness and the extent to which these impact on the conduct of all aspects of board business, including a review of the experience, skills and diversity of the board members," Mr Gray said.
Speaking last month as a Labour MSP, Ms Marra said board members should be removed if they are found to be lacking in a skills review.
New leadership was brought in at Tayside earlier this year after it emerged that the board had suspended its own rules to use donations to pay for an IT system.
The move came just weeks after a scheme was exposed in which finance chiefs fiddled digital healthcare funds to make the board's financial position appear more favourable than it really was.
An independent probe into NHS Tayside's finances from Grant Thornton, including the board's use of endowment funds for its general budget, is expected to be released to MSPs before Thursday's meeting.
An NHS Tayside spokeswoman said: "Mr Brown felt it was important that part of the review looked at the experience of board members to make best use of their skills and to ensure relevant development opportunities were provided to all members."