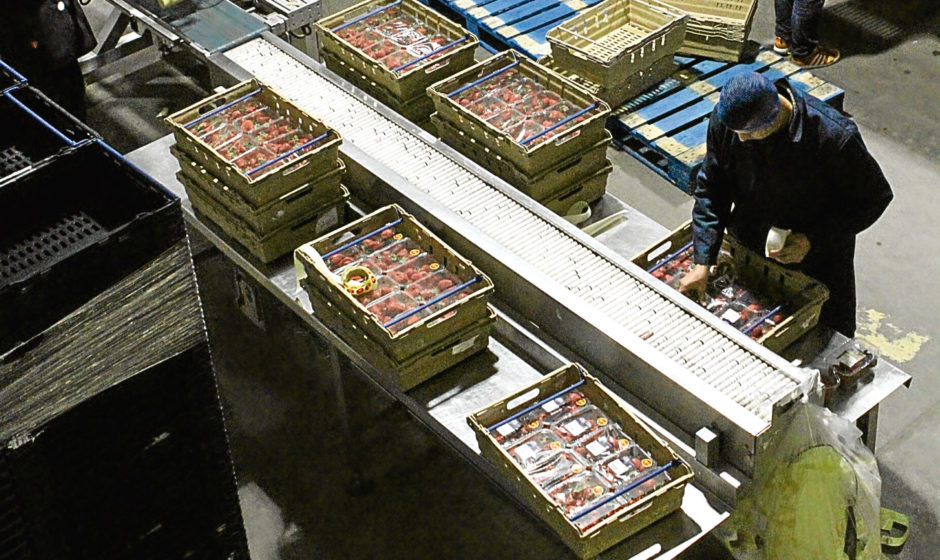 Farmers are going on recruiting trips to Eastern Europe and offering loans to potential workers amid "desperate" labour shortages.
Gaps in the fruit-picking workforce have led to mounting fears of crops rotting in the fields and price hikes for customers.
Growers warn that failing to fix the labour crisis could devastate the £100million-a-year Scottish soft fruit industry, which is based in Tayside and Fife.
Tim Stockwell, of Barnsmuir Farm near Crail in North East Fife, is about 10% short of the 350-strong team needed this year for picking strawberries and raspberries.
"I went over to Bulgaria to help recruit people, to do a presentation there for our farms," he said.
"That did help but it still looks like we're going to be short. It's the first time I've been, but I do know of other farms going over there."
Mr Stockwell said last year they paid for workers' flights, which can cost up to £250 between Scotland and Bulgaria, and lent them money "in desperation really to get people on the farm rather than losing crop".
He said: "It's easy to blame it on Brexit and yes I think that has undoubtedly made the situation worse, but also we are finding that a lot of Bulgarian and Romanian people, they don't want to travel as much as they used to, they are getting better jobs in their own country.
"We don't find any Polish really come to us, very few. So it's looking for a new pool of people to draw from for what we need."
William Houston, general manager of Angus Growers, a  group of 18 producers mainly in Angus, Perthshire and Fife, said that part of the problem is the post-Brexit reputation of the UK.
He said Eastern European tabloid newspapers are "building up hysteria about what a terrible place Britain has become".
Mr Houston added: "If your family at home is asking you 'what you think you are doing coming to a country like this and look at what the press is saying', it adds to the pressure."
Growers are demanding the revival of the UK Government's seasonal agricultural workers' scheme (SAWS), which was dropped in 2013 by then Home Secretary Theresa May.
The scheme would allow non-EU workers to come to Britain temporarily for farming work.
Mr Houston said they were promised clarity by Environment Secretary Michael Gove by the end of March, but that has now been pushed back to the end of September.
"We are at the mercy of labour, much more than the rest of farming," he said.
"We can cope with most things but we need labour, 60% of our costs are labour. At the moment we don't know if we'll have them or not."
Stephen Gethins, the SNP MP for North East Fife, said the uncertainty of Brexit is "already having a huge impact on local farms" and a new seasonal workers scheme is vital to "ensure our food is not being left to rot in the fields".
"This is a huge issue and the UK Government is failing to give the farming industry any answers," he said.
In the Commons this week, Scottish Labour MP Martin Whitfield asked if the UK Government will reinstate SAWS.
Immigration Minister Caroline Nokes said the Migration Advisory Committee, which is reviewing the UK's labour requirements, is looking at a possible revival.
She added: "I am looking into this issue very closely indeed."
'Illegal gangmasters' exploiting labour crisis
Exploitative gangmasters are hanging around farms to lure fruit-pickers onto rival fields, says a Perthshire grower.
The shady characters have conned migrants out of £200 with promises of more work elsewhere, The Courier has been told.
Peter Thomson, of Thomas Thomson, which runs two soft fruit farms in Perthshire, said the tapping up of their pickers has added to their workforce woes.
The Blairgowrie operation, which mainly produces raspberries, strawberries and blueberries, is expected to have only 80% of the team it needs again this year.
Mr Thomson does not believe the rogue recruiters represent other farms, but are using the labour shortages to exploit migrant workers.
"Last year part of the problem was we had recruiters coming onto the farm and telling our pickers 'you are getting enough work this week but next week come with me and I'll get you work somewhere else'," he said.
"We lost a few people like that, but we managed to stem it."
Mr Thomson said they hang around outside the farm gates and are "basically illegal gangmasters".
"They will say 'right if you go along to this place, there's a better job there'," he added.
"They tell the person they are getting the job because of them and they want £200 from them and the people don't know enough to know they don't have to pay it."
The boss of the family-run farms warned labour shortages could threaten a Scottish Government drive to increase the availability of fruit in schools.
A consultation was published on Monday proposing new regulations for minimum fruit levels in schools.
He said Scots blueberries, which are picked during the first few months of the school year, are a great way of introducing pupils to fruit.
Without a solution to the labour problems, the burgeoning soft fruit industry "will all go into reverse", he fears.
"We've got few enough good eating habits in Scotland and one of the ones (fruit consumption) that has been getting better will not continue," he said.
Mr Thomson has backed his peers' demands for a seasonal agricultural workers scheme, allowing growers to widen their recruitment search.
Kirstene Hair, the Tory MP for Angus, said she has been demanding the UK Government resurrects SAWS as labour shortages reach a "critical point for this iconic British industry".
She said new Home Secretary Sajid Javid was in her constituency last month and "fully understands this is a priority for the new immigration framework, having seen first-hand the impact the reduction in workers is having in Angus".
A UK Government spokesman said: "Defra and the Home Office are working closely to ensure the labour needs of the agriculture sector are met once we leave the EU.
"We have been clear that up until December 2020, employers in the agricultural and food processing sectors will be free to recruit EU citizens to fill vacancies and those arriving to work will be able to stay in the UK afterwards."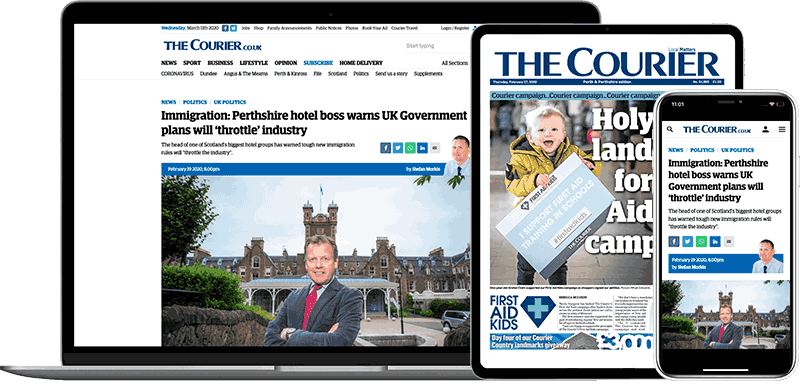 Help support quality local journalism … become a digital subscriber to The Courier
For as little as £5.99 a month you can access all of our content, including Premium articles.
Subscribe