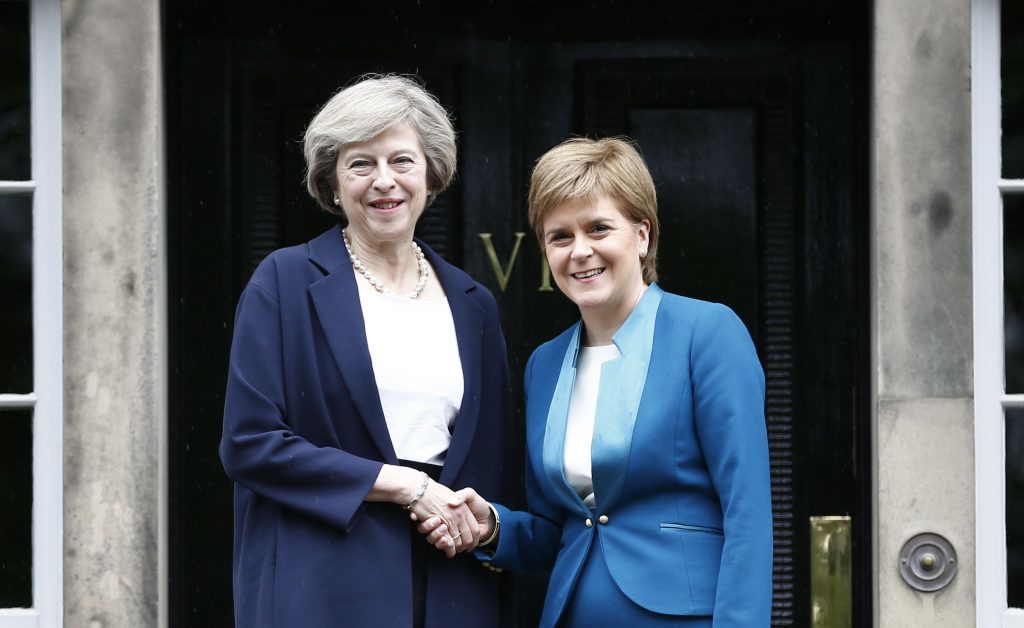 The SNP were branded "out of touch" by the Prime Minister for pursuing another independence vote.
In her first direct response to Nicola Sturgeon's latest referendum push, Theresa May said "now is not the time" for Indyref2.
The First Minister relaunched the separation drive last month with the publication of a 354-page independence masterplan.
It comes as organisers of the huge pro-independence march in Glasgow plan one for Dundee in August.
Mrs May was asked by a Scottish Conservative backbencher whether she agreed with most Scots that "this is not the time to drag us back to another decisive referendum on independence".
"The people of Scotland voted in a legal and fair referendum to remain part of the United Kingdom, and it is SNP members (MPs), who are completely out of touch with the people of Scotland, who are continuing to press the issue of independence," she told Prime Minister's Questions.
"Now is the time for the United Kingdom to be pulling together, to get the right deal for the United Kingdom and the right deal for Scotland in our negotiations."
Speaking after PMQs, the SNP's Westminster leader Ian Blackford knocked down the suggestion his MPs were "out of touch", saying their position on independence has mandates from the 2016 and 2017 elections.
Ms Sturgeon has said she will revisit the question of Indyref2 timing when there is more clarity on the terms of Brexit, which was expected in the autumn.
Her party launched the Growth Commission report last month, which set out the opportunities and challenges of breaking away from the UK.
One of its main recommendations was for an independent Scotland to keep the pound for at least a decade, but without a formal currency union with the rest of the UK.
The first minister said it offered an alternative to Westminster's "austerity" and "Brexit spiral" following criticism from some Yes supporters that it promoted spending cuts.
David Phillips, the associate director of the Institute for Fiscal Studies, told the Daily Telegraph: "It's a continuation of austerity. If public spending growth is 1 per cent less than GDP growth, that's austerity."
The Dundee pro-independence march from All Under One Banner takes place between Baxter Park and Magdalen Green on August 25. The council has been told 1,000 people are expected to attend.
Last month, tens of thousands turned up for a Glasgow parade in support of secession.