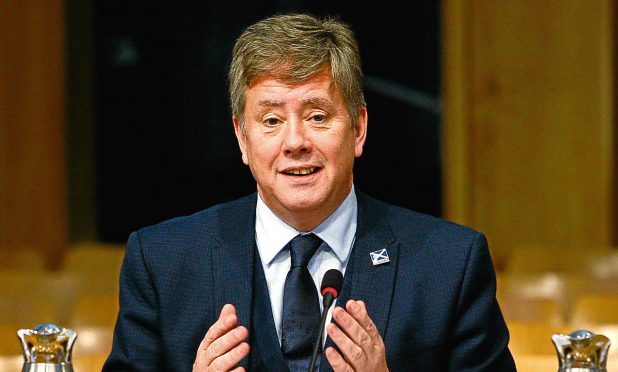 The SNP's new deputy leader told restless activists that Nicola Sturgeon "bows to nobody" when it comes to her devotion to independence.
Keith Brown, a former Royal Marine commando based in Angus, was revealed as Ms Sturgeon's second in command at the party's conference in Aberdeen on Friday.
Amid tensions in the party over Indyref2 timing, the Economy Secretary reaffirmed his boss' commitment to secession.
Yes supporters have been demanding Ms Sturgeon pulls the trigger on a new vote, but the SNP leader is waiting until autumn at the earliest to outline her plans.
Mr Brown backed the First Minister after her approval rating dipped into the negative for the first time in a YouGov poll for The Times.
"In case there was any doubt at all she bows to nobody in her commitment to an independent Scotland," he said.
"I've seen for myself obviously at very close proximity in cabinet that she dedicates her every efforts, every day to furthering the interests of every one in Scotland."
Pete Wishart, the Perthshire SNP MP, had to abandon his deputy leadership bid when he was slated by large sections of the pro-independence movement for his gradualist approach to Indyref2.
Mr Brown, who is the Economy Secretary, defeated activist Julie Hepburn and councillor Chris McEleny in the members' vote.
At the launch of his deputy leadership bid in April he backed the prospect of Indyref2 within a year.
In his victory speech, Mr Brown said the campaign for independence is "beginning to stir once again".
"Tens of thousands of people are marching in our towns and our cities," the Stirlingshire MP said.
"And the discussion of Scotland's future is taking place up and down the country.
"We have all seen a myriad of projects big and small, bubbling to the surface, as individuals and groups come together to prepare for what is undoubtedly ahead."
The YouGov poll found the SNP stands to win an extra eight seats at Westminster, bringing the total to 43 out of Scotland's 59.
But a similar seat projection on the proportional system at the Scottish Parliament would see the Nationalists lose nine seats despite an increase in voting intentions for the party.
Jackie Baillie, for Scottish Labour, said: "The people of Scotland will be dismayed to see the country's hapless SNP economy minister promising to spend even more time campaigning for another referendum instead of fixing our ailing economy."