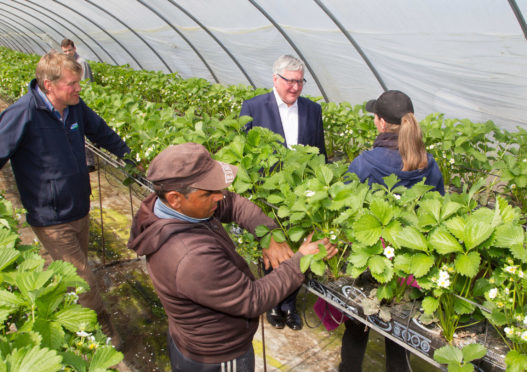 The only way to tackle the unfolding labour crisis in Scotland's fruit-picking industry is for Holyrood to take control of immigration, says an SNP minister.
Rural Economy Secretary Fergus Ewing demanded on Thursday that his UK counterpart Michael Gove delivered on his commitment for the Scottish Parliament to take control of some visa rules.
Tayside and Fife are the heartlands of the country's booming soft fruit sector, which was worth £115 million-a-year in 2016.
But farm bosses are already struggling to find workers with Brexit, improving Eastern European economies and continent-wide labour shortages threatening to decimate the industry.
Mr Ewing told Holyrood on Thursday: "It is clear that the loss of migrant workers is not only a threat for the future but is damaging the soft fruit economy right now.
"The right approach is for the Scottish Parliament to have the powers to deal with the matter ourselves.
"A tailored migration system for Scotland is needed."
Mr Ewing added devolving immigration powers within a UK-wide framework would allow Holyrood to "set visa rules and criteria in order to meet Scotland's most acute needs".
David Torrance, a Fife SNP MSP, said earlier that farms had suffered from the Conservative Government's "shamefully unprepared and shambolic Brexit strategy".
He said Angus Growers, which represents nearly 20 farms in Angus, Perthshire and Fife, had missed out on £625,000 last year because worker shortages meant 85 tonnes of fruit was unpicked or downgraded, as reported in The Courier.
Politicians from all major parties have called for the revival of the seasonal agricultural workers' scheme, which allowed non-EU workers to take temporary jobs in the sector before it was dropped in 2013.
The UK Government has said the independent Migration Advisory Committee is looking at schemes such as SAWS as it reviews British labour requirements.
A spokesman has said: "Defra and the Home Office are working closely to ensure the labour needs of the agriculture sector are met once we leave the EU.
"We have been clear that up until December 2020, employers in the agricultural and food processing sectors will be free to recruit EU citizens to fill vacancies and those arriving to work will be able to stay in the UK afterwards."