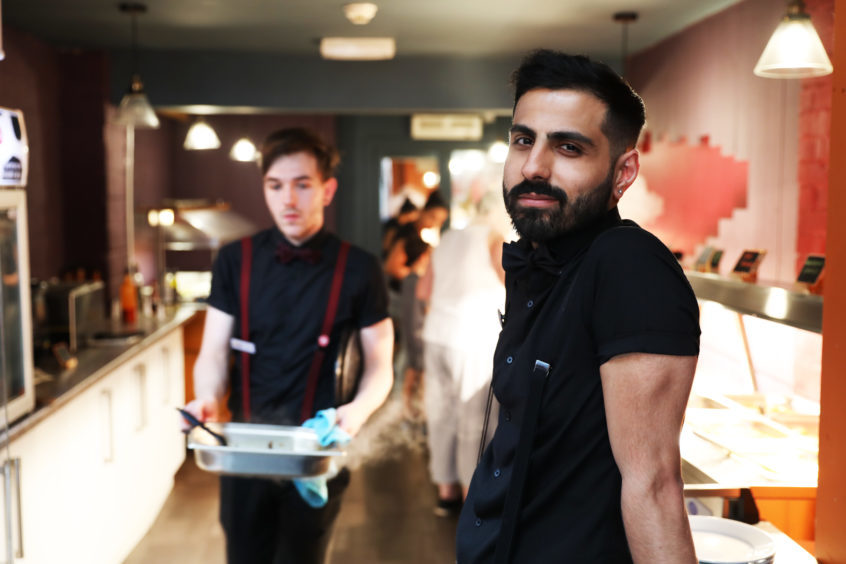 The all-you-can-eat buffet is under threat from the Scottish Government's obesity crackdown.
Restaurants would be barred from charging a flat rate for unlimited food and drink that is deemed unhealthy, under a proposal put forward by ministers.
The draft restrictions also cover multi-buy deals such as buy one get one free, incentives including toys or loyalty points, checkout displays, coupons and freebies.
The diet and healthy eating strategy was launched on Monday by new public health minister Joe FitzPatrick, who has been warned he faces a backlash from his Dundee constituents.
Mahmud Reyani, manager of Sunny's in Dundee, which serves up curry, pizza and kebabs, predicted customer unrest if the buffet ban is pursued, adding that "people will lose jobs".
On the reaction from diners, he said: "They are not going to be happy. I don't know how the government will it explain to them that they cannot have it because the buffet idea has been here a long time."
Mr Reyani said the restrictions would lose them customers, adding "that will reduce the number of staff".
Alan Ho, owner of the City Harbour Chinese Buffet in Dundee, said: "If the government says that there will no buffet allowed? No way."
The Scottish Government says it will seek views on restricting the "sale of unlimited amounts for a fixed charge", which could also spell the end for "bottomless brunches".
Scottish Conservative Miles Briggs said targeting buffets is "too much of a big brother approach".
"We need the SNP government's new plan to look to help encourage long-term changes people can make in their lives to help address the obesity crisis facing Scotland, not gimmicks like banning all-you-can-eat buffets," he said.
A consultation is scheduled for autumn on detailed plans for various bans and restrictions on junk food promotion.
The move would affect products high in sugar, fat and salt such as sweets, biscuits, crisps, cakes and sugary soft drinks, and could be expanded to cover ice cream and dairy desserts.
Mr FitzPatrick said "far too many people" were facing "serious risks to their health" from poor diet, which were "largely avoidable".
"Scotland has a proud history of taking decisive action on public health and this is the next step in that journey, turning our attention to the nation's diet and weight," the Dundee West MSP added.
David Thomson, from Food and Drink Federation (FDF) Scotland, said it was "deeply disappointed".
The restrictions are "most likely to affect smaller Scottish businesses who use pricing and promotions to increase on-shelf visibility", Mr Thomson warned.
Cancer Research UK welcomed the "ambitious" plan from the Scottish Government, adding it is vital that the proposals to restrict price promotions make it into law.
Alison Johnstone, the Green MSP, said ministers had been too soft on business.
"Sadly, the government's plan is still focused on encouragement and future consultations when we urgently need bold action," she said.