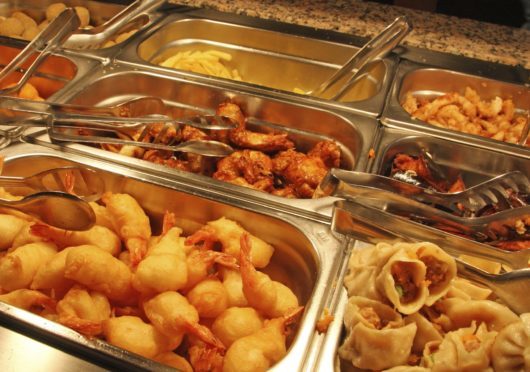 The Scottish Government has ruled out banning the all-you-can-eat buffet.
An anti-obesity strategy published by the SNP administration seemed to suggest a clampdown on restaurants and other outlets that serve unlimited servings of unhealthy food for a fixed charge.
But the Scottish Government said it would not be imposing restrictions or banning "main meals such as buffets" and is looking at homing in on confectionery and savoury snacks.
The decision was branded a "garbled, half-measure" by the Scottish Conservatives.
Government officials confirmed this week they are consulting on imposing restrictions on unlimited servings for a fixed charge, where the food or drink is high in fat, sugar or salt, frequently consumed and lacking essential nutrients.
A Scottish Government spokeswoman said: "As a nation, we consume too much food and drink high in fat, sugar and salt but have little to no nutritional value, such as sweets and cakes," she added.
"We will consult on restricting the promotion and marketing of these types of foods."
Liam Kerr, the North East MSP for the Tories, said: "Is there any point in a garbled, half-measure banning sweet promotion while saying unlimited fried food is OK?
"The vast majority of people understand a big bag of sweets at the cinema is a rare family treat.
"It's important that education is used to inform people about the consequences of their actions.
"Encouraging portion control and an active, healthy lifestyle is vitally important in the fight against obesity."
The idea met with a mixed response in Dundee.
Mahmud Reyani, manager of Sunny's in Whitehall Street, correctly predicted that diners would "not be happy" about the government's idea.
Commenting on The Courier's Facebook page, Johnny Kirkland said: "First alcohol and now this. They are turning our country into a nanny state."
Denise Mitchell said: "Buffet restaurants aren't the cause of people having diabetes or being overweight. People are."
Another reader posted a graphic stating: "It's riot time."
But some were in favour of targeting the all-you-can-eat buffet, where customers are charged as little as £6 for limitless food.
Pointing to the success of the smoking ban, Derek Hughes backed the government intervention, saying obesity is "fast approaching epidemic status" and the public "simply cannot be trusted to self-regulate".