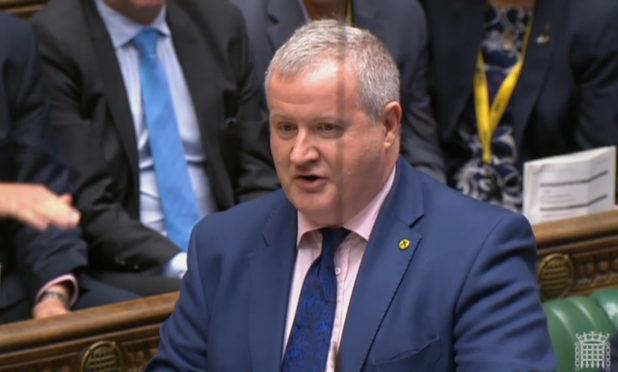 Theresa May was told to investigate donations to the Scottish Conservatives from a trust the SNP say has been deliberately shielded from public scrutiny.
Figures from the Electoral Commission show the Scottish Unionist Association Trust (SUAT) has donated £318,876 to the party between 2001 and 2018.
More than £26,000 of that was handed to Tory groups in Tayside and Fife between 2002 and 2010.
Ian Blackford, speaking at Prime Minister's Questions, said Mrs May's party in Scotland is "systematically shielding their donations from public scrutiny".
Demanding the PM launches an internal party probe, he said: "The trust has donated £319,000 to the Scottish Conservatives, yet there is no information available about who the people are who currently manage the trust, no public accounts indicate who its donors are or what assets it holds."
Mrs May responded: "I can tell him that all donations to the Scottish Conservative Party are accepted and declared in accordance with the law and the Scottish Conservative Party works with the Electoral Commission to make sure that that is all done properly."
There are strict rules on how donations to political parties are reported, as governed by the Electoral Commission.
A commission spokesman said: "An investigation has been opened to determine whether the Scottish Unionist Association Trust complied with their reporting requirements as set out in law."
Responding to the Commons exchange, SUAT issued a current Glasgow address for the trust.
A spokesman said the trust was established in 1968, mainly from the sale of property belonging to the Scottish Unionist Association.
"We are in dialogue with the Electoral Commission and it would be inappropriate to say more whilst that dialogue continues."