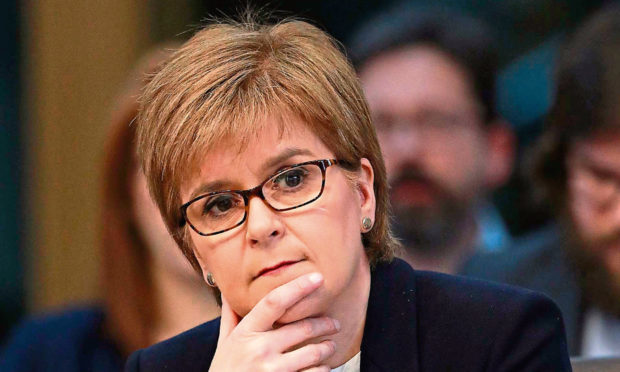 The vast majority of Scots do not want Nicola Sturgeon to call an independence referendum this autumn, according to a poll.
The Survation study also found the country remains in deadlock over the constitution, with 47% revealing they would vote Yes.
Ms Sturgeon has said she will make a decision on Indyref2 in the autumn, when the terms of Brexit are expected to be clearer.
But only one in four Scots believe she should issue a demand at that time for a new vote on secession.
The poll for the Daily Record puts backing for an independent Scotland at 47%, up two percentage points from the 2014 referendum, while 53% said they would vote No.
Derek Mackay, the SNP's Finance Secretary, said: "Support for independence remains at historically high levels – with a Yes majority within the margin of error and well within touching distance.
"And we're not – yet – in the heat of an independence campaign.
"But as Westminster moves from chaos to utter shambles, proving beyond doubt it is incapable of protecting our interests, the case for independence becomes ever stronger."
While 23% want the FM to pull the trigger on Indyref2 in the autumn, the poll of 1,002 adults found a further 19% believe should be a second vote, but not as soon as that.
Almost half (49%) said there should not be another referendum at all, while 9% said they are unsure.
Scottish Labour leader Richard Leonard said: "The people of Scotland want the Government focused on jobs, schools and hospitals, not another referendum campaign that creates false divisions between working class people when the real divide is between the richest and the rest of us."
A spokesman for the Scottish Conservatives said: "This poll again shows the majority of people do not want a second referendum, and they overwhelmingly don't want one any time soon.
"Nicola Sturgeon should use this research as motivation to take the threat of another divisive vote off the table."
The SNP leader, who is under pressure from within her party to hold an independence referendum before 2021, hopes that voters will be so appalled by the future outside the EU they will back a breakaway from the UK.
Ms Sturgeon abandoned her plan to demand a plebiscite in late 2018 or early 2019 after losing 21 MPs in last year's general election.
Any decision to pull the trigger on a legally-binding Indyref2 will have to be signed off by Westminster.
Patrick Harvie, co-leader of the Scottish Greens, which gives the SNP a pro-independence majority in Holyrood, suggested secession support will grow with formal campaigning and when the true impact of Brexit emerges.
"It's remarkable that support for independence remains so high given that the Yes movement hasn't done a single bit of formal campaigning," Mr Harvie said.
"The status quo will no longer exist in March 2019 and I suspect that voters in Scotland will come to demand a say on whether we should be dragged along with this Brexit mess."