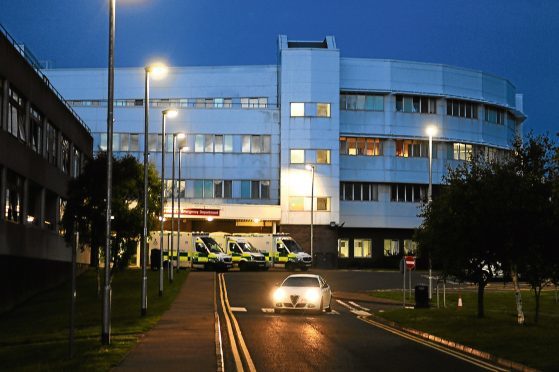 A shortage of beds at Ninewells is leaving its intensive care unit unable to meet demand from its sickest patients, an NHS report has warned.
Dundee consultants are more likely to move patients out of its ICU early than at any other Scottish hospital, according to official data published on Tuesday.
A senior doctor blamed the large number of premature discharges in Tayside and across the country on bed shortages, in a Scottish Intensive Care Society audit of last year for NHS Scotland.
The Tayside ICU had the highest early discharge rate of patients in the country at 7%, which is three times higher than the national average.
Most of them – 28 in total – were sent to other wards in the hospital.
The report says: "This figure suggests that the number of physical ICU beds available at Ninewells Hospital is inadequate to meet the demands of the service.
"At times of peak occupancy, ICU bed demand appears to exceed the supply and patients were discharged early to a lower level of care."
Dr Stephen Cole, chairman of the audit group, said while the report shows the quality of critical care in Scotland is of a very high standard, there is "increasing evidence that some areas of the country really do lack sufficient numbers of intensive care beds".
"The report this year highlights some real disparity between the provision of critical care across the territorial NHS Boards and I would urge those boards that appear to have lower levels of critical care provision to scrutinise this report in detail and to consider their local investment decisions," he said.
Early discharges are defined as those where a patient has been released from a unit prematurely because of either staff or bed shortages.
The early discharge rate at Victoria Hospital's ICU in Kirkcaldy is 2%.
Professor Peter Stonebridge, NHS Tayside's medical director for the operational unit, said they are looking at to increase ICU capacity at Ninewells.
"Patients and their families should be reassured that any decision to transfer a patient from the ICU at Ninewells Hospital into another specialist area would only be made by the ICU consultant following a full clinical assessment.
"In the vast majority of cases, patients are transferred from ICU to a high dependency ujnit (HDU) in Ninewells, which is a specialist area for patients who require more intensive observation and treatment than is provided in a general ward.
"In 2017, 28 patients were transferred from ICU in this way, none of whom required to be readmitted to the ICU within a 48-hour period."