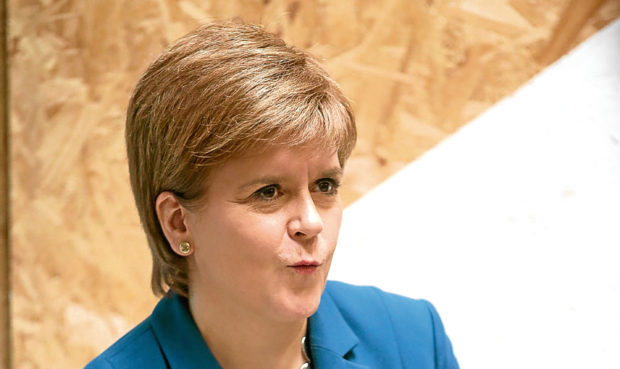 Reading fiction should be compulsory for world leaders to make them more compassionate, says Nicola Sturgeon.
In a nod to her independence drive, the First Minister also admitted being among the politicians sowing division, during her appearance at the Edinburgh International Book Festival on Monday.
Ms Sturgeon was interviewing the author Ali Smith, who she described as the "greatest living Scottish writer".
The self-confessed book fanatic said if she had the power she would force Donald Trump and other major political players to dedicate time to reading novels.
Asked by Ms Smith what reading did for her, the SNP leader said it can offer "the ability to escape and switch off from whatever is that's worrying me at the time".
"I think reading for anybody deepens your sense of understanding and empathy with people and experiences and cultures and countries that you have no direct experience of.
"If there was one thing I could make compulsory for leaders across the world it would be to read fiction."
She added: "For me fiction, much more than non-fiction does, allows situations that I have no direct experience of to be really conjured up and for me to develop an understanding in a way that is different to reading non-fiction."
Ms Smith is in the middle of writing a seasonal fiction series set in the backdrop of the UK's decision to leave the EU.
The first two books, Autumn and Winter, tackle themes including the way politics divides communities, as well as raising questions of identity and citizenship.
Ms Sturgeon conceded politicians can be guilty of promoting disunity.
She said: "As a politician I'm acutely aware and it's something I think about a lot is that politicians are, by definition, we are opinionated.
"We put forward strong views and policies. We are sometimes the cause, or a cause of, division.
"Also how you communicate now seems to reinforce those divisions and pushes people to take sides and simplify things."
Ms Sturgeon is due to update the country in October on whether she will pursue another independence referendum.
Speaking at the Charlotte Square festival, Ms Sturgeon made a plea for the Inverness-born How To Be Both writer, who lives in Cambridge, to return to Scotland.
"Will we ever entice you home?" the Glasgow MSP asked.
Ms Smith said: "I feel like I've never left and that's a weird thing to say when I have lived in England for three decades."
She added: "I'm Scottish wherever I am."